By Beth Welliver
Somewhere in Louisianna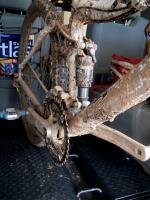 Finally. I'm writing a race report. Granted, I did do some road races this summer, but they were not blog worthy. That's because road racing is lame. This weekend I headed just down the road to Ruston, LA for the Piney Hills Classic. The race is actually part of the Texas Mountain Bike Racing Association's Fall Cup points series (weird, huh?), so the turn out is pretty good with lots of fast folks from Texas coming over to race. I raced on these trails for the duathlon I did back in June when I first got here, and have ridden them a few other times. It's an incredible 10-mi loop of mostly singletrack up and down ravines and through the woods. Plenty of technical with tree roots and stuff. The event follows a stage race format, with Cat 2's (that's me) doing a 3-mi time trial and the regular cross country race towards the stage results. There was also an optional short track cross-country race on Saturday morning, and the cyclocross fiend in me couldn't pass that up!
Weather geek interjection: I should mention that its monsoon season down here. I don't think we normally have monsoons here, but its an El Nino year (that's Spanish for "the Nino") so the rain just keeps coming. Rumor today was that in the last 41 days a rain gauge near the course has collected 26 inches of rain. I think they got somewhere between 3″ and 4″ in that area last week. Fortunately the weekend brought crisp, sunny autumn days, but there was plenty of mud out on the trails.
Short Track
Well, the starting field for this one was a bit sparse. There was me and one other girl. Wow, two of us. Since the short track didn't count towards the stage results for us, most girls chose to skip it. But I wanted do the the short track more than any of the other events to get me ready for cross…yes that's right, I haven't done a cross race yet this year. The race official asked if we wanted to shorten the race and I kindly said, no thank you, full length please. So off we went, I guess I got the hole shot, and cruised from there. It was obscenely muddy, but riding in soupy mud is strikingly similar to riding in Ft Ord sand. I sort of didn't know what to do once I had a good gap…keep hammering for the fitness, or conserve for the coming races? I kept hammering along with taking some lines I wouldn't normally take through some spots for the practice. Overall, it was fun, I got covered in mud, but stayed safe and upright the whole time. Felt great, with that nice lung burn at the end.
Time Trial
After I got the bike and myself cleaned up, lubed up (the bike, not me), and made a quick trip to the Subway in nearby Wal-Mart for lunch (Wal-Mart in southern town…that 15 minute experience is worthy of whole other blog), it was time for the time trial. I generally loathe roadie time trials, with the crazy wheels and crazy bars and crazy helmets. But a mountain bike time trial…heck yeah! Plus, given that I got dropped in all those CCCX pro/expert mountain bike races at Ft Ord, I'm fairly familiar with the solo mtb effort. The course was sa-weeeet…started at the top of this crazy steep hill–coming over the top of it was like cresting the top of the big hill on a roller coaster…super steep, straight down, and only a bit bumpy, so you could let go of the brakes, hang your butt off the back of the saddle and go…just make sure you don't launch yourself over the berm at the bottom! I felt amazing, but didn't know how long 3.5 miles would be, so I was conservatively hammering. The course had just a few gooey sections, but otherwise it was generally tacky and fast. We went off at 30-second intervals, and I caught the two girls ahead of me, so I was happy. The only bummer was that it was over so fast. I think I could have gone harder had I realized the course was so short. But, in the end, I posted the fastest time in my age group, so I held the lead after Stage 1.
Cross-Country
Despite how hard I'd ridden yesterday, I was still feeling pretty good during my warm-up this morning. I held close to a 1-minute lead in the GC (saying GC about a mtb race makes me giggle), but I didn't want anyone in my class to get a gap once we started. The xc was supposed to be 2 laps around the 10-mile loop, but due to all the rain, they had to chop off about 2 miles for parts of the trail that were unrideable. My great warm-up was really all for not…the officials had us all stage 10 minutes before the start. And by all, I mean every single age group of Cat 2 men, then they finally staged the women…but the first group of men still hadn't started. So I think we stood around in the upper-40 degree early morning shade for about 20 minutes before we finally got the gun.
The race started off fast and furious, with a couple of girls from the 20-29 age group getting a good gap on the rest of us. There was one girl right on my wheel thru the first section of woods, and it turned out it was one of the local Shreveport riders, so I was happy to let Kim go by…she was flying and looking great through the technical stuff. The ride was going well, rather uneventful, just muddy, until I clipped a handlebar on a little tree…I crashed. But, no harm done, just a little muddy, so up I got and on I went. Then, sometime in next few mud puddles or stream crossings, my rear cog/freewheel/derailleur/chain decided it didn't want to cooperate anymore. Every time I was grinding up a grunter of a climb, my chain would either slip the freewheel or I'd get chain suck that would lock up the cranks. I guess my cyclocross trail running training paid off, because I had to start running up a bunch of the hills. Then I crashed again in the weird place when my front wheel just slid right off the trail. Lesson learned: 30 psi is too much in the Schwalbe's in the mud.
Slowly my competition started catching back up, and as we neared the end of the first lap, I was exhausted, covered in mud, and Tammie, my main competition, was right on my wheel. Eeek! And with a whole lap remaining, I still had another hour to race. My technical skills would allow me to get a gap on her, but she would reel me back in on the climbs. The soupy mud from the previous day was now gooey, sticky, clay-like mud that sucked your wheels down and bogged you down…and with a finicky rear freewheel, it was quickly getting miserable. But I knew I needed the fitness so I just kept hammering. I slowly caught the other younger girls who had gotten away at the start when they had major mechanicals, so I was at the front of the women's Cat 2 race. It really was a race of attrition in those conditions. Finally, towards the end of the lap, I finally got enough of a gap to relax a bit and cruise in for the win. I think this was my first ever cross-country win.
Bummer of the day…Kim, the local girl who was crushing it ended up crashing pretty hard during the race. She broke her arm near her elbow and has to get it surgically repaired. Heal up fast Kim! I want to go ride with you!
The aftermath…this (photo above) is what the bike looked like when I got home today. She was clean at the start. I think I'll have to replace the chain, and possibly the rear cog. I also have mud stains on my legs that I can't get off. Stupid red mud. I have also official resigned from road racing. Its lame…this was so much more fun!
By Beth Welliver
Pacific Grove, California
I used to think I was a distance runner. It must have been a phase to transition me from my soccer playing days to something else. I ran a few 1/2 marathons and did a full marathon and was all ready to tackle a 50-km trail run, but running hurts after awhile and I skipped the 50K. Then I moved to California and just had to buy a bike. But I was still all about the long distance thing, so I thought I should do long distance mountain bike races, and really for no reason other than that I thought I was some sort of endurance athlete or that I wanted to be some crazy endurance athlete, and I had a mountain bike that I sort of knew how to sort of ride on singletrack. So last year I did the craziness of Boggs 8-hour mountain bike race on a brand new full-suspension that I sucked at riding. But I survived and had so much fun that I decided to do it again…and bring people with me! Somehow Natasha and I convinced each other to do it (she says I convinced her, but I think it was really her idea to do it this year).
So fast-forward another year. I figured out how to ride my full-suspension bike at a reasonable, yet still significantly slower than most, downhill speed. And I gained a lot of cycling fitness and all that in the last year, too. But I also did a lot of track racing and cyclocross and crits–pretty much the opposite of marathon mountain bike races, but whatever. The pedals go around just the same. Oh, and I'm rocking some serious "thesis fitness" right now as I'd like to call it…I've been lucky to get 1.5 hour rides in about three times during the week and maybe eeked out 3.5 to 4 hours on either Saturday or Sunday, but rarely did I ride on both Saturday and Sunday (except for that stupid Madera thing) in the last 3 months due to demands of finishing my master's thesis. So I really had no expectations going into Boggs this past weekend. I was hoping to match the same number of laps I had finished the year before, but I had no idea what would happen.
Before I get into the bloody details, I have to thank the unbelievable support crew we had! Terry waited patiently at the starting line for the entire 8 hours, keeping Natasha and I hydrated and fed all day long. Natasha's hubby Aaron was there for most laps and made sure we had the right food and lubed my chain when it needed it. Plus Hernando was there and up to his usual heckling shenanigans while Sabine made sure we were all taken care of and saved the day with a cookie for me (more on that later)…plus the three of them all got to go ride the sweet trails up there while we were racing, so it worked out great.
Now for the race…there was this racer announcement meeting at 8 and races were supposed to start at 8:30. Well, the guy talked until 8:25 so I had about 5 minutes to go change and get back to the line. I literally rolled up, set my foot down, and then they started us. Luckily I had 8 hours to get warmed up. The course was exactly the same as the year, so at least I knew what to expect. The first few laps went by easily. The weather was gorgeous, the trails were perfect, the fellow racers were cordial and friendly. There were guys on unicycles and couples on tandems and the fabulous Lorri Lown rocking some awesome pink socks to go with her awesome pink bike (not gonna lie, I'm a little jealous)…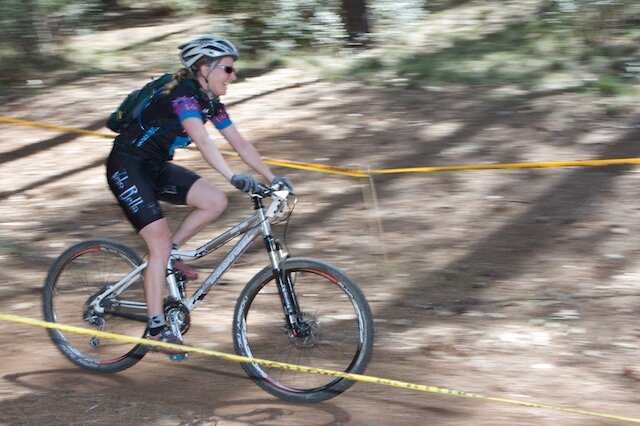 Around 1 pm, people started getting a little crabby. I was still happily frolicking along at my "thesis fitness" pace, but some people wanted to go much faster and wanted me to get out of there way. Most likely because around lap 4 I started going really slow. The "thesis fitness" was catching up with me. After the 4th lap I got the great reassurance from Terry of "you'd better hurry up if you think you're going to do 3 more laps" and "Natasha is about to lap you". Now, I fully expected Tash to lap me, so I was cool with that. She was actually racing as opposed to my putzing. Plus she knew all the secrets of endurance racing after doing the 24-Hours of Adrenaline a ridiculous number of times, like drinking Mountain Dew in between laps. So I made a deal with myself…go until I finish 7 laps or until Tash passes me–then I could drink beer.
Off I went for lap 5…holy cow I'm slow. And my hamstrings hurt. But I made it back around. Terry fueled me up and sent me off and told me to hurry up. So I started out on lap 6. The course had one big fire road climb early in the lap, then some fun, rolling singletrack for awhile, and then a monstrous death march of a climb that went for about a mile up a fire road and then another mile up some singletrack. The first climb was taking its toll on me, but I survived. Unfortunately my hamstrings were getting so tight that it hurt to pedal or stand on my pedals, so I just sat on my saddle and coasted through a lot of the next section. Then came the second huge climb. I noticed that I was getting so defeated that I was starting to do that whiny weird gasping breathing thing I do when I'm on the edge of a melt down and about to cry. So I decided, this is it. I'm only doing 6 laps this year. No one could fault me with all the moving and school and lack of training and general crap we're dealing with right now. But it was less than I did last year, which frustrated me, but not enough to care to do another lap. So I suffered my way to the top of the climb. The Boggs folks were smart when they designed that course though…roughly the last 1.5 miles back to the start/finish area was fun downhill. So the meltdown didn't fully come to fruition and I swooped my way back to the venue where the support crew was there to see me say, "I'm done". Too bad I was still smiling from the last downhill section so they didn't believe me. Plus I looked like a big dofus with my helmet all askew on my head, so no one would take me seriously anyway.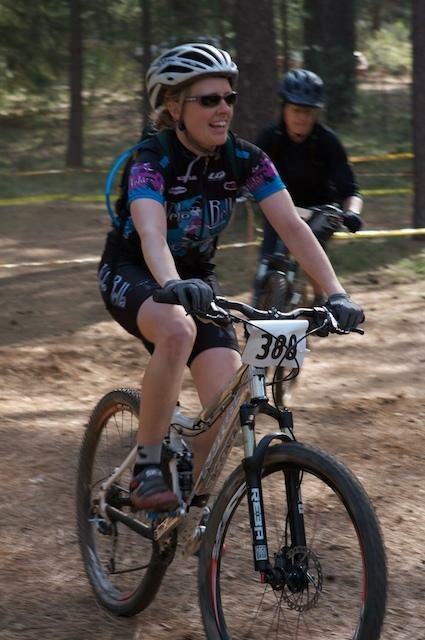 I was all prepared to convince Terry that I was done. He'd talked me into doing another lap last year, so I knew what tactics he'd use to get me to do another lap. I was ready to counter him. But then Aaron said, "its only 3:15, you have have over 2 hours to finish this last lap. You have to do another one". Uh, okay…Then Sabine says, "just stretch for a second and you can go back in a few minutes, you don't have to go right now." And then she said the golden words, "Do you want a cookie?" Yes, YES!! COOKIE! And to top it off, it was a sugar cookie. An unbelievable soft and oh-so-sugary sweet homemade sugar cookie. So I ate my cookie and drank my cytomax while the crew tended to my bike. I told them I would do another lap but I might be crying when I finish. That's how hard the last lap had been for me. Hernando said he'd have a beer to put in my hand when I finished, so fine. I'll go do the damn lap.
Shockingly, lap 7 was not so bad. Maybe because I knew I was absolutely done at the end of this lap because there wasn't time to do another one. Or maybe the after taste of the sugar cookie for the first part of the lap just made me happy. Or maybe because the crew had totally rallied me to get out there and do it. I sucked it up on the climbs and let go of the brakes on the downhills and just decided to have fun with it. My hammys didn't hurt as much any more and I finally had all the fast lines figured out. I made it almost to the very tip-top of the last climb and heard a familiar voice behind me, "Hey Wellie, can I get by?" Yay! Tash was finally lapping me…I knew she was really close to the chic just ahead of her in the expert category, so I was so excited to see her go flying by me and start down the final descent! She rode so hard and was absolutely crushing it for 8 straight hours! Unbelievable. She wound up finishing 3rd in the solo expert category, just 20 seconds behind 2nd place after 8 hours of racing. Awesome!
I cruised down the last little bit of singletrack, pretty tired, relieved to know I was almost done, and going faster than I'd ever ridden that section. That made me happy because improving my downhilling ability has been a slow and frustrating process. I'm still pretty slow at it, but I'm getting faster, and more importantly, more confident with speed in technical sections. I think my final lap ended up being faster than laps 4 thru 6, so I can't complain about that. And I was able to finish with a smile on my face. I did the same number of laps as last year but I think I finished those 7 laps at least 45 minutes sooner than I had the year before. I ended up 2nd in the solo sport category, well behind 1st place, but happy to have survived.
So that was it, last race in NorCal. I'm glad it was a fun one and that I got to share it with some great friends. And extra thanks to Terry for putting up with this whole cycling thing. He's out there at nearly every race, always supporting and helping and cheering and pinning numbers and manning the feed zones and keeping track of water bottles and taking some sweet pictures…and he doesn't even like riding a bike. I'm pretty darn lucky!
By Beth Welliver
Pacific Grove, California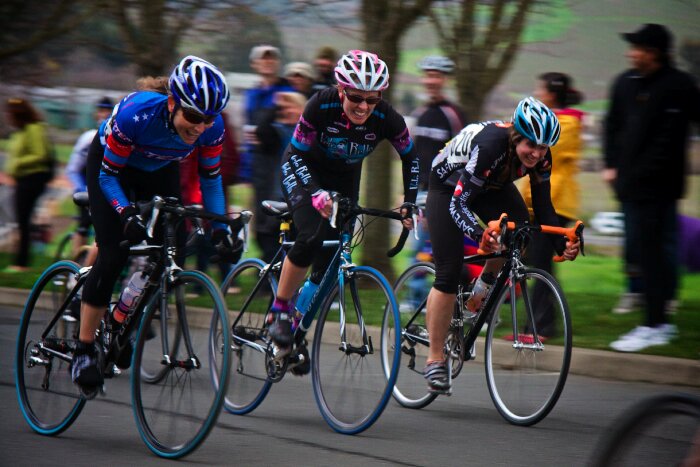 My race at Canatua was 51.5 miles of sitting in the pack in zone 2 followed by an all out zone 5 surge up the last climb. I didn't have any teammies. In fact, besides the 7 Velo Girls in the field, no one else had any teammies, so no one really tried anything. I thought about getting a little more active after the overpass on the last stretch, but it was so windy by that time that I didn't want to be anywhere near the front. So I sat in at the back of the pack until we started up the climb.
At the 1km sign one girl jumped so I grabbed on her wheel and stuck to it like glue. She slowed a bit over the 2nd to last climb, then surged just before the last uphill to the finish. I ramped up and jumped a little after the 200m sign with a SugarCRM girl right next to me. We pulled away a bit, but I was actually blocking the wind for the SurgarCRM rider beside me, so she was able to pull ahead just at the finish. It was a drag race for the last 50m and she nipped me by maybe an inch at the finish line. So second place an a t-shirt for me!
I loved when my big ol' group of 4's would meet the little group of 3's each time out on the road. There would be Soni, crushing it just ahead of the the struggling pack, with Suenami comfortably sitting in the back. And I also got to see Ryan out there mixing it up with a group of men, who all looked a little tired.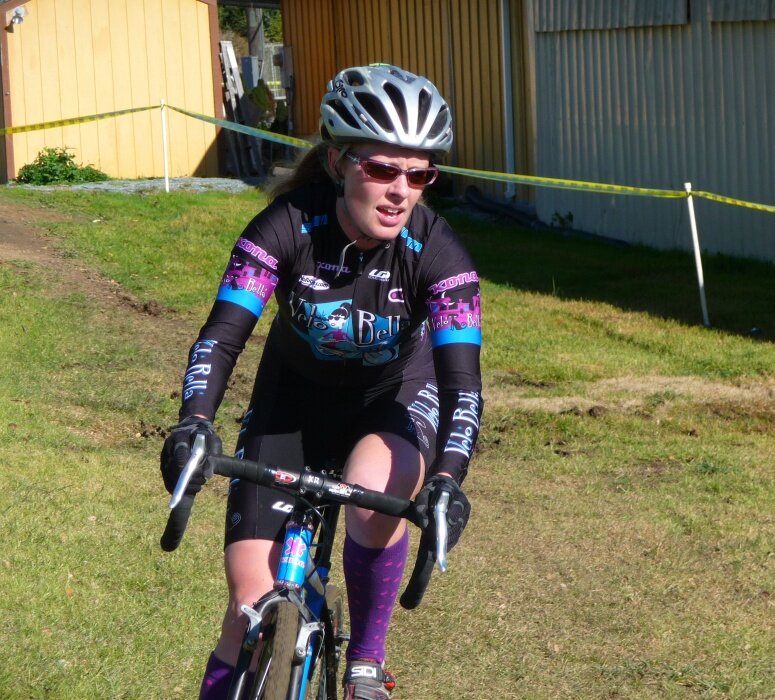 Beth Welliver Rocks the Sock Flair at Peak Season CycloCross.
Photo by NorCal Cyclingnews. Used with permission. See the Full Gallery.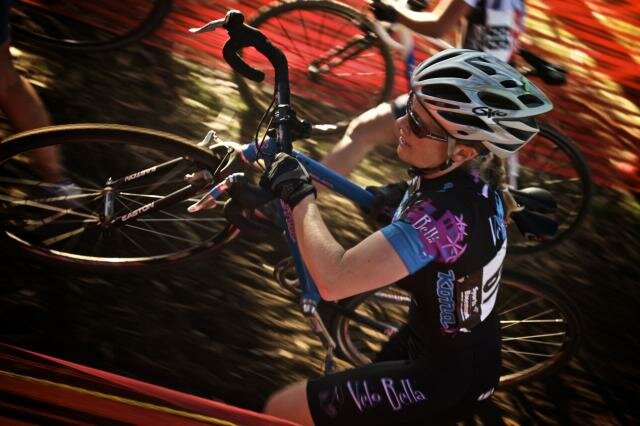 Beth Welliver, on the run at Golden Gate Park. Bay Area Super Prestige, Race #4.
Photo copyright, Terry Welliver, used with permission.
By Beth Welliver
Pacific Grove, California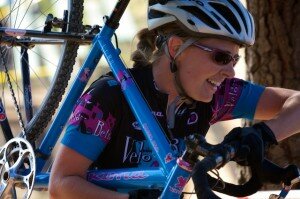 Oh my. It was hard, it was fast, it was full of suffering. I'd been doing a fairly good job of keeping my fabulously scary 'cross suffer face hidden far away until the end of today's race. Then it came screaming back in full force on the final sprint. But we'll save that bit for the ending…
Today was the NorCal district championship for the A's and the master's, but for us B's it was just a regular old CCCX race. But that definitely didn't stop the fast girls from showing up! Lindsay Collins had missed a few races but was back for this one along with the usual suspects – Niki B and Melanie. Right from the gun, or whistle I guess, Lindsay shot up the hill with the rest of us giving chase for the whole first lap. Then on the 2nd lap Lindsay had a little gap on the rest of us when we came around a corner…first we saw the cloud of dust and then there she was picking her bike up. I didn't get to see her after the race but I know she got back on and finished well, so hopefully she's okay!
So now the battle has whittled down to Mel and I. I got a little gap but then nearly killed myself when I tried to start running before unclipping heading up the run-up, so she caught me. That's the reason for the smile in this picture…I was laughing at my retardedness and at the spectator that gave me a "whoa Beth!" as I struggled to keep my feet and wheels on the dirt.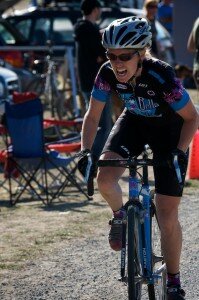 Mel got ahead of me starting up the long climb to the finish line going into the last lap and since she's a much stronger climber than me, she got a little gap. I had to fly down the back side to catch back up and get on her wheel again. We were neck and neck headed toward the last run-up. I was able to duck in close to the tree on the run-up and cut to the inside of her and get my bike down on the singletrack just head of her's. So I now had the lead going into the last bit of the course, but knew that the big ol' hill was just a few twists and turns of the course away.
Here's where I turned scary. I knew I had to crush it up this hill to hold Mel off…as in sprint like its a points race on the track but up the hill. So I stood up. I stomped and pulled as hard as I could on my pedals. And I made the scariest suffering face ever! Its really hard to be panting like a dog and gritting your teeth and hoping that your heart isn't going to explode out of your chest all at the same time. But it worked and I held her off for the win! Terry actually fired off about 10 frames of this suffering beast, but I'll protect the innocent and only post one on here.
It was so much fun to race today against great competition. The mental strategery (that's right, I just used the word "strategery") of being in a race with challenging terrain and fast competitors made it interesting to say the least.
Hats off to Jasmin Parsins…she's a high schooler at Foothills High School in Pleasanton who is hanging in strong with the B's this year and grabbed that 5th place podium spot today. She along with fellow high schooler and B racer Lainey Aldridge from Harbor High are going to be ones to watch in the future I'm sure!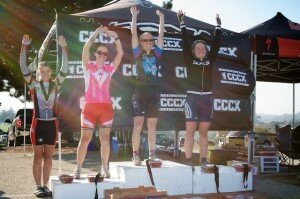 By Beth Welliver
Pacific Grove, California

Today was my first 'cross race of the season – CCCX #3 at Laguna Seca. It also happened to be the first race of the NCNCA Cup series.
I just typed up a witty, long-winded race report that my computer decided to eat, so here's the not-so-witty condensed version.
The course had a stupid huge hill…one of those hills where you're not quite sure if you going to be able to keep the pedals turning. At least it was paved. I kept trying to find one more gear when I got near the top but it was never there. Then there was this silly stupid barrier right after that climb on slightly off-camber 90-degree turn that I messed up every lap. But then after that the course was fun, fun, fun!!
My main goal today was to podium since it was my first real B race. Second goal was to maintain a good pace for the whole race rather than do my usual go-out-too-hard-and-then-die race routine. I did goal number two pretty well for me, so goal number one fell nicely into place – I got 2nd!! And a nice big box of strawberries to go along with the podium finish.


Even though that stupid never-ending hill sucked every lap, I loved the rest of the course and I was having so much fun racing it – the fast corners, the fun downhills, it was a blast! And I've been so frustrated with my dirt riding skills lately – I've been sucking on my mountain bike – that it felt so good to be able to ride so aggressively on that course. Just the kind of race I needed to start the season!
By Beth Welliver
Epic – normally a word reserved to describe 5+ hour mountain bike rides or something like that. But when chamois time passes the 8-hour point, I'm pretty sure we've moved into the realms of epicness. Even if we were just at the track.
Sunday was the epic track day. Proman sponsored an International Omnium at Hellyer. Five events, lowest point total at the end of the day wins based on a system where first place gets 1 point, 5th place gets 5 points, etc. We did a 200m TT, 10-lap scratch race, 2000m individual pursuit, which is pretty much a TT, 20-lap points race, and a 500m TT. A really fun sequence of racing…it just took a really long time.
Before I get into the details a huuuuge thanks to track rock star Beth Newell. She pulled me aside first thing and talked me thru the different events and took me out on the track to show me how to do a flying 200. All day long she was full of tips and gave me feedback on every race, all while focusing on her own racing and winning the whole darn thing. Very cool.
I showed up at the track with my brand spanking new Pista and immediately Hernando wanted to change my tires because that's what Hernando does. But changing the wheelset meant jumping up to a huge gear. So I went with what I had and did my 200m. And spun my gear out between turn three and four. My time was respectable, so I was still happy and I think I did most of the things Beth told me.
So the wheels got changed and then it was time for the scratch race. I suddenly felt like I was riding a stolen prosie bike with the new wheels and bigger gear – I had no idea that could make such a difference. The race itself – lots of nervous wheels made me nervous. Sabine did a great attack, then I did a rookie attack from the front so I didn't really get away, then we were tired, and then it was over and I was boxed in near the back. Ten laps is really short.
Next was the 2000m pursuit. Six laps all out. Well, my first three laps weren't so all out, then I got on it and finished up okay. I had no idea what 6 laps would feel like, so I'd like a do-over on that one. But either way, I think that distance by yourself will always be a sufferfest no matter what.
Photo courtesy of Standers
Feeling exhausted, the sun beating down, my Scandinavian skin tones shifting from a soft pink to a deep red, we got ready for the points race. Sabine rocks at points races so I knew we would have fun working the front. But this rookie made another mistake in this one…I thought we were on lap 16, with points up for grabs on lap 15. So I got a good run from mid-pack and suddenly had a lot of speed and checked the lap card as we came through the line – it said 17 laps to go…CRAP! I was already going too fast to turn it off and knew I couldn't hold it for 2 laps, but I stupidly went anyway. But it set up an exciting sprint for lap 15 and I pedaled my ass off to stay with the front group of speedy chics as they went by. And then Superwoman Sabine bridged up to us and made me sooo happy. She would roll to the front and I could get a breather before we would sprint off again. Next time I'll get on her wheel as she floats by because her lead out is magic (sorry Sabine!!). But I was honestly in survival mode every time. The bummer was that for all our hard work, I think I only scored one point I think. But I felt like I actually belonged in that race, which was a huge confidence boost.
Another hour of forcing oneself to not throw back an icy cold Fat Tire while we waited for the 500m TT. I really liked this distance. It was a standing start, so getting on top of the gear at the beginning seemed tough but once I got going it was fun. My time again was not too bad, so I was happy. And happy that I could finally get out of that stinky jersey and chamois! I finished 6th, one spot away from the podium.
Overall, a great day. Really fun. I am really loving the track.