Merco Downtown Gran Prix, CA
9th, Katie Norton, Women 3/4



Bulldog Road Race, CA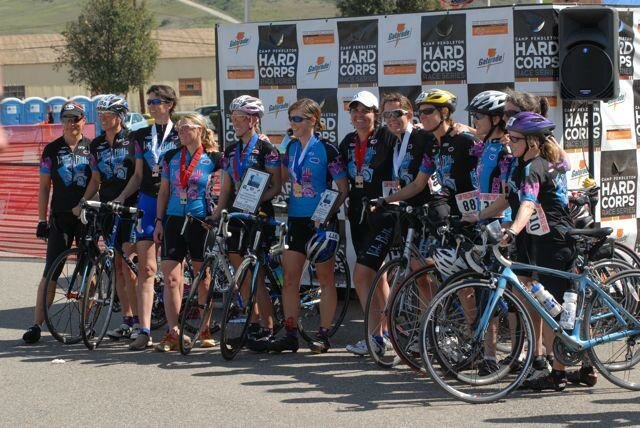 1st, Raja Lahti, Women 30-34
2nd, Jen Neuschwander, Women 30-34
7th, Erin Horan Gonzales, Women 35-39
3rd, Beth Callahan, Women 40-44
11th, Sandra Fairchild, Women 40-44
3rd, Madelyn Horton, Women 45-49
6th, Vicky Jones, Women 45-49
9th, Lynn Scozzari, Women 45-49
12th, Sherry Mesman, Women 45-49
1st, Cindy O'Grady, Women 50-54
2nd, Jackie Bickford, Athena
3rd, Whitney Despain, Athena
Snelling Road Race, CA
10th, Sue Lovecchio, Women 3
16th, Laura Sanchez, Women 3
3oth, Soni Andreini Poulsen, Women 3
35th, Erika Locke, Women 1/2
16th, Denise Ramirez, Women 4b
Richard Millikan Memorial Criterium, CA
18th, Rachel Mirkelson, Women 3/4
Pine Flat Road Race, CA
2nd, Liz Benishin, Women 1/2
3rd, Soni Andreini Poulsen, Women 3
Cantua Creek Road Race, CA
1st, Sue Lovecchio, Women 3
5th, Soni Andreini Poulsen, Women 3
2nd, Beth Welliver, Women 4

Here at Velo Bella, we get mail…
Bay Area Women's Cycling is pleased to announce the schedule for the 2009
Northern California Women's Racing Series sponsored by NCNCA. This year we
are pleased to add a Master's Series for women 35+ in addition to the
traditional Category 3 and Category 4 competitions. All three Series strive
to provide more opportunities for women to race in single-category fields
and to provide additional prizes for participants.
As in previous years, each Series includes both an individual competition
and a team competition, and prizes are awarded to the leaders in both
competitions at the midpoint of the series and after the final race. This
year several local teams have stepped up to sponsor special cash "BAWC
primes" at participating races, so there are even more reasons to
participate in the Series!
The Category 3 and Category 4 Series races are:
– Menlo Park Crit (March)
– Altamont TTT (April — team competition only)
– Wente RR (April)
– Kern RR (May)
– Calavares ITT (May — individual competition only)
– Memorial Day Crit (May)
– Ohlone Crit (July)
– Dunnigan Hills RR (August)
– Giro di SanFrancisco (September)
The Master's 35+ Series races are:
– Berkeley Hills RR (May)
– Kern RR (May)
– Dunlap ITT (June — individual competition only)
– Benicia Town Race Criterium (June)
– Berkeley Bike Club Crit (July)
– Dunnigan Hills RR (August)
Big thanks to the participating races and promoters! For more information on
BAWC or the Series (including results from past years and information on how
points are awarded), please see http://www.bawcycling.com. If your team would like
to sponsor a BAWC prime, please feel free to shoot me an email. For those of
you who are on Facebook (it seems to grow daily…), we have a public group
where we will post updates and information, please join us if you're
interested.
Please share this email with Category 3, Category 4 and Master's women —
the more the merrier. Thanks for your support, we'll see you at the races!
Best,
Elis Bradshaw
Women's Series Program Manager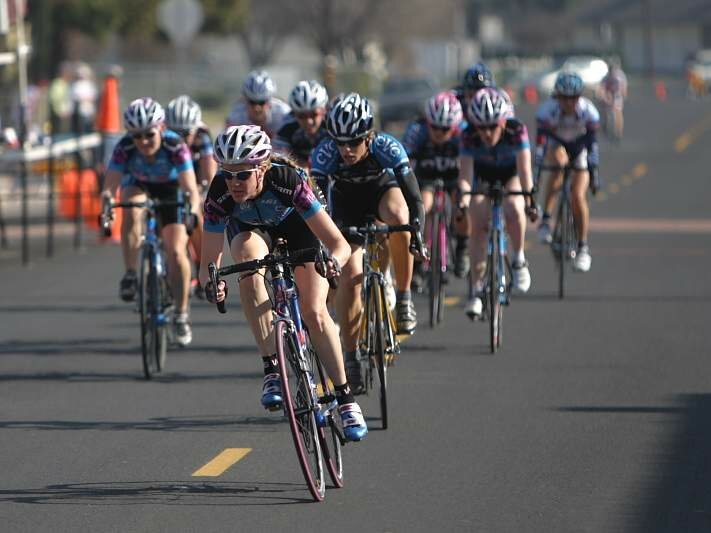 Photo copyright Steve Weixel. Used with permission.
By Julie Porter
Auburn, California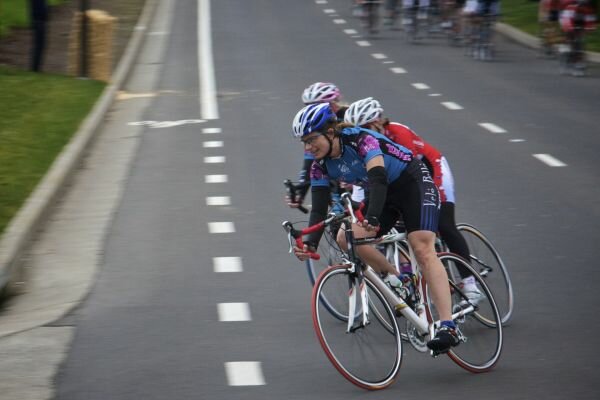 Julie, slicing into the first turn at the Cherry Pie Criterium
We prayed for the weather to hold and it did. Like always, I love to ride in the cooler weather and with very little clothing.
I raced the 35+ category first (headed out with the 4's). It was the largest crit group I have every been in. Somewhere around 55 ladies. I was prepared, had my race bike, and felt good. My goal was to stay in the front 1/4 and really watch the dynamics to be prepared for any surges. I used the big ring for the hill climb and it worked for me. Steady and powerful would move me up towards the front to get around the "U" turn early. Mountain bike skills help in the tight turn! Race was solid and I ended up 5th in the 35+ and came in about 12th overall. I was happy with that as I wanted to finish with the pack and have something left for round two.
Well, let's just say I am not ready for "Bike Girl" stuff just yet. The Pro/1/2/3 group was also very large. It ended about 1/2 the size though as the riders bailed, got pulled, or just died. I hung on for dear life for 4+ laps, got dropped off the back for about three laps then finally pulled. I was not going to quit until they pulled me. My legs had something left so I plodded along in the wind.
It was great training, a safe day, and I had yummy pizza on the way home. What more could you ask for? I don't know where I finished but it was not last! That is always a bonus.
Cherry Pie Criterium, CA
5th, Julie Porter, Women 35+
11th, Sue Lovecchio, Women 35+
4th, Beth Welliver, Women 4
By Katie Norton
Sacramento, California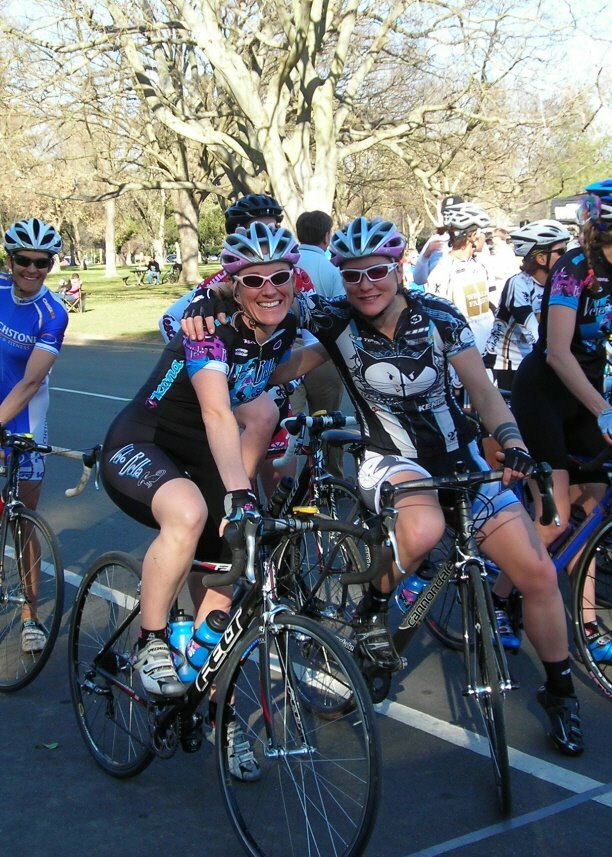 Last Saturday was the first race of the season for me. I was much more mentally prepared than last year. Dino has been focusing my workouts on speed-work and convinced me to do a harder warm-up. It was nice to race later in the day with the 1/2/3's. We had a nice little safe field of 26ish.
My teammate Soni and I spent the first lap up front at a reasonable pace. From there on, it's like a song that got faster and louder. My old friend Mary (Vanderkitten) controlled a lot of the race– toying with us really. I watched her draw people out by hammering up front and getting a little gap, just watching who would follow. I tried to stay on her tail– She could have led me out for a prime but she was just too fast! It was suprising that she didn't take it in the end. She ended up 2nd to Cal Aggie Amanda. Touchstone looked strong with Kelly and Carol contesting the prime sprints.
I ended up 10th place. I was very happy with that. Good times!
When Dino analyzed my power files later, I had gotten all personal bests (except for 1 second watts). He raised my threshold by 20 watts. A big jump! Amazing after being off my bike for a week with a stupid chest cold. It re-inspires me to work hard and look forward to a good season.
Stats: Average Speed- 23, Normalized (average) power 244 for 50 minutes