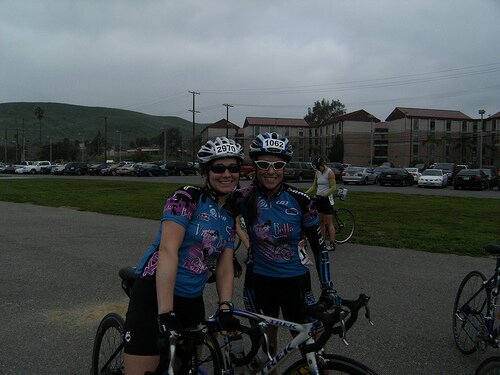 Stacy and Raja demonstrate one of their three sports
Velo Bella triathletes are busily preparing for the 2009 edition of the Wildflower Triathlon. Wildflower runs 1-3 May 2009 and includes Long course, Olympic distance, and mountain bike events. Bella Raja Lahti writes:
Never gone? You're missing Woodstock of Triathlon! With world champions guaranteed to show… along with 20,000 of your best friends – it's not to be missed! Don't "do" triathlon? How about the mountain bike/off road race? Or a relay? Like to climb… then you need to try a little Nasty Grade! Distances are Sprint (off road), Olympic (1500 swim, 40K bike, 10K run), or Long Course (1.25 mile swim, 56 miles bike, 13.1 mile run).
So far three Bellas have signed up to participate in the May party. Raja Lahti, Stacy Dietrich, and Lynne Branchflower have all sent in their entries and are hard at work training for the big day. We can't wait to here all about their adventures!
By Ryan Hostetter
San Luis Obispo, California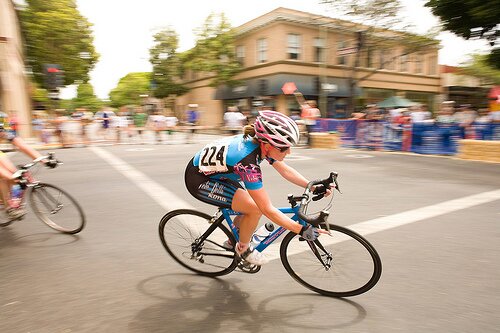 I got a chance to hit up some extra sunshine in the Santa Barbara area for the Mothballs Criterium. The bad news is that there was only one womens crit with all categories lumped into one big race, but the good news is there was a field of 40!! This was a great turnout for this little crit on the Central Coast.
Favorite Part of the Race
Marian came by to bring pre-race goodies (mmm cookies), Thanks Marian!!
Race Low-Down
I am not gonna give a long play by play… it was a fairly "normal" crit. I tried to stay toward the front to go w/any move I thought would stick and just happened to fall asleep at the wheel when a real break got away… and I was not in it DOH! We were super active and there were about 4 of us trying to bring it back while towing the rest of the field around (thanks to Kristina of Touchstone, Aileen Loe of Rock Solid, Jenna K. of Arts and Kate Leiger not sure which team she was riding for..), not to mention the fact that LaGrange had a huge squad out there controlling the race like pro's. We drilled it but could not bring back that break of 6 strong.
It was a really fun and surprisingly active crit which went by in a flash. I ended up getting 2nd in the field sprint for 8th place so I am super happy especially after doing a ton of work on the front. I also got to race the Mens Cat 3 earlier in the day too so I was a little tired by then, but man was it a great day of racin.
The weather was perfect… the nice grassy knoll was a comfy viewing stand, and the baked goodies were delicious!
Favorite Other Part of the Race
In the Mens 3 crit I went off the front because they were lollygagging around and one guy looked at Tyler and said to go get on that girls wheel… he said "no way that's my wife up there" Heh heh heh. I love helping my hubby out in a race .
Shout-Out!
I have to give a big Thank You to the Fluid guys… they came from Cal Poly and are making a wonderful recovery drink. It does not have a ton of sugar and calories, is not super heavy to drink (unlike other recovery drinks) and they were filling up my bottles allll day long for me. This stuff is good… Check 'em out www.livefluid.com!
Early Bird Criterium, CA
20th, Rebecca Dyas, Women 4
Mothballs Criterium, CA
8th, Ryan Hostetter, Women 1-3
Marian Explains How Not to Race Bikes
By Marian Hunting
Santa Barbara, Cali
It's just that I tend to break out in hives when exposed to too much toolbaggery. And, I don't want to tell you how to race your bike, but……
Two main points on the Women's 3/4 field at Poor Kids:
Firstly, if you're on a team with the numbers, the right way to break up the race is to send someone up the road.
Lather, rinse, repeat.
It is toolbaggery of epic proportions (and a clear violation of rule #1) to grab a fistful of brakes and then attack off the front.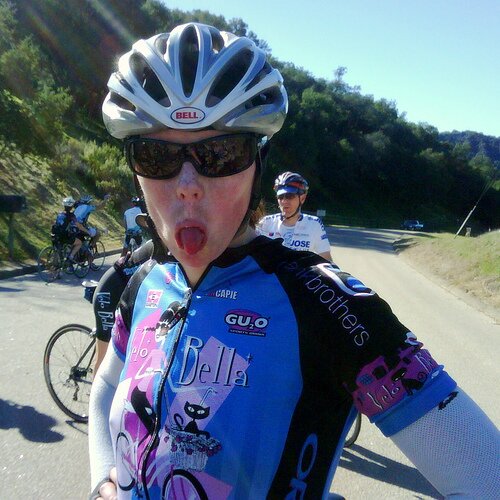 I don't know where those women learned that nasty little trick, but where I come from we don't cotton to such underhanded ways & I am certain that had they pulled that little toolbaggery move on a group ride they would have been ripped a new one in seconds.
Seriously?
That kind of toolbaggery move?
In a January race?
A race that means nothing?
In the women's 3/4 field?
I suppose there's some sort of explanation; maybe your mother didn't breast feed you or you were the fat kid in 3rd grade or no one asked you to senior prom. But whatever the explaination is, get over it and/or leave your toolbaggery at home. Thanks in advance.
Secondly, I know that you've been told a million times: "Whatever you do, don't ever pull. Don't ever stick your nose in the wind."
I hate to burst all your purty little bubbles, but if no one pulls, no one races.
It's the wind, it won't kill you so don't be so scared. Don't you sweethearts worry, there is an easy solution: one person rides in the wind. After x amount of time has passed they pull off the front, either to the left or to the right, & they drop back & fold back into the back off the group, resting after their pull in the wind. The person behind the first rider then rides in the wind for about the same amount of time.
Lather, rinse, repeat.
Next thing you know, you're clipping the miles away at a good speed & everyone has their turn in the wind so it's all equal.
Photo, Velo Bella. See the whole Bella Gallery!