Dusting Off the MothBalls: Ryan Goes Crittin'
By Ryan Hostetter
San Luis Obispo, California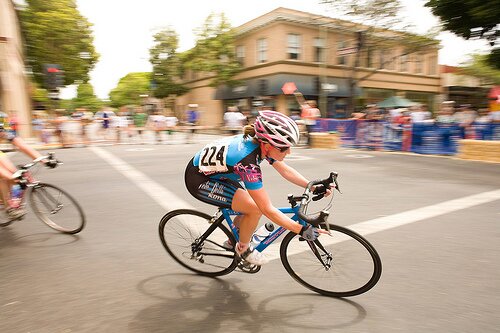 I got a chance to hit up some extra sunshine in the Santa Barbara area for the Mothballs Criterium. The bad news is that there was only one womens crit with all categories lumped into one big race, but the good news is there was a field of 40!! This was a great turnout for this little crit on the Central Coast.
Favorite Part of the Race
Marian came by to bring pre-race goodies (mmm cookies), Thanks Marian!!
Race Low-Down
I am not gonna give a long play by play… it was a fairly "normal" crit. I tried to stay toward the front to go w/any move I thought would stick and just happened to fall asleep at the wheel when a real break got away… and I was not in it DOH! We were super active and there were about 4 of us trying to bring it back while towing the rest of the field around (thanks to Kristina of Touchstone, Aileen Loe of Rock Solid, Jenna K. of Arts and Kate Leiger not sure which team she was riding for..), not to mention the fact that LaGrange had a huge squad out there controlling the race like pro's. We drilled it but could not bring back that break of 6 strong.
It was a really fun and surprisingly active crit which went by in a flash. I ended up getting 2nd in the field sprint for 8th place so I am super happy especially after doing a ton of work on the front. I also got to race the Mens Cat 3 earlier in the day too so I was a little tired by then, but man was it a great day of racin.
The weather was perfect… the nice grassy knoll was a comfy viewing stand, and the baked goodies were delicious!
Favorite Other Part of the Race
In the Mens 3 crit I went off the front because they were lollygagging around and one guy looked at Tyler and said to go get on that girls wheel… he said "no way that's my wife up there" Heh heh heh. I love helping my hubby out in a race .
Shout-Out!
I have to give a big Thank You to the Fluid guys… they came from Cal Poly and are making a wonderful recovery drink. It does not have a ton of sugar and calories, is not super heavy to drink (unlike other recovery drinks) and they were filling up my bottles allll day long for me. This stuff is good… Check 'em out www.livefluid.com!
---
This fabulous post was written by one of our awesome bella volunteers ~ To change this standard text, you have to enter some information about your self in the Dashboard -> Users -> Your Profile box.
---