Wente Road Race, CA
4th, Camille Deluca-Flaherty, Women 35+ 1/2/3
6th, Sue Lovecchio, Women 35+ 1/2/3
10th, Elizabeth Benishin, Women 35+ 1/2/3
13th, Ann Fitzsimmons, Women 35+ 1/2/3
17th, Katie Kelly, Women 35+ 1/2/3
21st, Marsha Kirschbaum, Women 35+ 1/2/3
22nd, Linda Locke, Women 35+ 1/2/3
Sea Otter Classic Circuit Race, CA
9th, Eliece Horton, Women 35+
…At Barry-Roubaix
The "new" spring classic of Michigan, last Saturday (3/27) marked the 2nd running of "Barry-Roubaix, The Killer Gravel Road Race." With it's ever-popular come one-come all, any bike will do format, the event has quickly become a favorite, growing to over 600 riders this year. Promoter Rick Plite (Kisscross Events) started the day off with style, sending the massive peleton out behind a sheriff's patrol car for a "neutral roll out" of a mile or two.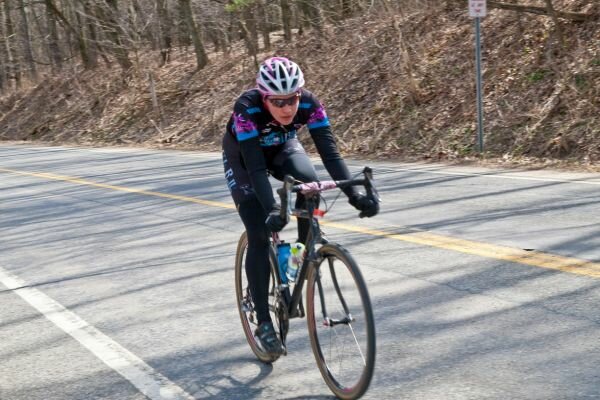 While it was an awesome experience to be part of such a large group, I have to confess that the neutral roll out was faster than I was ready for! That was a good thing, because it warmed us up quickly in the morning's 34 or so degree temps … but also not such a good thing as the crowd jostled for position, itching for the moment when the sheriff would pull off and let us all loose on the roads!
Set on the quiet country roads surrounding Yankee Springs Recreation Area, the Barry-Roubaix course is something to behold. Whether you think of it as one solid early season training ride or a very challenging race circuit, the 23, 35, or 65 miles of big rolling hills, mixed surface (pavement/gravel/sand), a dicey little two track section to test your off-road handling, and wonderfully scenic views throughout all add up to one great day out.
Once the sheriff pulled off, the pace quickened & a few crashes mixed things up. We flew down the pavement approach to the two track, and that's where things became interesting in a hurry! Thanks to a friend's dedicated course previews throughout the winter and spring, I had a good idea of which line would be forgiving.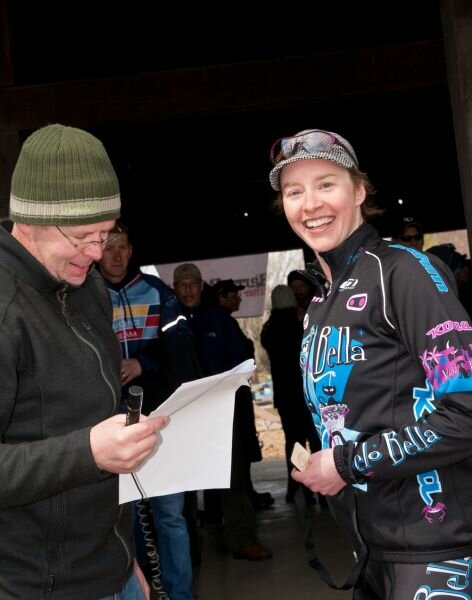 Sticking to that line & using a few strategic 'cross dismounts through that section saved time & energy for the many hills ahead. Through the hilly sections, peletons were few and far between … it seems that some of us can climb well (not me!), and others descend well (me!), making it hard to work together in classic road race strategy. Since I love to TT, it isn't surprising that I enjoyed being out on the course solo for most of the race.
I ended up very happily in 3rd, but fully confess that Kim Thomas deserved that podium spot. She attacked on a series of hills & since I couldn't respond, I got to watch her tow a long train of boys right up and over so many climbs! They just sat there and couldn't come around. Go Kim! Sadly, Kim had a mechanical near the end, which cost her precious time.
Après race, the temperatures had warmed enough to enjoy a little tailgating, a big beach bonfire, Founder's Centennial Ale, and award and raffle prizes (including goodies from race sponsor Sheila Moon!) to many, many riders.
So, what can I say …. The race hurt. A lot. Actually, a lot more than I expected. And yet, I can't help be excited about coming back for more next year and in the weeks leading up to June's Lumberjack100. Life is good!
— Monica Tory
Kalamazoo, Michigan
Results: Monica Tory, 3rd, Expert Women (35mile)
Fiesta Island Time Trial, San Diego CA
3/9 Victoria Jones, Women 40-49
SuperSeal Triathlon, San Diego, CA
1/42, Raja Lahti, Women 30-34
2/42 Stacy Dietrich, Women 30-34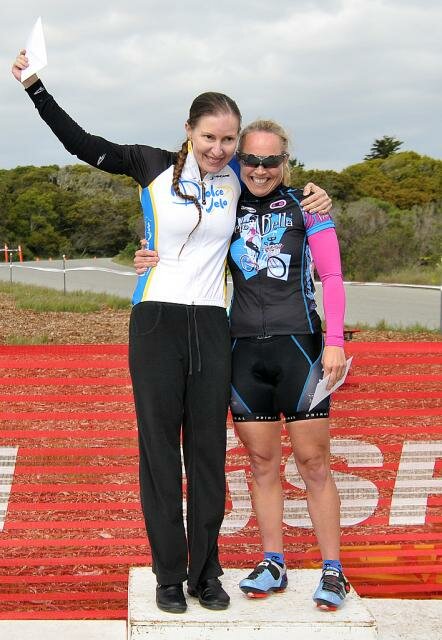 CCCX Circuit Race #3, CA
2nd, Sue Lovecchio, Women P/1/2/3
3rd, Soni Andreini Poulsen, Women 35+
(photos courtesy Steve Anderson)
It was Saturday, February 27th, exactly four weeks prior to race day. I did my routine core workout that morning and then headed to Masters swim. Something was seriously not right. As the swim workout went on, I started feeling more and more pain in my ribs on the left side. By the end of the workout, I got out of the pool moving in slow motion and hunched over in significant pain. This was clearly not a "good" kind of sore.
I went to see my awesome physical therapist Gino that Monday. He advised me to see a D.O. and have x-rays taken. It could be a dislocated rib. Wednesday's appointment with the D.O. revealed no dislocated rib but instead strained intercostals likely caused by too much rotation with one of my core exercises. The swim workout afterwards likely tipped those muscles over the edge.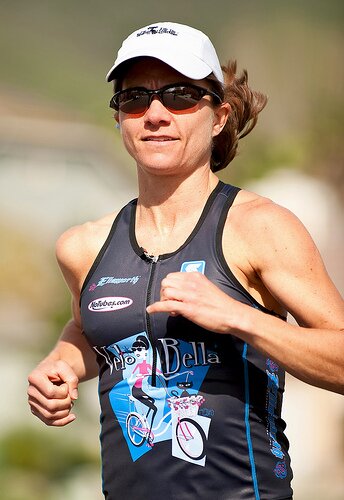 My first question: will I be able to race on March 27th? The doc said time would tell. These muscles are not easy to heal, as they are stretched every time your lungs expand (which explained why it was painful when I took a deep breath…..so much for speed work of any kind!). He advised me to stay out of the pool initially, as swimming would stretch and aggravate those muscles. Biking and running should be okay, but he cautioned me to not train intensely and get my heart rate up too high, as this would also aggravate the muscles if I was breathing too hard.
I was seriously bummed. My husband Andy was, and continues to be, a saint. I was not fun to be around with such limitations so close to a race. I kept up with physical therapy twice a week and acupuncture 1-2 times a week. The healing was very slow. It was two weeks before I was back in the pool for easy, aerobic swims. Biking and running felt like they were trailing off, as I was not able to train at the pace I knew I was capable of given the limited range of motion and limited lung expansion.
It was a week before the race, and I made the decision with the support of my physical therapist, acupuncturist, bike mechanic (who is a fantastic athlete himself), and Coach Whitney to go ahead and participate, knowing that if I felt any pain during the race, I needed to pull way back. After all, Oceanside was not an "A" race for me. It was merely preparation for the "A" race on June 27th: Ironman Coeur d'Alene – my first full Ironman.
Race day: It's 12:15 a.m. – 2 ½ hours before the alarm was going to go off, and there was no way I was going to fall back asleep. Race nerves! Unlike other mornings, I felt no pain or tenderness in my rib area when getting up. Adrenaline is a powerful thing! My husband Andy and I (and my mom who was there to cheer us on – what a trooper!) left the house at 3:45 a.m. as planned and arrived up in Oceanside in plenty of time to rack our bikes and set up our transition area.
It was great to see SO many Bellas so early in the day! Yvette ran up to me with her bright and magnetic smile to give me a hug. She was one of many Bellas who was there to volunteer. Before we lined up in our waves, I saw Bellas Audrey, Jackie, Jodi, Sandra, Shannon, Teri, TracyAnn, and Whitney. We all exchanged hugs and good luck wishes. There is a huge feeling of camaraderie and comfort when surrounded by your Bella sisters.
6:30 a.m.: Time to line up for our wave start. DeeAnn, TracyAnn, and I were all standing near each other in the queue. Again, comfort in being around Bellas as the start time gets closer and closer!
7:17 a.m.: Our wave starts! This year I aged up to the 40-44 age group since I will turn the big 4-0 in December. To my surprise and delight, the 59-degree water did not feel as cold as it had in our practice swims the two weekends prior. Thank you, adrenaline!
The 1.2 mile swim itself was thankfully uneventful for me. A few kicks and shoves, but nothing that took me out, so to speak. My goal was to swim steady and strong. I'm not so sure about the strong part, but it was steady. I was constantly checking in to see if I had any discomfort in the rib area, and I was grateful there was none. My promised my coach and my family that I would listen to my body and respond accordingly.
Out of the water, and time for the long run in T1 (transition 1 – swim to bike) to the bike racks. There was a great volunteer who was kind enough to strip my wetsuit off of me which was an unexpected and welcome surprise! I had a heck of a time getting my helmet buckled. I think I wasted at least 30 seconds there. I just could not get my act together and even took off my helmet to check the strap and put it back on. So frustrating when the seconds are ticking away! Finally, the helmet was buckled and I was on my way on the 56-mile bike course.
The first part of the course is relatively flat, so a lot of folks tend to push the pace a bit too hard and then suffer around mile 35 when the first of three BIG climbs come into the picture. I felt pretty darn good and rode accordingly. I was riding with the same people for much of the first part of the bike course. They would pass me, then I would pass them, and so it went, back and forth. I don't try to keep track of where I am in relation to others in my age group. My focus is to race my own race, especially today when I had no idea what I would be capable of given the injury and disjointed training I had had for the previous four weeks.
As the ride went on, I noticed I was not fatiguing and was feeling better than I anticipated. Still no pain in my ribs, and no limitations with my breathing. The last eight or so miles of the course offered up a nice tail wind which was a welcome surprise after experiencing some strong head and cross winds prior to that. I came into T2 (transition 2 – bike to run) feeling strong and had a great T2 thanks to Bella DeeAnn who has taught me how to dismount my bike with my shoes left in the pedals. Good stuff!
Time for the run. The run is typically my best of the three legs, but my running had suffered with the rib injury, so I didn't know what to expect. My goal was to find a pace that I could sustain for the duration of the 13.1 mile run to give me an even-split….or better yet, pick it up a bit towards the end for a negative split.
The run course was PACKED with folks cheering on the participants. What a boost to hear "Go Bella!" and "Go Amy!" so often along the way. I'm not so good about acknowledging all the cheering in the moment, but believe me, I hear it and it is powerful! Not only were there Bellas cheering on Bellas, there were Bellas' families cheering on Bellas. While Lynn was out there racing, her husband Anthony and son Dakota were there to cheer us on, and Anthony took some great Bella photos. Raja in true Bella spirit was also out there on the run course with her camera and shouting out to her Bella sisters.
It was getting hotter and hotter as the run went on. I heard it reached a high of 78 degrees that day – unusually warm for the end of March in Oceanside. The first lap of the run I had Train's song "Soul Sister" running through my head over and over, and that kept me going. The song reminds me of a dear friend and my soul sister Christine. As a heartfelt aside: Christine has an incredible daughter Tehya who was born with the most severe form of spina bifida and has overcome incredible odds with a heart of gold and an iron will to live her life to the fullest. It is in Tehya's honor that Andy and I swim/bike/run. (You can read more about Tehya and her non-profit organization at www.tehyathon.com.) Christine, Tony (Christine's husband and Tehya's dad), Tehya, and Tehya's best friend Kajsa were all there that day cheering us on.
The run reached a point for me where "Soul Sister" somehow was replaced by counting. For some reason, I just started counting from one to one hundred and then started over. I did this for probably about the last 5 miles of the run. I was checking my Garmin every now and then, noticing that I was continuing to hold my pace. I was not sure at any point where I was in terms of my placing. Every participant has their age marked on their left calf, so if you wanted to keep track of your placement, you could. Not long after I made the final turnaround with about 3 miles to go, my friend Julie who was approaching the turnaround yelled to me, "You're going to Kona!" I was shocked to hear her say this. I told myself that Julie could be right, but for all I knew there could be someone ahead of me, and/or there could be someone right on my tail about to pass me. I kept myself focused and calm by working on keeping my pace (which was getting harder and harder, as I was getting tired by this point).
When I crossed the finish line, I was ever so slightly dizzy, so Bella Becky was right there to escort me to the medical tent so I could elevate my legs and stretch a bit. It was such a treat to have a Bella be the first one to greet me at the finish line! By the way, I have no shame about going to the medical tent. I was glad to know that my blood pressure was 110/60, pulse was 90, temperature was 98 degrees. Perfect! I felt significantly better than I had compared to the previous half-Iron distance races I had done.
I then went to wait in line for a massage. Wow – was that a treat! There were two masseuses per table. One worked on the upper body, one worked on the lower body. After 20 minutes of that luxury, I went over to the food tent where Bella Amara was volunteering outside, dancing and congratulating the participants, and welcoming them to the food tent. Again, such a treat to see a Bella everywhere you turn!
I worked my way to the back of this tent where results were posted. Once I could see my name, I had to ask someone to translate for me what the results meant. I could not believe what I was seeing. I placed first in my age group! My friend Julie then saw me and gave me a huge hug and congratulations. Her athleticism and sportsmanship is truly amazing and inspiring. She is going to rock the Ironman course on May 1 in St. George, as is Whitney!
At this point, I was so excited I could not stand still. I just started RUNNING. I had to get back to my transition area to find out where my mom in the was amidst the crowds and let her know! I was shocked that I was in a full-on run at this point. When I arrived at the transition area, I was thrilled to see Bellas BJ, Karen, and LaDawn who were all transition area volunteers. They were there to hear my great news. I'm so grateful for the excitement they shared with me.
By placing first in my age group (to my complete surprise), I earned a coveted spot to compete in the Ironman World Championships in Kona this October 9th. Travel plans are underway….
All the Bellas who participated that day had a phenomenal day. For some, it was their first triathlon at this distance. For others, it was their first time on this particular course. Some of us were back again to see how we would fare this year against all of the unknowns that present themselves on race day – weather, your own body and mind, other participants, etc. The Bellas not only represented, they rocked! Congrats to all the Bella Oceanside 70.3 2010 finishers: Audrey, Chris D., DeeAnn, Jackie, Jodi, Lynn S., Sandra, Shannon, Teri, TracyAnn, and Whitney.
A special thanks again to all the Bellas who volunteered: Amara, Anna, Becky, BJ, Carol, Heather, Karen, LaDawn, Yvette, and any others who I know I heard but may not have seen. Finally, I want to give a VERY special thanks to Whitney who has not only been a phenomenal coach for me, she also exemplifies what it means to be a Bella and leads the San Diego group with passion, enthusiasm, and tireless dedication.
I've said it before, and I'll continue to say it: I'm truly honored and proud to be part of such an inspiring, supportive, upbeat, and enthusiastic group of women. Bellas really do ROCK!!!
—Amy Larson
San Diego, California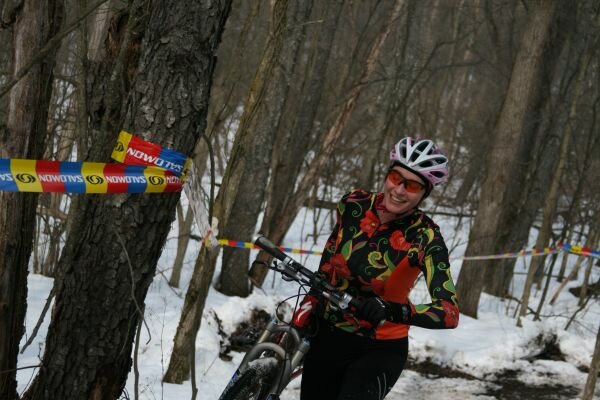 Cyclocross in February? Oh yeah!
Sure, in February, we're usually thinking more about hitting it hard on the indoor trainer, or maybe getting out for early season road rides and races. But, that sounds a little boring! After all, when a friend decides to host an informal & free 'cross race to see if the venue would work for a training or racing series later in the season, who would say no???
Many thanks to friend and trikat Rich James-Jura, who set up a tough, but sweet 'cross course on his parents' motocross setup, just west of Kalamazoo, Michigan. A sharp turn in the weather the morning of the event took us from near zero temperatures to a balmy … and super slushy 40 degrees! Deep snow quickly turned to mush, treating us to an ultimate bike handling test.
The inaugural event was a huge success, with many first time riders catching the 'cross bug. Can't wait to go back again when it's a little less muddy….and a little more rideable

More race details!
—Monica Tory
Kalamazoo, Michigan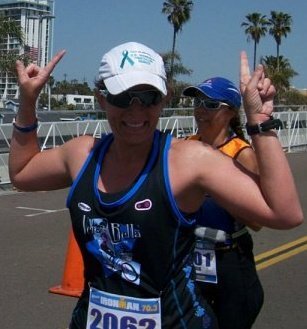 There was a GREAT Bella showing at the California 70.3 on March 27th. Our San Diego girls cleaned up at this half Ironman, with Amy Larson winning her age group and securing a coveted spot to the World Championships in Kona this fall. DeeAnn Smith, Jodi Hays and Lynn Scozzari all placed top 20 in packed age groups. Theresa Espinosa and Chris Desrochers both had fantastic races, completing the notoriously difficult bike leg in well under 3 hours.
Jackie Bickford and Shannon Faseler proved that everything is more fun with friends, crossing the finish line together. In spite of a rough day, Whitney DeSpain kept a smile on her face and finished with style.
This was Audrey Strojny, Sandra Fairchild and TracyAnn Perry's FIRST 70.3, but all three ladies raced like pros, keeping up great paces for the last leg!
Lots of Bellas also showed up to volunteer or to cheer! Amara, Anna, Becky, BJ, Carol, Christine, Gwyn, Heather, Karen, and LaDawn helped make everyone's day that much more enjoyable.
It was a FANTASTIC start to the triathlon season in Southern California. Go Bellas!!!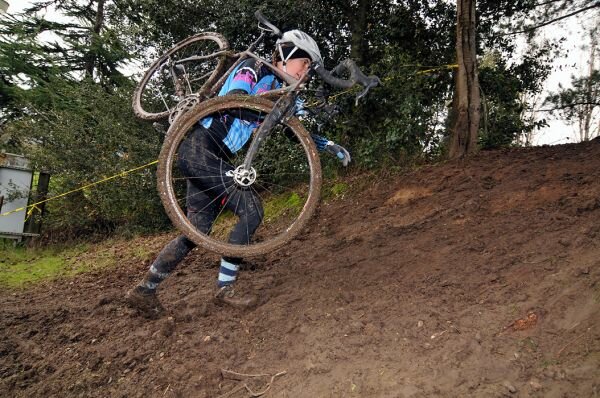 AND it was rad… and hard, and fun, and….
I will do it again next year. Hopefully better.
I rode in some surf city races, cccx and the one Peak Season. I accomplished my goals. One being to race, two to not come in last (That happened the Halloween Surf City Race), and the third to get one of those beers from Santa Cruz Ale Works.
I did drop out of one race, it was a low for me. I was so frustrated with how clumsy I could be with mounts and dismounts, the super technical stuff, and how slow I could be. But I came out of it with a new attitude. No more dropping out, and to just have fun!
Yesterday was my first muddy race, and boy was it muddy. I fell three or four times. I lost count. The last lap was all about staying on my bike and finishing. I was so glad I did because I got Santa Cruz County Cyclocross Champion for womens C's!!! I don't know what it means, but I got a great hat out of it!! Thanks Sheila Moon!
It was awesome to meet new women. Thank You Mary for your encouragement and guidance. Dionne, I hope to see you out at more races. And to the whole cyclocross crowd, you are rad!
Now to catch up on housework I have neglected for the last few months!
Rachel Wolff
Santa Cruz, California