Young Life Mousetail Challenge Race Report
What do you get when you put the Tennessee Bellas with a great bike club like the Jackson Spokes? You get a super mountain bike race with great schwag and an awesome post-race grill!
The inaugural Young Life Mousetail Challenge took place on April 22 at Mousetail State Park in Linden, TN, co-sponsored by the Tennessee Bellas and the Jackson Spokes. The course, according to the race flyer, is mostly single track with some doubletrack sections, and 900+ feet of climbing on a 7.5 mile course.
"Bellas were well represented in all three fields," Molly Graves, fearless leader of the Tennessee Bellas said, "with Maria Pino and Angela stealing 1st and 2nd in the beginner race, Jennifer beating her own PR on her first lap in the women's Sport race, and myself and Sandy holding it together through three laps in the Expert race!"
BELLA RESULTS (full results available soon at www.jacksonspokes.com)
EXPERT WOMEN 19+
2nd place, Molly Graves
3rd place, Sandy Kern
SPORT SENIOR 19-29 WOMEN
1st place, Jennifer Moorehead
BEGINNER MASTER 30+ WOMEN
1st place, Maria Pino
2nd place, Angela Brown
This sign at the entrance to Mousetail describes the course more than words ever could. Photo by Dustin Greer.

Molly Graves shows true Bella flair on the course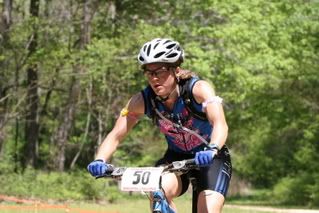 Sandy Kern on the course…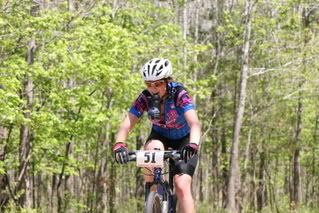 R to L:
Maria Pino, Velo Bella-Kona, Beginner Women 30+ 1st place
Angela Brown, Velo Bella-Kona, Beginner Women 30+ 2nd place
Jeanie Neumeyer, Team NMB, 1st place Beginner Women 19-19
Photo by Yvonne Horn.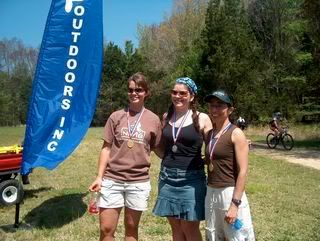 Beginner women's start. Photo by Yvonne Horn.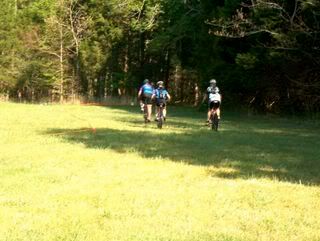 ---
This fabulous post was written by one of our awesome bella volunteers ~ To change this standard text, you have to enter some information about your self in the Dashboard -> Users -> Your Profile box.
---