Edgar Soto Memorial Stage Race Report
Tennessee Bellas Sandy Kern and Molly Graves braved the Edgar Soto Memorial Stage Race, April 25-28 in Tennessee. The days were packed with challenges, surprises, and lots of fun (a Bella requirement for everything!). Molly Graves, fearless leader of the Tennessee Bellas, tells it in her own words:
Sandy (L) and Molly (R) fit in some goofing around at the Edgar Soto Memorial Stage Race.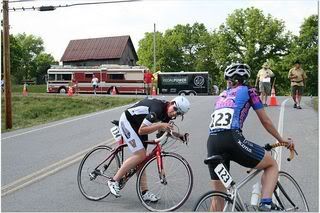 Day 1: Friday — Time Trial at Leiper's Fork
This was my first road time trial, and probably my favorite of all the stages.
I felt sadly out of place at the start in my regular helmet & beginner-level road bike — with other girls decked out in full skin suits with sperm helmets, aero-bars on their bikes, disc wheels that make that "whooob-whoooob" sound when they come up behind you — well, you get the picture…!
Somehow I did, and I actually finished. I didn't break 20 minutes (my goal), but managed a 20:20, which was not bad for me. I chalked it up to the lack of a good sperm helmet! (Do they make those in pink & blue??!) I passed 4 people and played yo-yo with a fifth who beat me on the final downhill (she had the whoob-whoob wheels). I had so much fun that Sandy said I needed to specialize in time trials and get a bella skinsuit. I am considering it, but I may have to start doing more buns of steel workouts if I am going to be wearing one of those suits in public!! 😉
Day 2: Peytonsville Circuit Race (on Missy's favorite course!)
THis was probably my second favorite stage. The circuit race reminded me of mountain biking because you do several laps of a longer course — in this case, three 11 mile loops — similar to an Expert mountain bike race. The course was rolling and the lead group took off fairly quickly. I managed to hang on for a while to some of the splintered groups, and eventually Sandy and I ended up riding together. We picked up a third wheel, who we later somewhat regretted saving (she wasn't very helpful…), but all was well in the end because Sandy beat her in the sprint. We saw a lot of people suffering from the heat — one of the top women, Robin Farina, dropped out of the race (she was in second place after the time trial) due to heat exhaustion. Thank God for Enduralites !
Molly stops for a second.

Stage three: Downtown Crit
For those of you thinking about doing a crit, I will say this: It is not as bad as you think. If you have basic bike handling skills and are not afraid of riding in a large group, you will probably do fine — just picture it as a large group ride at top speed going in circles. Okay, wait — that does not sound fun. maybe that's why I do not think crits will ever be my specialty!
The women's group splintered pretty quickly, and Sandy hung on longer than I did. Sandy loves crits — the girl is nuts. She did great. For me it was a game of dodging potholes, working on my cornering skills, and trying to hang on for a few moments whenever the fasties lapped me — which happened quite a few times! I spent a lot of time by myself or in small groups. It was a loooong 40 minutes…!
Stage 4: The road race
At the start they started playing the Chariots of Fire theme, and Sandy and I found it hard to keep a straight face. We kept up with the pack for a good hour, but eventually it split as we hit the hillier sections. The first hour was eventful, however — including a group bathroom break called by one of the lead girls who couldn't get a spot in the portajohn line before the race! Now THAT was a Kodak moment — thirty some-odd women racers squatting & peeing together on the side of the road! Ha!Maybe we'll make the cover of Velo News!!
The last 2+ hours Sandy and I were alone or with a handful of other women. We kept each other company and I am grateful she was with me — that would have been a LOOONG ride to do alone. At the end we hit the final climb –3+ miles of uphill switchbacks. That was hard. I am so glad that is over. We made the time cut that we didn't even know existed and finished somewhere near the back of the pack — but FINISHED!
---
This fabulous post was written by one of our awesome bella volunteers ~ To change this standard text, you have to enter some information about your self in the Dashboard -> Users -> Your Profile box.
---