New York Bellas – Lotsa winter activities!
New York Empire State Winter Games
Jenn Barber Reports: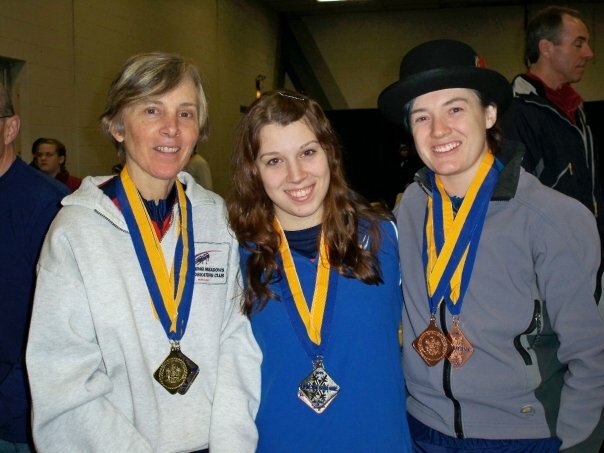 Jenn on the right with multiple time National Champion Carol Moore and Category 1 (Can train for the Olympics) Eleanor Poore
20 Feb 2009:
I left work in a snow storm to head for Lake Placid and the opening Ceremonies of the Empire State Games. I compete in speedskating. I was in the car with one of my team's moms and a couple of the girls.
We arrived in LP and dropped everything at the hotel, registered and headed to the rink for the fun. I ran into a high school teammate from cross country running, saw an old family friend as the head of the Olympic Regional Development Authority, and pretty much lived it up.
Dinner was good. I didn't sleep.
21 Feb 2009:
I got up at 7:00am and quietly waited for the rest of the crew to roll out of bed. We met another family for breakfast and stole away all of the kids to go shopping. I bought a pair of Prana pants and a pair of EMS shorts. I was only charged for the pants, which were half off. I would have fixed this, but I didn't notice until I got home – score! I also bough chocolates and a nifty Bowler for my cranium.
We returned to the hotel and gathered our stuff for the races. We convened at the rink. Ladies had the first warmup. I was a bit nervous, but at the same time ready to just skate as hard as I could, consequences be damned. The warmup was decent. I was ready.
First off was the 1000m heat. I knew that it was pick the two fastest from each heat and the next fastest over all. I knew I was in the top 2 in my heat. I got out front and controlled the pace – moderate. The other woman was happy to sit in. I advanced.
Then the 500m heat. Again I knew that it was advancement by place for me, but I decided to skate this one faster. I set a hard pace and made the other woman stick with me. I set a new personal best at 57:57 by 2 seconds. I wasn't winded. Awesome!
Then the 1000m finals. This was going to be tough. We had a Category 1 skater, a very experienced woman, me and a couple of others. I knew I was going to be top 3 if I stayed standing. I went out hard off the line deciding that I was likely to take 3rd anyhow so go for the PB. I hung in for 5 laps, then I was passed on the outside, but I passed again on the next corner with a tight inside and held my lead for another 2 corners. Then I was passed by two skaters. But I stuck to the group and was able to repass one of them by the line. I got a PB and the silver! Good to go!
After the races we went for dinner and brainstormed new slogans for promoting our sport. We came up with nothing but had some good laughs! Then back to the hotel and an attempt to sleep.
22 Feb 2009
We were up and ready to go by 7:00am to head to the rink. We couldn't find a place for breakfast so we all got chocolate milk and nuts as Stewarts to quench the hunger.
At the rink people were moving a bit slower than the day before. Skaters seem not to be morning people. The first race was the 1500m. I've only ever skated one of these – my ESG qualifier. I decided to try to control the pace again and keep it to a warmup for the 500 finals which were the next race. I felt strong for the whole race and finished with a new PB to boot. It was just smooth stroking the whole way.
The 500m finals were next. Just before the race the kids were running around because one of them had gotten a 56:56 and won a bet with her mom – she was getting new skates. She was also staring down my challenge of "beat me and you get a cake". I got to the line and had pulleed the outside position. I was nervous that I wouldn't get out fast emough. My starts held and I ended up out front for the first lap. Not suprisingly the Cat 1 skater passed me – she's a sprint specialist. Still I was holding off the other woman and skating my little heart out. I was strong! Then the other woman went for a pass in the 3rd lap and I baubled, almost going down. I saved it, but I'm sure it cost me a lot of time. I still finshed with a good time 57:65 and only had to make one "Cake of Shame" for the team.
The last race was the 1500. I knew I was going to be over powered in this race and, because of everythingt I had put into my earlier races, I was going to die. When I got to the line all I could think was set a controlled pace and step it up at lap 10. I went out and set a steady strong pace and followed my plan to the T. I ended up getting passed and did die a bit in 11th lap, but picked it up and almost passed the Cat 1 skater at the finish. I set a new PB by 7 seconds.
I was able to put together a silver and two bronzes with only one race prior in the last two year. My dryland training is paying off! I was sad to have beaten my friend, the Cat 1 skater, who has a back injury – but she really made me work for those times! It was a very competitive race. Now I'm headed to nationals in a couple of weeks to see how I fare on the Midland ice.
Skate The Bay
Kates Wins 1st place Women!
50 K Skate Marathon in Rochester, NY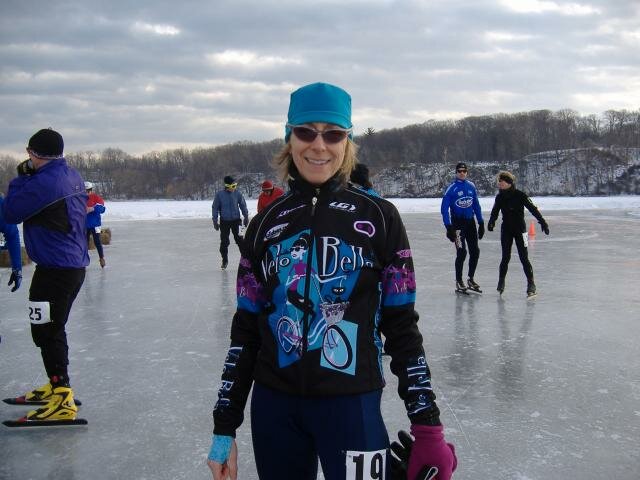 Good fun! Crappy ice! People falling all over the place, including a really nice guy who lost several teeth and had to get stitches too…I beat all the people who quit :o) because they were nervous about falling…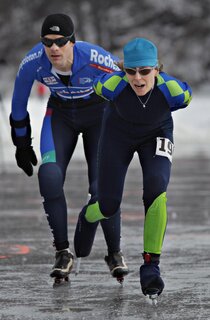 Chilly Chili 5K Running Race
Cazenovia, NY, February 8, 2009
Sue Atwood 12th place
---
This fabulous post was written by one of our awesome bella volunteers ~ To change this standard text, you have to enter some information about your self in the Dashboard -> Users -> Your Profile box.
---