San Diego Bellas Hold First Annual Camp
By Whitney Despain
San Diego, California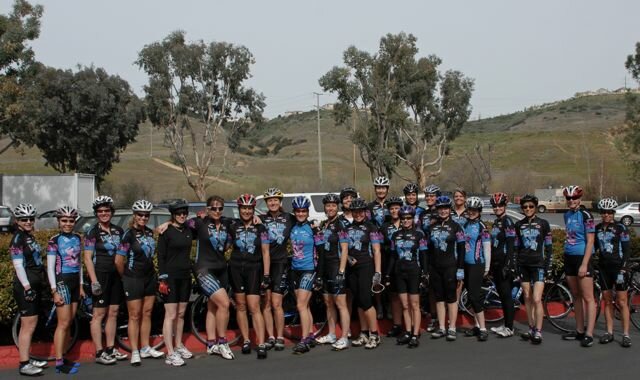 It is a well-documented fact: Anytime you get a group of Bellas together, it's going to be fun! The First Annual San Diego Velo Bella Camp was no exception.
Twenty-seven San Diego Bellas came to Coastal Sports & Wellness Medical Center in San Diego at 8:00a.m. to start the first clinic- Dynamic Stretching and Warm-ups with legendary local physical therapist and ART provider, Gino Cinco. He started us out gently enough. We laid on the ground, working out the kinks on foam rollers. But, as is typical of Gino's style, soon we were all sweating. He took us back and forth across the room with different warm-up moves. When we were feeling good, he let us loose on his circuit of pain. Yikes! The circuit included balance boards, medicine balls, push-ups and tethered running. There was a LOT of giggling, but we all got a great workout!
Next, part-time Velo Bella and full-time Gorilla Multisports coach DeeAnn Smith did a presentation on the art of hill climbing. After 30 minutes of explaining how to become a better climber, DeeAnn and her assistant/husband Norm Smith took us out on the road so we could practice. I don't think the folks on Torrey Pines had ever seen such a gorgeous group of fast women! DeeAnn's expert advice had us all moving out of our comfort zone trying new things. It was an awesome ride!
After the workout with Gino and the ride with DeeAnn, we were all starving. Luckily Chipotle hosted our lunch! They provided a super delicious free burrito, salad or taco plate to everyone in our group. AND they didn't seem to mind how stinky we all were! That's my kind of restaurant.
For our afternoon clinics, we went to local bike shop, B&L Bike and Sports San Diego. B&L has a great reputation for their knowledgeable staff, who actually LIKE their customers. Amazing, but true. Service manager, Scott Porter, stepped us through the care and maintenance of our bikes. He cleaned things we didn't know needed cleaning. He oiled things we didn't know needed oiling. More than once, he took something apart and we all went "ahhhh". The hour flew by, and I think we all could have easily spent the rest of the afternoon having him explain brake adjusting, chain cleaning, and cable care.
The grand finale of our camp was a presentation from Kim Mueller, a sports nutritionist. Kim and her company, Fuel Factor, are well-known in SoCal for providing nutrition counseling to a wide range of athletes. We could tell right away she really knew her stuff. After giving us a clear, easy to understand outline of basic sports nutrition principles, she answered wide range of questions. She explained everything thoroughly. We all walked away smarter and grateful to Kim for sharing her vast knowledge.
Shout-outs!
A huge thank you to Gino Cinco, DeeAnn Smith, Scott Porter and Kim Mueller. These four are experts in their fields who all donated their time on a Saturday to help our group have a great season. We all appreciate your time. Mille Grazie!
Thank you to the official camp photographer, John Faseler. Thanks for only showing our good sides.
Thank you also to Coastal Sports & Wellness Medical Center and B&L Bike & Sports San Diego for welcoming us into your facilities.
All Bellas received goodie bags packed with awesome products. Thanks to the following for their generous support: B&L Bike and Sports, Chamois Butt'r, Chipotle, Goody Hair Products, Gorilla Multisports, Infinit Nutrition, LUNA bar, Lululemon, and University Physical Therapy.
See you next year!
---
This fabulous post was written by one of our awesome bella volunteers ~ To change this standard text, you have to enter some information about your self in the Dashboard -> Users -> Your Profile box.
---