Binghamton Circuit Race – Binghamton, NY April 26
Jenn Barber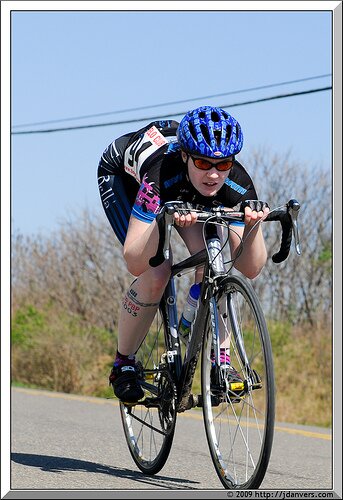 Jenn looking studly.
The Binghamton Circuit race has been a rainy, windy, snowy event for as long as Bill and I can remember. This year it went to the other extreme with a hot sun beating down on us. Even the spectators were sweating bullets by race time at 10am!
The first three laps the pack stayed mostly together. I was just sitting on wheels waiting for the MIM attacks to stick. After the third time up the finish hill a pack of about 6 people opened a gap on me going over the false flat. I caught back on when we went around the back side of the course on the super sweeeet swooping downhill. When we turned into the headwind I just couldn't tuck in and was dropped.
Another lap or two later one of the Cornell girls passed me on the flats. I stayed with her up the climb only to lose it again on those snotty false flats after the hill. About half way through I was caught by yet another pack of men, but one of them said – hey did you see the Cornell girl – you better stick with her! No I soooo hadn't seen her – I was just gritting my teeth! But I hopped on her wheel for a few minutes. She was just strong enough to pull away from me a little on the hill. I let her go, dunno why. I ended up boing just ever so slightly behind her the rest of the race.
With about 5 laps to go, the women's leader lapped me. I knew they were coming because I could hear Shelley yelling behind me. There was a guy on their pack and he wasn't getting off their tail. I was trying to catch onto the ladies so I could get a draft at least up to the woman ahead of me, but he was in the way. *scowl* After that the only item of significant note, other than my on going suffering, was a little crash at the top of the finish hill between two guys who were warming up. I got to see the whole thing play out as I was climbing that hill at what seemed a snails pace. Remember – look both ways before cutting off and crashing your feelow cyclist so you can be sure there are no witnesses!!
By the last three laps I was starting to warm up and was gaining on the Cornell girl ahead of me. Unfortunately it wasn't quite enough to gain a spot in the results. It was a good start to the season though! I hope I'll see you girls out there soon

---
This fabulous post was written by one of our awesome bella volunteers ~ To change this standard text, you have to enter some information about your self in the Dashboard -> Users -> Your Profile box.
---