Ouch, Ouch, Ouch! Copperopolis
By Marian Jamison
Reno, Nevada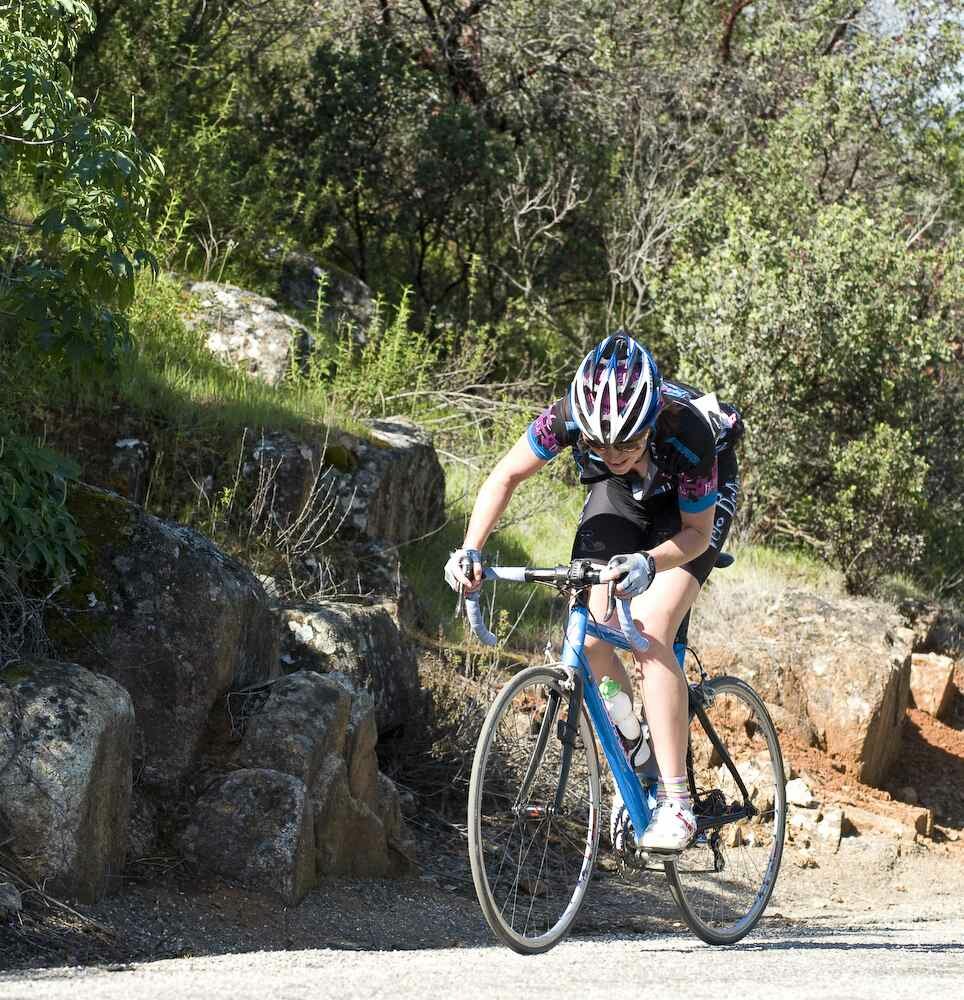 Yes, "ouch ouch ouch" was the sound emitted from both my rear and my legs, for about 4 hours on Saturday. Copperopolis. Man that's a great race. Yeah, sick, but what can I say? It's gorgeous out there, the weather was perfect, and I was climbing with the leaders. I'll summarize.
On the first climb things got hard, but I was able to stay in the top 3, even through the steep stuff. We crested the climb and I looked back to see that we were down to a break of 5 (out of 21! not bad for a 3's race!). We worked together to stay away, and were successful. We stayed together for the rest of the first lap and most of the 2nd. On the little climb before the big decent 2 of my break-mates started going pretty hard and gapped me off, but I had an equal gap on the other 2 girls. I could see the 2 ahead of me and did my best to catch, but they were pretty strong and working together.
I considered waiting for the other 2, but figured my chances of securing 3rd were better on my own. I'm not sure if that was the right thing to do, but I was able to stay away from them for most of the 3rd lap. It was a struggle, with a pretty strong headwind up in the flat stuff. I stayed fueled and tried to ride strong and steady. Unfortunately, at the top of the climb before the big decent and the finish (yay!) I was caught by one of the girls behind me.
She'd put in a good effort on that climb and caught me. Must've been pure MTB racing instinct, but I jumped ahead of her for the sketchy long decent. We traded back and forth a little bit until just before the 100m to go sign, then she jumped from behind me. I got on her wheel, but just as we started sprinting up the hill we were caught by a pack of dudes (I dunno, maybe cat 5's?). One of them fully ran into the back of me and I was almost run off the road. Weak. I lost the girl's wheel as the guys came around me and got BETWEEN me and her, making it totally impossible for me to even try to outsprint her. So I gave up 3rd with 50 feet to go. Those guys were total jerks, too.
But I'm pretty much thrilled with how I was riding, and climbing, and generally making it through all 3 laps of that brutal race. Feeling super pumped for Sea Slaughter, and like my fitness is really coming around and I'm finding myself one of the stronger riders in the 3s, and getting some upgrade points finally!
Photo copyright Marian Hunting, Women's Cycling Magazine. Used with permission. Thanks Marian!
---
This fabulous post was written by one of our awesome bella volunteers ~ To change this standard text, you have to enter some information about your self in the Dashboard -> Users -> Your Profile box.
---