Syracuse Race Weekend – May 16-17
Day one: Crit: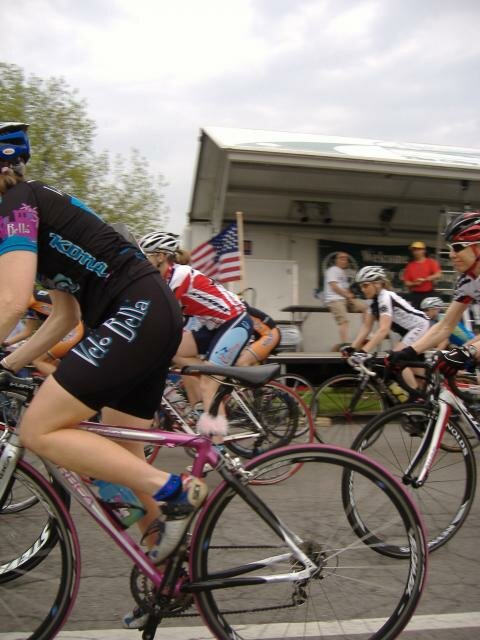 women 4s – LiLynn Graves 9th, Kristen Mullally 13th, Jenn Barber 14th
women 1/2/3 – Kate Stewart 16th
Kap' Kate feeling outclassed by hoards of Canadian Toughies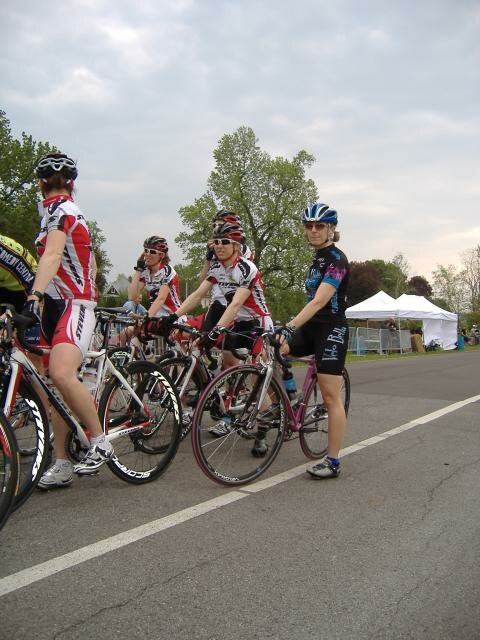 Cold, WINDY, then rainy. Scarier than Scheiße when the road became slightly greasily wet. Then poured buckets. In the Cat 1/2/3s I hung in there, surprisingly, until the end and finished with the pack unceremoniously. I was very happy with that, considering several had been dropped and I don't feel particularly fit this year.
Women 4s:
Kristin, Jenn, LiLynn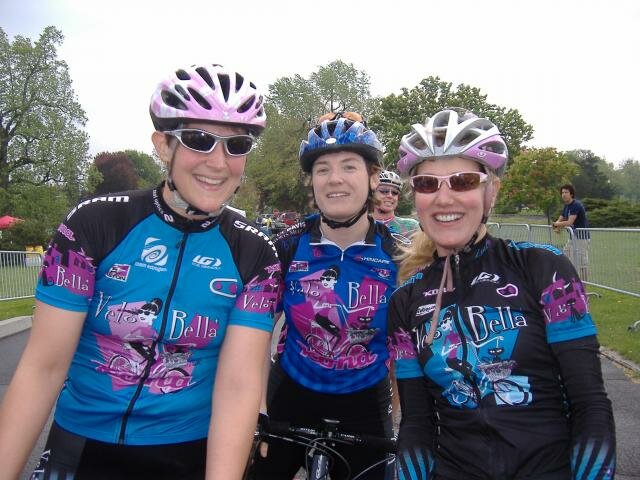 A** Shot of our Grrls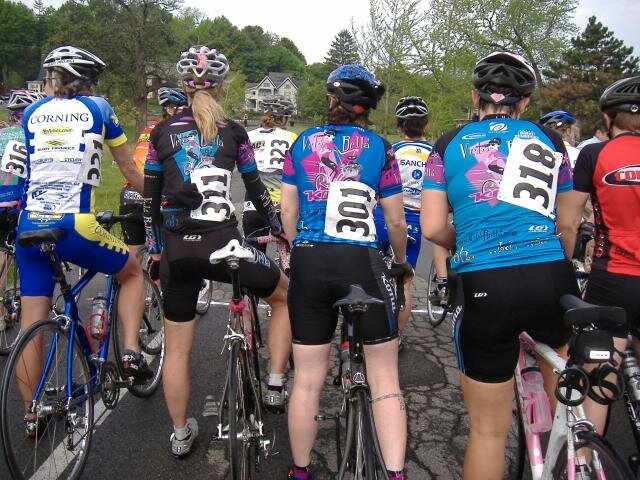 From LiLynn:
It was a torrential downpour as we pulled into Syracuse and the wind velocity was bending the 100 year old trees and throwing branches into the streets as we approached the park for the early morning criterium.
We had 45 minutes to get ready, "warm up", or bail right then. It did stop raining but the wind stayed nice and gusty. Not enough to dry off the course so as I warmed up, my shorts became more and more of a soggy mess. Kinda squishy.
24 women lined up with Jen, Kristen, and two soon to be signed up NY Bellas, Ace and Lisa. Standing there looking at all the spiffy kits and strong legs I suddenly noticed how many sprinter butts there were in the front line. I was hosed in this one. My training in this past year has been a new strategy and I was hoping it would pay off. Lots of rest… A knee injury all last summer and foot surgery which put me out all winter. I had so much bound up energy I was ready for some action. My wonderful, supportive friends who I ride with kept reminding me that I had no base and I was a doofus to enter. My longest ride this year has been 45 miles so far. I was here to have some fun with my girls!
The crit started and after a few laps I noticed the pack was getting rather smaller and I was feeling quite spunky and having way too much fun. I had absolutely no strategy and no intention of placing so I did a lot of pulls and surges. I was there to see what I had. Three women got away and I wanted to chase but the pack was all sitting in for the final lap. I couldn't believe it so my friend from another team took the pull and deliberately slowed the pack down so we wouldn't catch her teammate.
Then with one lap to go I just wanted to shake things up so I took off from the pack and no one followed but about 300 yards before the finish, in my anearobic state of breathing, I noticed some sprinter butts flying by and I made a whimpy attemt to catch on as they flew by, managed to pull off an anaerobic induced sprint and catch two of them to place 9th. It wasn't a pretty finish but it was the most fun last lap I've ever done!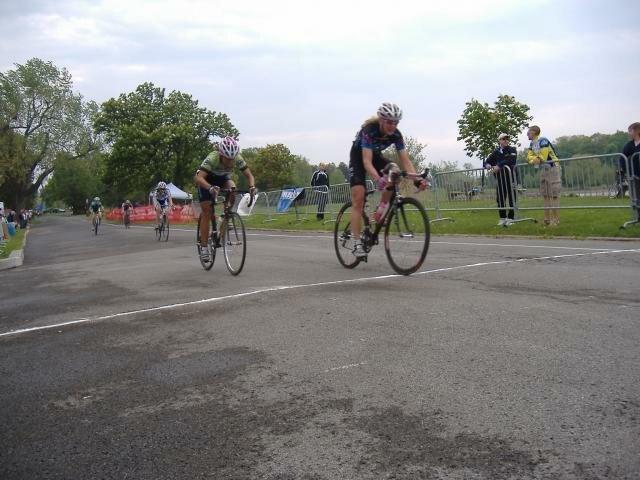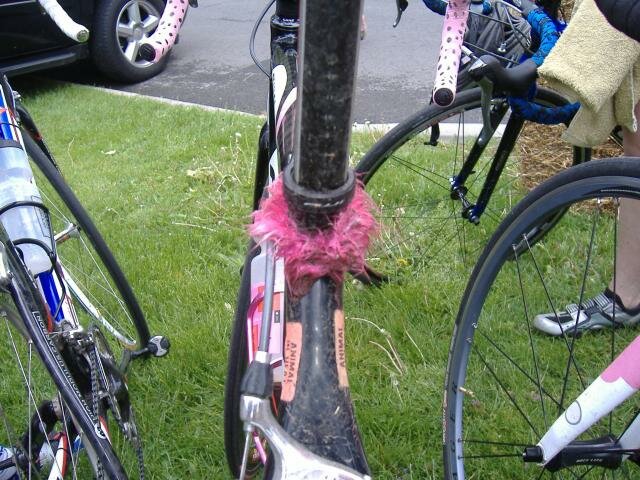 The rest of the Omnium I really didn't care about but placed 8th in the TT. The road race was really fun because when the pack took off I didn't care, I just wasn't into the pain anymore and backed off to get a group together for pacelining since the winds were 20 mph that day. It was Jenn and the new future NY Bellas and a couple other gals. We just stuck together and worked until the bottom of Song Mnt. I put my head down and road as hard as I could and never heard anyone behind me again. I ended up 9th overall and Jen ended up 13th overall. Kristen and the new future bella's Ace and Lisa did amazing for their first race!
I was the oldest in our field!!!!!
TT results:
Women 4s – LiLynn Graves 8th, Jenn Barber 17th, Kristen Mullally 22nd
RR:
Women 4s: LiLynn Graves 13th, Jenn Barber 19th
---
This fabulous post was written by one of our awesome bella volunteers ~ To change this standard text, you have to enter some information about your self in the Dashboard -> Users -> Your Profile box.
---