Keuka Lake Triathlon report (KLT), June 7th, 2009
– by Bella Ace!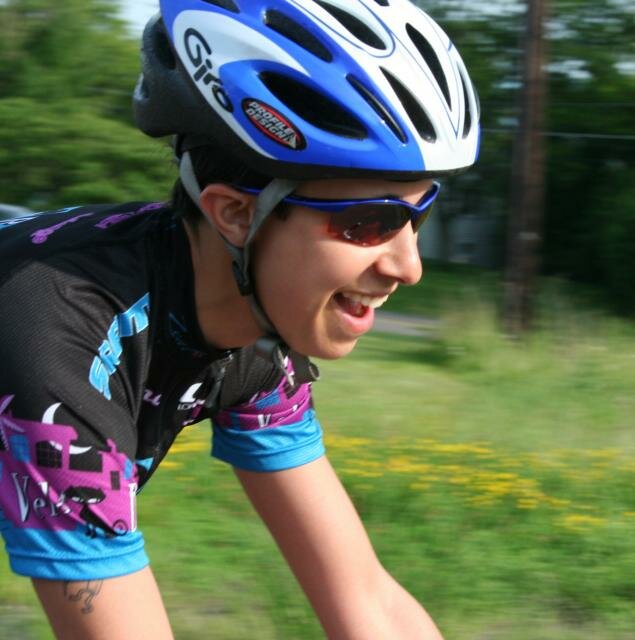 D-1:
What was dreaded to be a cold day turned out to be a perfect day for triathlon: warm weather, no wind and especially tolerable water temperature (61F)! This is my 3rd triathlon and the first one with an open water swim.
Along with a good friend of mine, I left Ithaca, en route to Keuka Park on Saturday 6th. I pass on the gorgeous views of Cayuga, Seneca and of course, Keuka Lake. Keuka College is truly in the middle of nowhere and I am still wondering why such a place even exists! The only close-by 'town' (if one can call it so. It's literally the size of one block), was 3.5mi and had barely a descent restaurant where once could have something to stock on before the race.
Upon arrival to the venue, we get our race packets, checked-in in our dorm room, attended a couple of free clinics, headed out for diner and went to bed at 8:50pm. Yes! We were just total kaputt and needed some rest…
Race day:
I got up at 5:00am to have ample time before the race meeting, the body marking, a good breakfast and of course some quality time in the bathroom ;-).
It was amazing the number of racers, from all ages, from different regions and with different bikes (from fat tires to $12k – YES! – super duper carbon, disk-wheel TT bikes). I should mention that the KLT 2009 was the USAT Northeast Regional Championships, so no wonder there were around 800-ish participants!
After the being body marked, etc, I racked my bike and prepared my transition spot in the T-zone. I had to mentally go through transition : swim in, bike out, bike in, run out, run in! And also make sure I could easily spot my bike among the crowd that is getting bigger and bigger!
I met many fellow Ithaca Triathlon Club (ITC) dudes and Velo Bellas (Kira, Eileen, Lisa). The club was well represented at the event!
SWIM: 0.46mile loop
Lisa and I were in the same wave (sprint, women under 39) so we watched how previous waves did for the swim and transitions. Waves are separated by 5min. When it was our turn, we went into the water. Temperature: OK! Mood: high! We wished each other god luck and promised to meet at the end to congratulate each other and enjoy the post-race festivities. Upon hearing the horn, a mass start made my adrenaline raise. I was dreading this part of the race, where bodies are on top of each other, where kicking is definitely unavoidable and where choppy water could discourage the braves… It was nonetheless just GREAT for me! No complaints…. I received a kick in the face (not too bad), and without realizing, Lisa and I were hitting each others with our arms. After the first 100 yards, it all was smooth. Do your best, hammer or take it easy and enjoy the swim! I was swimming "in the pack" for most of the time. Then, along with a couple gals passed guys from not only the previous wave, but the two previous waves; this means we caught up by 10min. Isn't that COOL? Some guys were swimming on the back and, in between two breaths, I was like: "Dude, what are you doing?", lol!
BIKE: 13.8mile loop
T1 was smooth. I couldn't spot my bike and wasted a couple seconds, that OK…. The bike part was terrific. I felt all pepped up with my newly bought "Velo Bella Oh La La" shorts. The chamois is so comfortable that I parted with my tri shorts and opted for the VB cycling ones :-)! The bike course a couple of "rolling hills" (I am ashamed to call those hills, though) and apart from the many bumps on the road, it was OK! Because of the bumps, one of my aerobars swung and I was using my drop bars for the entire course. No biggie, but I should fix that soon! I averaged 19.2mph, I could have done better I guess… Oh, I should mention that I made a progress by having a sip during the course. I always tend to forget hydration. My 20oz bottle was half full in the beginning (10oz), and was almost half-full at the end (9oz). So, a net progress of 1oz fluid consumption. Wawaweeewa, Ace!!!
T2 was OK, could've been faster… My feet were numb (as usual) after the bike part, so I was mentally preparing myself to run on numb feet for 80% of the run course. After dismounting and putting on my running shoes, I was good to go for the run.
RUN: 3.1mile loop
I felt in my element during the run, despite my injury. I spotted many racers who were just knocked out and and needed to get the hell out of the run asap. A couple were walking, most were running and doing their best to finish in great colors!
After crossing the finish line, I headed straight to the chiropractor tent and had a TERRIFIC session for the first time in my life.
POST RACE:
A couple of us gathered after the race to mingle and share nice moments we had. After showering, a well-deserved ungodly yummy and amazing post-race meal was waiting for us! No, no, no; not your usual sliced fruits and bagels post-race food but 'Oh la la': wraps of all kinds (tuna, lunch meats, cheese, tomato, etc), salmon (YES!) salads, soups, pastas, casseroles, bountiful cakes, a salad and fruit bar and I pass on many other yummy dishes! Looks like an all-you-can eat high quality buffet! We were spoiled!
After the meal, we headed to the award ceremony. Many of the ITC members got first or second place in their age groups. I was 2nd in my age group (W25-29), only 3min behind the 1st. Ah… transitions….
I am glad to have raced for the first time as a Velo Bella and hope to represent the VB team in many other events!
Ace
Follow up report from another NY Bella racer: Kira Novakowski:
Hello ladies,
Ironically, my first time at this distance (as some of you know, I've done a full Ironman before and yet have not done an Oly yet!). I figured it would be an interesting test of how hard I could push myself for a shorter race and see if the intervals and hills have been helping!
I had the alarm set for 2:30… hit snooze until 3:15! (And my alarm is across the room.) Early morning! I finally left at 4a and arrived with plenty of time to register and set up and chat with all the other Ithaca area people including Ace and Eileen (they both did GREAT!). Eileen and I set up our stuff across from each other in the transition area. After getting everything set, we headed down to the lake. Usually I get quiet and focused before a race, but I was buzzing and chatting a million miles a minute yesterday! The first three waves went, and eventually it was our turn. The water was chilly but kind of refreshing. Soon enough, we were off. I kept a nice relaxed, comfortable pace… Hello!!!! This is a short race, PUSH it! But I was too content and was worried I'd burn myself out. Hindsight, next time I know I can push more! Somehow I managed to be 3rd in my age group out of the water.
Off to the bike… need to work on transitions! I had the slowest T1 (and T2) transitions in my age group! Oops! The bike went well. My HR was ridiculously high, but I felt good, and now having done this distance, realize I can go a little harder on the bike next time as well as the swim. I was 2nd in my age group for bike splits, so I was pretty happy with that.
Then to the run… I am slow! I was happy with my run split, but compared to my swim/bike splits, my run needs improvement.

But I'm slowly getting there! Funny, my avg run HR was lower than on the bike! Oops!
Finished 5th in my age group.
So there ya go! Fun stuff! Perfect weather and good company – what more can one ask for?!
Cheers, -Kira
And from Lisa Todzia:
I only placed first in the bike for age+gender (34-39) and pitifully behind most of the pack in the other two events. Your TT bars worked like a charm. Many other people struggled with their TT bars due to rough road, which jostled the bars so much that they slid out of position. Route 54 was built in well-defined segments of concrete/pavement. Its seams were tarred over. The tar mounded up creating these bumps, which when crossed in aero, would loosen your teeth! And your aero bars. A couple people complained that once slipped, the bars tilted down, pointed at the road, and usually rendered the bars unusable for achieving the desired aero position. Alas, luckily this trouble did not befall me. Ace, however, did incur this problem, which may have slowed her down a bit. The ride was characterized by a double gradual hill of moderate steepness and a false flat just before the finish. Transitioning from swim to bike was smoothed by the fact that the first few miles of biking were flat and easy. Also, on the lake road, there was hardly any car traffic, the road was wide and despite the presence of lots of gravel, a smooth surface that skirted the lake. Not that the biking leg was a time for sightseeing! but the initial few miles were clear of worldly obstacles, such as cars.
The run was similar: fast and flat. A straight out and back course of pavement that lined the lakeside was pleasant. Four water/feed (Heed) stations provided hydration options. The stations were placed at reasonable intervals. The finish line was never close enough (until I passed it).
All in all the race was somewhat unexciting. I really felt something missing from the race. If pressed to say what it was I would answer a sense of collective energy: the Cayuga Lake Tri sports a sense of camaraderie, lightheartedness and fun that Keuka seemed to lack. People were all business. Just getting it done seemed enough motivation for most. That said, I must also say that the race was extremely well organized. I lacked for nothing (except that elusive verve that Cayuga's race exudes).
Perhaps I'm just enamored of my home turf tri! I am certainly looking forward to it as by August, the water will have warmed up and the swim will not be characterized by a 59 degree lake temperature! Yikes! it was bloody cold but bearable in a wet suit. The course took a triangle shape and funneled swimmers between two docks, which created a double back up — first at the start and then again at the finish swimmers kicked and hit each other as they paddled their way around the .46 mile course.
Oh yeah, I nearly forgot. The final complication of the swim consisted of a wooden stairway that led from the shoreline to the transition area. Some competitors thought better of running these stairs, ascending them at a walk instead. It was a bit awkward (to say the least) running the wet wooden planks encumbered by a wet suit, but I survived. Knowing that my bike was waiting kept me in the race!
Best,
Lisa
---
This fabulous post was written by one of our awesome bella volunteers ~ To change this standard text, you have to enter some information about your self in the Dashboard -> Users -> Your Profile box.
---