New Zeal Day!
By Allie Burch
Patterson, New York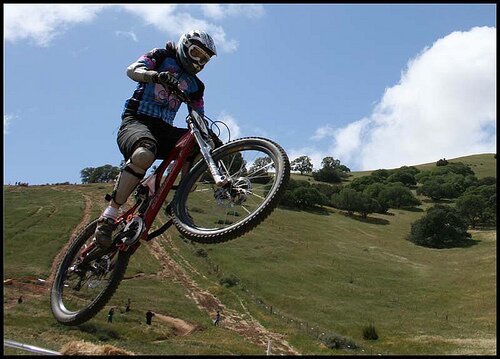 There's nothing in this world quite like putting on a pair of brand new goggles or sunglasses. Looking out from behind the pristine lenses is like having your very own window to the world, where eyeballs are free to open fully, gaping unscathed as ocular danger flies past.
My Zeals came today. Finally, the event I was waiting ever so impatiently for, after a random "Act of Dodge" crushed my beloved black Juice glasses, was upon me. A sorely needed pair of Link MX goggles and a pair of blue/wood grain Airestreams, that quite frankly had me concerned as to the way they would fit my small face. Would I look "hip and happenin'" or would I look like something that came out of Roswell, NM as I do with nearly every other brand of sunglass.
Like and old friend, the MX Links were true to fit and form as from the past five years of trusting their protection, breathability and clarity. They fit my small face perfectly while allowing a full range of peripheral vision. They also fit into my helmet, as if the helmet was made to pair only with them. The tearoffs that they came with are easy to use and the lenses are a "snap" (literally) to replace quickly and confidently without the need for "man hands". The sassy protective cases that come complimentary with this goggle range in surprises from fuzzy leopard print, a grey technical fabric, or this year's camo. They also include a goggle bag, which is ideal for keeping on your person and wiping the mud off your lenses.
Next were the Airestreams. I opened the hard-shell protective case (that every pair of Zeal glasses ship with) and put the Airestreams on. Much to my surprise, they were weightless on my face. I peered into the car window (I was so excited I opened the box in the driveway and never quite made it into the house) expecting to see a tiny noggin hidden behind some oversized glasses. Not the case. I liked how they looked on me! I ran inside and to my amazement they were perfect! The color, the style, the field of vision, everything!
The Airestreams are my new favorite glasses. Already they have been with me cycling, running, lounging, working in the yard, driving, and they stand up to every task. They stay put without bouncing while running, they provide near total wind block while riding, they stay clear while sweat rolls down my face while mowing the lawn, pulling weeds, etc. Then, a swipe over the lenses with the included glasses bag, has them cleaning up easier than I do and ready to wear for social functions.
I have found that these oversized glasses vent well and offer a fuller field of vision than any other style I've tried. These fit well on a smaller face. Finally, something that the peanut-headed can feel confident in!
Thank you Michael and Wink for all of the work you do to put out such a great product!
---
This fabulous post was written by one of our awesome bella volunteers ~ To change this standard text, you have to enter some information about your self in the Dashboard -> Users -> Your Profile box.
---