NY Senior Games –
From Bella LiLynn: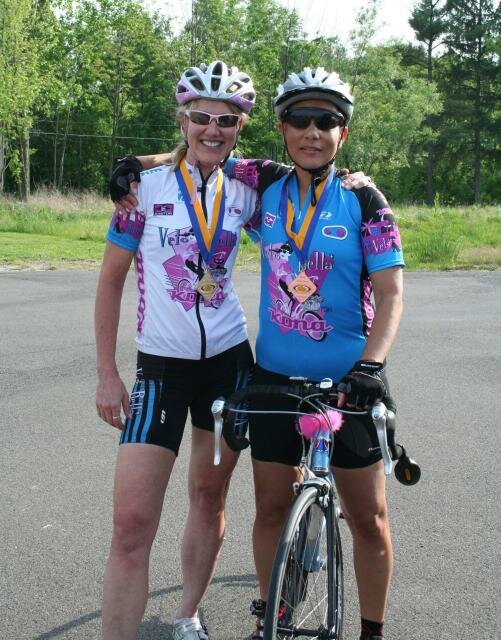 Yes, that's right girls, it was the 2009 New York State "Senior" Games this past weekend.
Only 2 bella's could get their wheel chairs shined up and lubed in time for the games but fared well in their competitions. With plenty of arthritis meds and memory enhancers we were able to get to start lines on time and in good form — upright and alert.
Cynthia Schnedeker, a brand new bella this year did her first time trial and came home with the bronze. It was a tough decision early in the morning to choose between the Piggly Wiggly competition being held at another location or the time trial. I think she chose wisely. Although when she explained the game of piggly wiggly, I must say, I was tempted myself.
I opted out of the TT's and joined Cynthia in the Road Race later on in the day. We scoped out the competition at the mass start and chose to be in the front line right next to Margaret, a former national TT champion.
The race rolled out and it was Margaret and I in the head wind leading the peleton down the highway behind the pace car and not one man was willing to take the wind. After a few miles of this silliness the testostrone levels were getting to the boys and they shot around FINALLY to take the lead. The race was on.
Since this race was only 22k I wasn't too worried about getting worn out so I stayed up in the front with about 5 guys pulling the pack around the the two loops and finally a buddy of mine let me know I was the only woman doing any work and all the others were just sitting in waiting so he sent me back for a bit. It wasn't long and I saw Margaret making her move so I sat on her wheel real quiet and stayed there until we hit a hill and the lead boys jumped so I took off with them.
Well with her TT skills she was soon back on and we made the turn in the tail wind to the final 4 mile stretch. Someone was blocking for Margaret and wouldn't let me get around her and in front of her was the small pack of amped up testostrone that had also been sitting in waiting for the final stretch and no "man" was going to let me move up a bike length. I could only sit on margaret's wheel and then came the final sprint. Whoooooo hooooooo! It was fast and Margaret put on some watts so I stood up and a spot finally opened up next to her but only to let me a wheel's length up to her. She and I managed to pass 3 guys and ended up 7 and 8 overall in the sprint pack.
I took the gold in 50-54 and Cynthia took 4th in the 50-54. This was her first road race and she looked good out there. If fact she has already sign up for another race in two weeks. Whoooo hooooo.
---
This fabulous post was written by one of our awesome bella volunteers ~ To change this standard text, you have to enter some information about your self in the Dashboard -> Users -> Your Profile box.
---