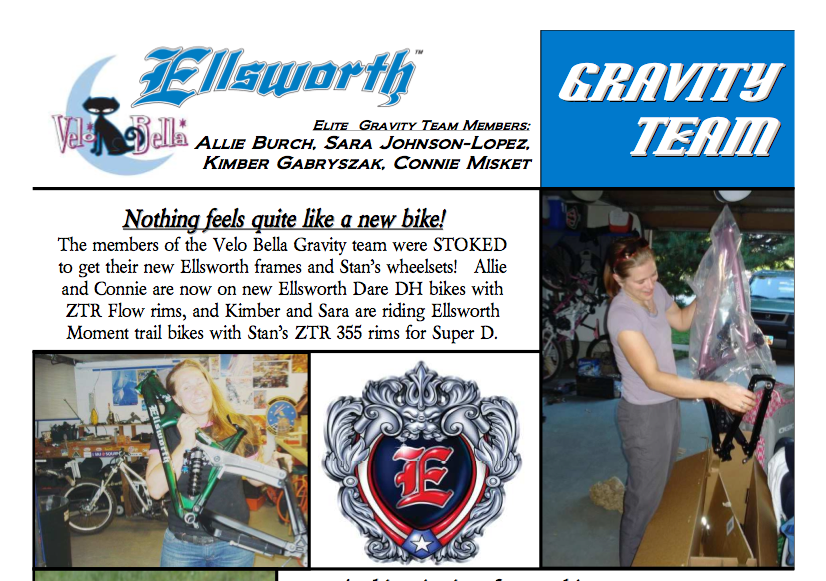 The Velo Bella-Ellsworth Elite Downhill team has been getting up to all sorts of hijinx over the last few months. First, they built up their all new Ellsworth Dare downhill rigs. Then, they headed off to the races, including the World Cup races at Mont-Sainte-Anne and Bromont. Along the way, Kimber picked up her best ever elite finish in the Super D with a second place at Snowmass. Catch up on all the Downhill adventures in the Summer edition of the Velo Bella-Ellsworth Gravity Team Newsletter. Download it up!
Velo Bella-Ellsworth Gravity Team Newsletter (pdf).
Also, the Velo Bella-Ellsworth women have invaded Twitter. So follow them already!
Kimber G
Connie M
Allie B
Want to know more about new Bike sponsor Ellsworth? Follow Ellsworth Bikes.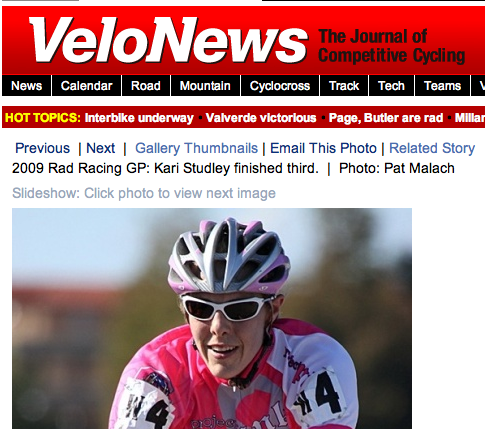 Velo Bella-Ellsworth's elite cross team is off to a quick start so far this season, as Kari Studley finished third over the weekend at the Rad Racing GP in Lakewood, Washington. Studley formed a chase group with Allison Dunlap during lap two behind the leader Sue Butler. The dry course included an 80 meter run-up and fast descending sections. VeloNews captured Kari action. Read all about it!
Kirkland Cross, NY
2nd, Katina Sayers-Walker, Women
8th, Kate Stewart, Women
9th, LiLynn Graves, Women
10th, Sue Atwood, Women
1st, Christina Perkins, Women 4
Sucker Brook Cross, NH
15th, Ivy Luhrs, Women 3/4

Rad Racing Gran Prix, WA
10th, Erika Krumpelman, Women 3
3rd, Kari Studley, Elite Women
CCCX #1, Manzanita Park, Prunedale, CA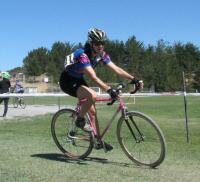 1st, Devon Haskell, Women A
14th, Natasha Perry, Women A
8th, Miss Mary Perez, Women B
1st, Janet Bellanstoni, Women C
3rd, Brenda Mai, Women C



Starcrossed, WA

1st, Erika Krumpelman, Women 35+
5th, Kari Studley, Elite Women
Mount Charleston Hillclimb, NV
12th, Leslie Leaming, Women 4
Labor Day Weekend, 2009
Burlington, Vt
LiLynn Dawg Graves, Ithaca, NY Bella's Report

About the end of July I finished out my race season with all my favorite races and was ready for some R&R. Looking forward to long rides by the fire and sipping perpetuem with my buddies by the roadside. After a few weeks of that, life was getting a little depressing with no way to blow off steam from the stress of work and having no goals to motivate me. I could see myself just going home and hitting the bottle then having the ol' thighs blow up and this was not looking pretty in my mind. I hadn't raced for about a month and had lost interest in the long group rides for fear of being dropped.
And email went out about an invite to stay in a condo and enter the Green Mountain Stage Race. I went on line and decided that this could be my last chance to go get my butt whooped. I had been racing pretty darn good for a 53 year ol' bag lady in the senior citizen races, so how bad could it be with the 3/4 young girls.
Well, I found out the second day pretty darn fast as I lined up and realized I could have given birth to the peleton. The first day was the time trial and I was so nervous I didn't even notice anyone else. I ended up mid pack. After that things kinda went down the tubes. The second race was a circut race with a sprint at the 16 mile mark and there was a crash behind me. I felt someone on my rear wheel for a bit. I kept my bike upright and rode away with the group but heard a nasty crash behind us. Looked back at my wheel just to be safe and noticed my skewer was flopping in the wind. So the crash did get my skewer and undid my rear wheel. I had to pull out and and turn it 5 times before it tightened up and never could catch back on. I TT'd for a second day for 20 miles putting me almost 6 minutes behind.
Starting the 75 miler at the bottom of the list kinda sucked but who knows what could happed today. As we rolled down highway 100, I found myself hanging in the back thinking about how much I didn't want to crash. Not something you should be dwelling on when you have a 4 hour ride with this group ahead of you. But I couldn't shake it. The way these girls were riding was making me so nervous and for a better position at mile 16, it made no sense.
Finally we came to the turn at mile 28 and headed to Branden Pass and that's where the girls in front poured it on. I think of myself as a pretty good climber but I was totally dying here. I was doing everything I could to just hang on. About half of the pack was spread out and strung up over the top. I had been dropped also but was passing several girls at this point although the lead pack was out of sight. After we crested the summit we were told to stay neutral because of a crash and we all caught back on with the lead pack again.
I kind of wish this hadn't happened because the pace was blistering from then on. I just kept saying my miles were numbered and they kept looking at me like I was a complete doofus but we hit a hill about mile 58 and a few of us fell off there and then right up the road was a QOM and several more fell off. Now here is what was so frustrating for me with these women. If you've been dropped by the pack and you have no way of ever catching back on, why wouldn't you want to work together to save energy and ride faster?? Well, not one of these women would work with me. I would even slow down and tell them to get on my wheel. Oh no, "you ride your own race."
Idiots! So I would try to catch another and they would look back and race ahead. Stupid!
So you can see I was a little frustrated with the attitudes of the riders. I ended up passing two women just before the final wall because they kept looking back so much. And I rode up the wall of death effortlessly to the finish. OK, I almost fell over at the top and to let you know how fast the pace was, the front 3/4 women had faster times than the pro 1/2 women. I do have to say that this ride was pretty amazing and beautiful.
The next day was the crit in Berlington and I was not into it. My fears had taken over me like a bad case of the Slime Fu. I just pictured a crash-fest and it was making me sick to my stomach. I had to call captain Kate to tell me it would be "fun" and to just chill out. Once we got there and saw that the riders were strung out I calmed down. I signed in and went out to warm up.
I lined up in a good position knowing my time in this race was going to be limited but was hoping maybe there was a secret crit rider hiding deep inside of me somewhere and it was just waiting to explode any second. Time was running out and when the horn went off my inner crit rider must have hid deeper within. I couldn't get into my cleat for the longest time and ended up in the worst position and barely was hanging on. This lasted for 4 laps and then I chased from about 6 feet back for a couple more and then I was loosing them. I was riding as hard as I possibly could. I thought I was going to pass out every lap I did and then I heard "one lap to go." I'm thinking, no way did we just do 25 laps, or maybe I did pass out while I was riding. So we finished and I was the first one up the hill but some girl came flying by. I was very confused, and then they pulled us over to the side. We were being lapped and were done! ya h!!!! Happiest moment of my life!!!! I had finished the GMSR! Because we made it enough laps we still got a finishing time because 3 gals had sprinted off the front from the start and were starting to lap everyone. Little by little most of the field was pulled.
I came home to western NY with mixed feelings and decided I better enter the last road race of the season, the Apple Fest. I just wanted to race with my buddies and have a good time. I went there and didn't care about winning but just wanted to ride hard and finish hard. I followed the two lead women the entire way and it seemed they didn't really care either. We were just having a good hard ride. Even won some money! I've been sleeping since.

LARDP CX #2, Robertson Park, Livermore, CA
6th, Miss Mary Perez, Women B
3rd, Brittany Thibault, Women C