Race for Hope, Borodino, NY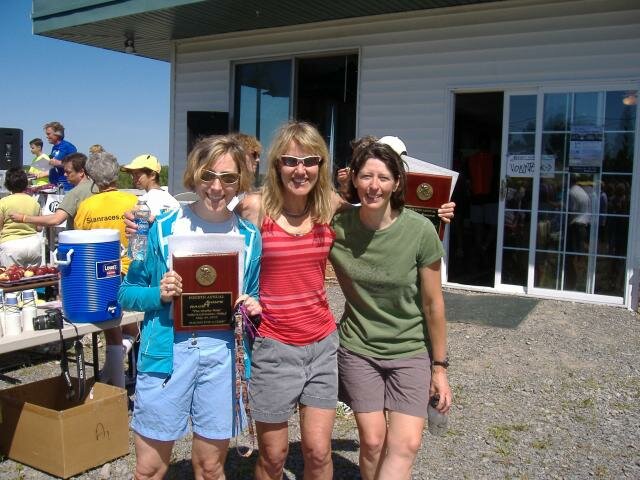 NY Bellas Kate, LiLynn and Sue
A fun and still "little" race, the Race for Hope is in honor of a well loved local cyclist and racer who died four years ago of cancer. Our little crew of NY bellas has been not very active the last year, and hopefully with the success of yesterday's race, energy will be imbued into the crew and we'll pick up our participation.
This was a short, 24 mile citizen's race, with a 3 mile climb which, thankfully, pays back with a long, sweeping decent to the finish. The weather was absolutely perfect, not too hot, not too cold, very little breeze; one couldn't ask for a more beautiful day.
LL Dawg Graves has been training all winter with her Ithaca Homies and has come into the season in the best shape of her life. Her workout program (self designed) has whipped her pals and her into such incredible buffness, we'll be seeing her on the podium a LOT this summer. Sue and I, on the other hand, are not in our best fitness, but we went out there anyway – got to get a ride in sometime, eh?
The L Dawg and I were together in the chase pack for the first 6 miles, but as I expected, as soon as a hill came, I was spit off the back and I got to watch the pink fluff on her helmet lightly ruffle in the wind as she danced on her pedals up the hill. I then jumped into the second chase pack, tried in my usually bossy way to get them to work a paceline and none of these guys were having it, and predictably, the next hill did me in, and I was feeling pretty silly about having given suggestions to those fellows about how to ride. Along came chase pack #3, and not even with them could I keep up on the hill. I dropped a chain on the upper part of the last hill, just as I trailed the grumpiest lump of a miserable cuss after having foolishly again suggested we work together. (He did not like my helpful tips and told me to shut up – oh, did I want to trounce his little round ass.) To try to shorten a long and boring story, LL Dawg had a fantastic race, pulling her little crew up the hills and she finished 2nd woman overall and let the boys in her pack sort out the finish among themselves. I rode all alone for miles behind Mr. Shut Up and finished nonetheless cheerfully realizing I had gotten 3rd woman. Did I get lucky!
Sue, in the meantime, was in her own little pack plugging along, until the guy in the front unexpectedly bunny-hopped over a pothole and lead Sue right into the pit. Bam! Flat tire. Tough, resourceful cookie that she is, Sue came prepared and she stopped, changed her tire and finished her race well ahead of loads of people. Now that's an attitude which we can all emulate!
Here's a random picture from last week's Syracuse Crit (taken by Marcus Lewis http://www.varietystudios.com) Suffice it to say, I stayed with the women (1-2-3s) for 21.5 of the 22 laps…considering it was my first fast ride of the year, I count myself lucky. Former NY Bella Gaetane Perreault got 3rd Cat 3!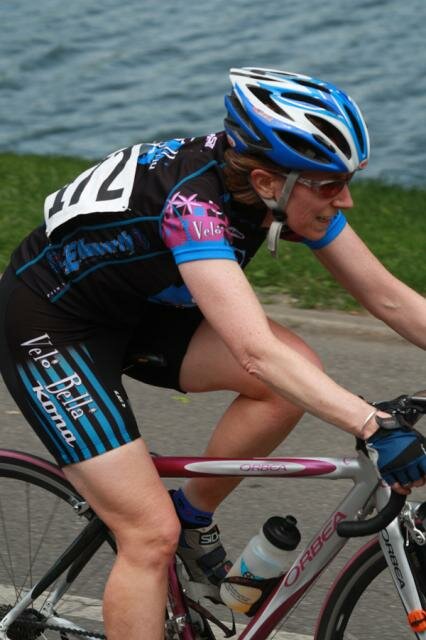 ---
This fabulous post was written by one of our awesome bella volunteers ~ To change this standard text, you have to enter some information about your self in the Dashboard -> Users -> Your Profile box.
---