New York State Cyclocross Championship, NY
1st, Kim Behrman, Women 4
Surf City Cyclo-X Series #1–Harbor High School, CA
10th, Janet Bellantoni, Women B
5th, Debra Naeve, Women C
Beth Hamon
Cross Crusade # 4
31st, Masters' Women 45+
Way to go, Beth!!!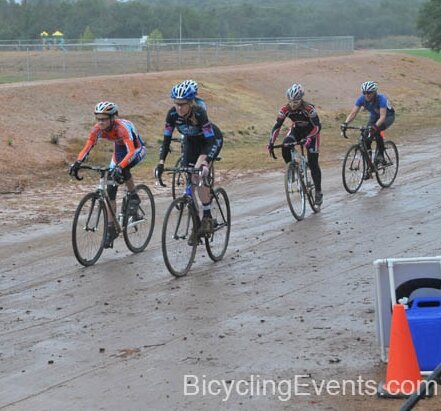 Sacramento Cyclocross #2–Howard Park, CA
2nd, Soni Andreini Poulsen, Women 35+
(photo courtesy Brian Joder)
USGP Derby City Cup #2, KY
26th, Shannon Gibson, Elite Women
USGP Derby City Cup #1, KY
32nd, Shannon Gibson, Elite Women
NY Bellas were sporting the winter whites for the Syracuse Grand Prix – though it was the PERFECT weather, and I'm not saying "real cross weather" is "perfect"…
Our own Sue Atwood was the Big Cheese Organizer and Promoter of this race. Her first ever in this position and she and her team of volunteers did a fantastic job of setting up, prizes, break down and scoring. She had some real help from the gods with the weather too.
The course is a ball buster – Not a moment of rest – soggy, muddy grass made for slow going on the back stretch, a sandy run/ride up, rollercoaster bumps and barriers as high as legally possible, which for shorties can be a real pain in the butt.
Angela rips it up!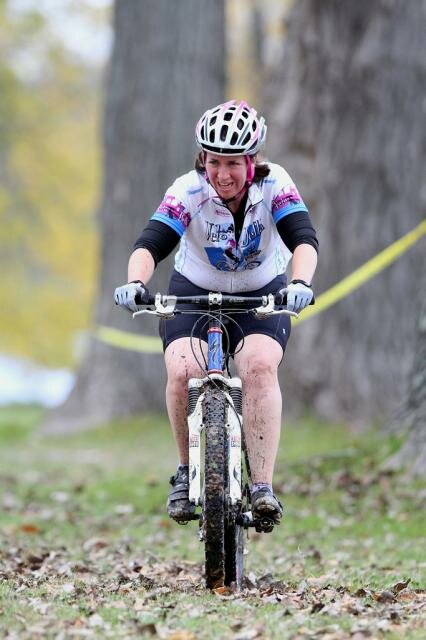 Cynthia shows intensity (and fluff on her headset.)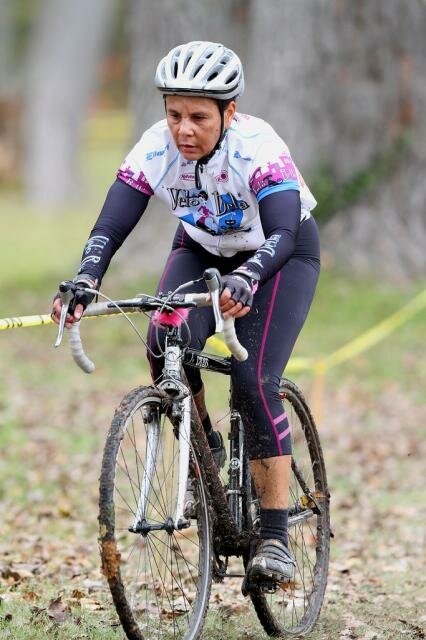 (Photos courtesy of James Pitarresi)
Results:
Open Women
Cynthia Schneideker 9th
Angela Ott 11th
Masters Women:
LiLynn Graves 1st
Kate Stewart 3rd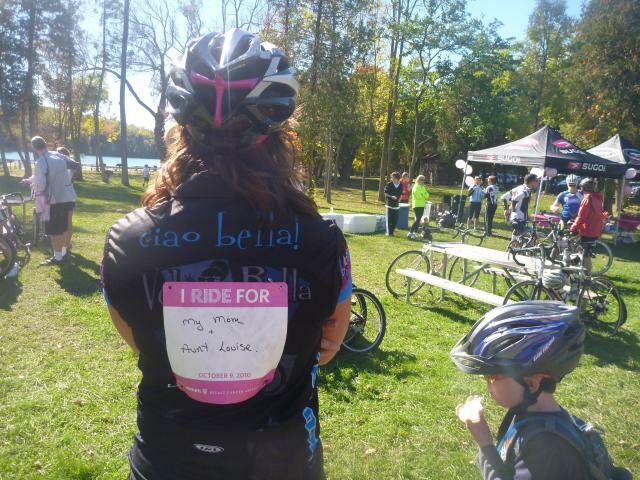 Kim and Erik (He rode 25 miles on a tag-a-long!)
Kim's report:
Saturday October 9th turned out the have beautiful weather for an awesome showing of riders to support Trek Bicycle's Ride for Hope, which went on nationwide. Syracuse Bike hosted the event and touted the largest attendance in the US! YEAH Syracuse!! Included in this great showing were 3 BelIlas – Kim, Jano and Kristen! Kristen was sporting a totally cute bike with pink accents – I'm quite sure just for the ride and Bellas!!
Sadly, most everyone's life has been touched by breast cancer, and if not certainly another form of cancer has barged its way into your friends and family somehow. So, it was fantanstic to see such a large group out in support of Breast Cancer Research.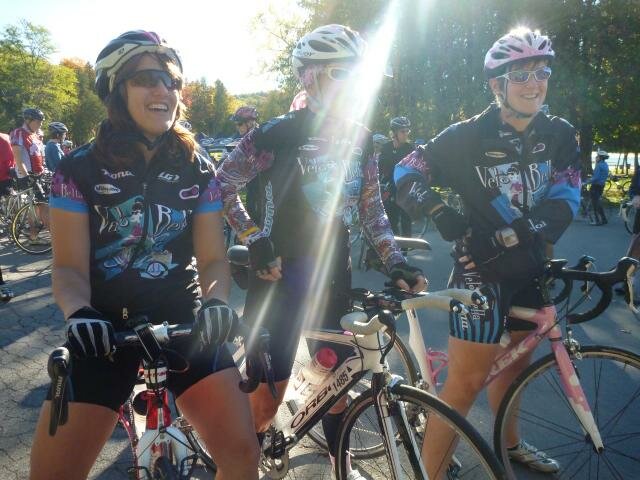 Kim, Jano in blinding sun and Kristen



Syracuse Grand Prix Cyclocross in Memory of James Konski, NY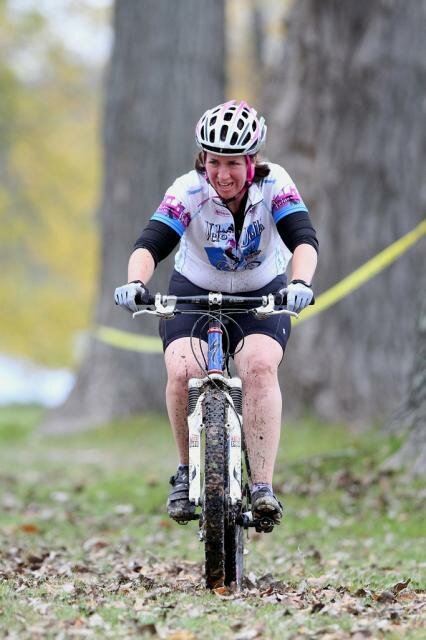 9th, Cynthia Schneideker, Women
11th, Angela Ott, Women
1st, LiLynn Graves, Master Women
3rd, Kate Stewart, Master Women
(Photo courtesy of James Pitarresi)
Bay Area Super Prestige #1–Merritt College, CA
12th, Linda Locke, Women C
7th, Andi Mackie, Women 35+A
11th, Soni Andreini Poulsen, Women 35+A