KissCross #1 – Highland Park, MI
3rd, B Women – Monica Tory
9th, C Women – Jillane Moffitt
Link to race/series info
Link to results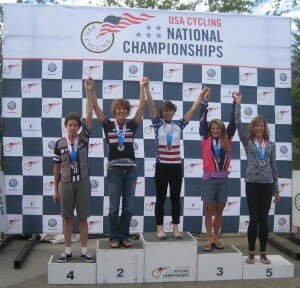 From Bend, Oregon, it's Day One of USA Cycling Masters Road Nationals which is everyone's favorite day: Time Trials!!
Camille Deluca-Flaherty won Gold in the 55-59 age group! I can verify that she looks great in that red, white, and blue jersey and I will prove it tomorrow when I have the energy to download my photos and show you her on the podium. I just wanted to get this result posted ASAP! Update–photo is now up!
Other Bellas raced hard too!
Liz Benishin took 8th in the 55-59 age group and Soni Andreini Poulsen & Jeff Poulsen took 3rd in the 90+ Mixed Tandem competition.
Tomorrow, Day Two is really my favorite day: Sleep-in Day. I'm sure there's more going on tomorrow but I think it involves a bunch of boys or something.
Another Podium on Day Three: Liz Benishin takes 5th in the 55-60 Road Race!!
USA Cycling Masters Road National Championships, OR
1st, Camille Deluca-Flaherty, Women 55-60 Time Trial
8th, Liz Benishin, Women 55-60 Time Trial
3rd, Soni Andreini Poulsen & Jeff Poulsen, 90+ Mixed Tandem Time Trial
5th, Liz Benishin, Women 55-60 Road Race