CCCX #6, Fort Ord, Seaside, CA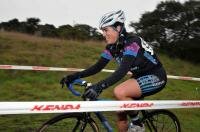 Photo by Steve Anderson
2nd, Miss Mary Perez, Women B
Series Final Standings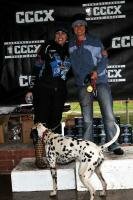 Photo by Steve Anderson
2nd, Miss Mary Perez, Women B
CCCX #5, Manzanita Park, Prunedale, CA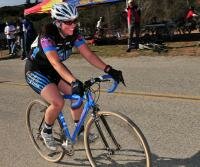 Photo by Steve Anderson
7th, Miss Mary Perez, Women B
2nd, Rachel Wolff, Women C
CCCX #4, Toro Park, Salinas, CA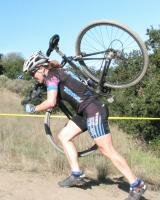 11th, Natasha Perry, Women A
7th, Miss Mary Perez, Women B
CCCX #3, Toro Park, Salinas, CA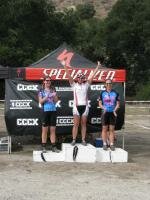 3rd, Devon Haskell, Men B
6th, Miss Mary Perez, Women B
2nd, Kristine Thompson, Women C
3rd, Rachel Wolff, Women C
By Miss Mary Perez
La Selva Beach, California

1st Month Down, 4 more to go!
So this month consisted of 6 CX races for me! 2 in just this last weekend alone! Livermore Area Recreation and Parks District Series (LARPD) #1, 2 and 3, Central Coast Cyclocross Series (CCCX) #1 and 2, and Bay Area Super Prestige Series (BASP) #1.
My first two races LARPD 1and 2 were more of a gauge for me to see where my fitness was. I mostly just had fun in these races as the course (which doesn't change much for the series) is mostly swirly grass and sandy dirt with a 4 log dismount. Fields were relatively small, but really good crowd and we've been lucky with GREAT weather at all 3 races so far! At both races Brittany Thibault got 3rd in the Women C's and I got 5th and 6th respectively in the Women B's.
In regards to the 3rd race, I kinda chickened out in this one…since it was a Saturday race just before the 1st BASP on Sunday, I didn't want to over-do it so I sat up on the last lap and cooled down…I also did this cuz I'm such a DORK and when I thought I had 1 lap to go (even though I had 3) I punched it and dug deep to catch the rider ahead of me…coming around to the finish strait I saw the 2 laps to go sign and almost cried! So I kept the pace up for a little, then backed off, and finally sat up coming around for the finish lap. Oh well, gave me something to think about for the next time (though I have a history of miss-calculating laps…) I ended up 3rd in the B's and Soni Andreini-Poulsen placed 3rd as well in her Women Masters 35+ race.

The CCCX races so far have been at Manzanita Park in Prunedale and Fort Ord in Monterey County (one of my favorite courses!!!) The 1st race didn't go off as planned. Got caught behind a crash and cut the course to get help. The event organizer talked me into jumping back in, which I did but sat up and used the next 3 laps as a training ride, which was fine by me! Natasha Perry (14th) and Devon Haskell (1st) raced the A's, Janet Bellanstoni (1st) and Brenda Mai (3rd) raced the C's, but I was the only B (8th).
The 2nd race was at Fort Ord and I just couldn't stop smiling. Lovely friends and awesome course as usual! Thank you to Lilly Bella for my feeds! I had a blast even though I did get lapped, but still had to ride that full last lap! OMG!

But it was cool cuz and it was such a fun course with the biggest sand pit! (which I LOVE) and lots of swoopy turns and down hills and a horrific run-up. Crazy! Natasha got 9th in the A's, I got 7th in the B's, Janet Lafluer got 4th in the Women Masters 45+ and Brenda got 3rd in the Junior Women.
Today's race was the 1st BASP at McLaren Park in San Francisco and boy did I get my but kicked! We started off 45 secs after the Women A's and the top women lapped me TWICE in 43 minutes. OUCH! I did 4 laps consisting of a HUGE mud run-up, 2 long climbs, lots of super bumpy descending and some soaked in grass sections with only one set of double barriers. It was a world of hurt. My problem wasn't with the HUGE mud run-up as I've been doing run hill repeats in Nisene (crazy-I know) but what I haven't been doing is climbing on the bike. I've been so focused on my technical skills in training, that I've been riding flats for the last month! I sure paid for it today! No teammates in the B's category as usual…but Natasha Perry rode the A's and not sure how she placed. But as always I got to see so many wonderful faces out there! This is why I LOVE CROSS!!!
Next month the Surf City Cyclocross Series (SCCX) starts (I'm part of the organizing for this so who knows how I'll fair after course set up). So that'll be 3 SCCX, 1 CCCX and 1 BASP…call me crazy…Cyclocross crazy!
CCCX #2, Fort Ord, CA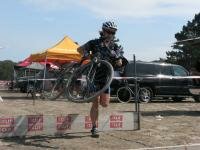 9th, Natasha Perry, Elite Women
7th, Miss Mary Perez, Women B
4th, Janet Lafluer, Women 45+
3rd, Brenda Mai, Jr. Women
CCCX #1, Manzanita Park, Prunedale, CA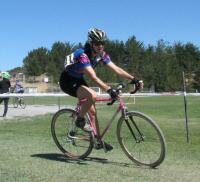 1st, Devon Haskell, Women A
14th, Natasha Perry, Women A
8th, Miss Mary Perez, Women B
1st, Janet Bellanstoni, Women C
3rd, Brenda Mai, Women C