…At Barry-Roubaix
The "new" spring classic of Michigan, last Saturday (3/27) marked the 2nd running of "Barry-Roubaix, The Killer Gravel Road Race." With it's ever-popular come one-come all, any bike will do format, the event has quickly become a favorite, growing to over 600 riders this year. Promoter Rick Plite (Kisscross Events) started the day off with style, sending the massive peleton out behind a sheriff's patrol car for a "neutral roll out" of a mile or two.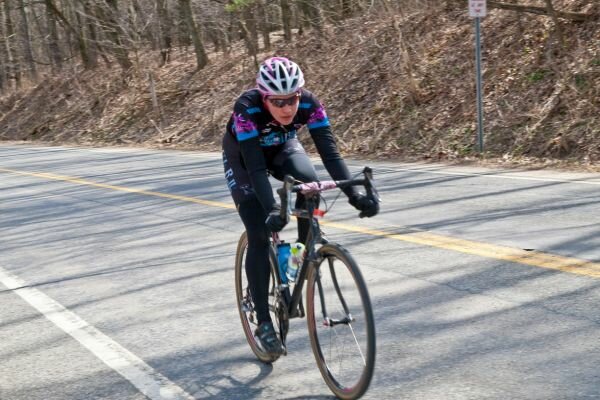 While it was an awesome experience to be part of such a large group, I have to confess that the neutral roll out was faster than I was ready for! That was a good thing, because it warmed us up quickly in the morning's 34 or so degree temps … but also not such a good thing as the crowd jostled for position, itching for the moment when the sheriff would pull off and let us all loose on the roads!
Set on the quiet country roads surrounding Yankee Springs Recreation Area, the Barry-Roubaix course is something to behold. Whether you think of it as one solid early season training ride or a very challenging race circuit, the 23, 35, or 65 miles of big rolling hills, mixed surface (pavement/gravel/sand), a dicey little two track section to test your off-road handling, and wonderfully scenic views throughout all add up to one great day out.
Once the sheriff pulled off, the pace quickened & a few crashes mixed things up. We flew down the pavement approach to the two track, and that's where things became interesting in a hurry! Thanks to a friend's dedicated course previews throughout the winter and spring, I had a good idea of which line would be forgiving.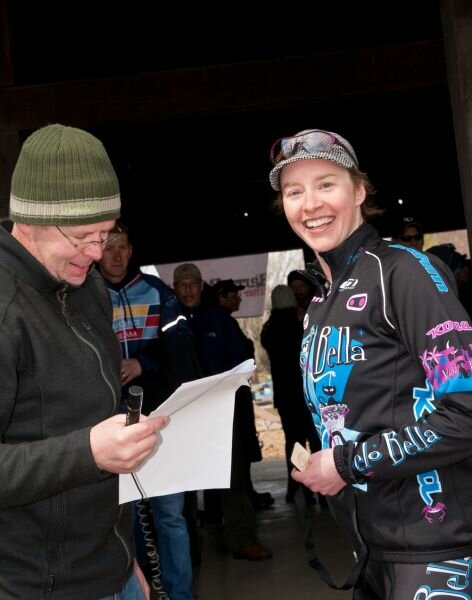 Sticking to that line & using a few strategic 'cross dismounts through that section saved time & energy for the many hills ahead. Through the hilly sections, peletons were few and far between … it seems that some of us can climb well (not me!), and others descend well (me!), making it hard to work together in classic road race strategy. Since I love to TT, it isn't surprising that I enjoyed being out on the course solo for most of the race.
I ended up very happily in 3rd, but fully confess that Kim Thomas deserved that podium spot. She attacked on a series of hills & since I couldn't respond, I got to watch her tow a long train of boys right up and over so many climbs! They just sat there and couldn't come around. Go Kim! Sadly, Kim had a mechanical near the end, which cost her precious time.
Après race, the temperatures had warmed enough to enjoy a little tailgating, a big beach bonfire, Founder's Centennial Ale, and award and raffle prizes (including goodies from race sponsor Sheila Moon!) to many, many riders.
So, what can I say …. The race hurt. A lot. Actually, a lot more than I expected. And yet, I can't help be excited about coming back for more next year and in the weeks leading up to June's Lumberjack100. Life is good!
— Monica Tory
Kalamazoo, Michigan
Results: Monica Tory, 3rd, Expert Women (35mile)
Calling Michigan Bellas!
Come one! Come all! Join Lindsay & Monica Tory at the 2009 Lumberjack 100. The Lumberjack is a 100 mile mountain bike race near Manistee, Michigan. Registration is open. Sign up and Event details are available in the linky below. The more bellas the merrier

Registration Information!