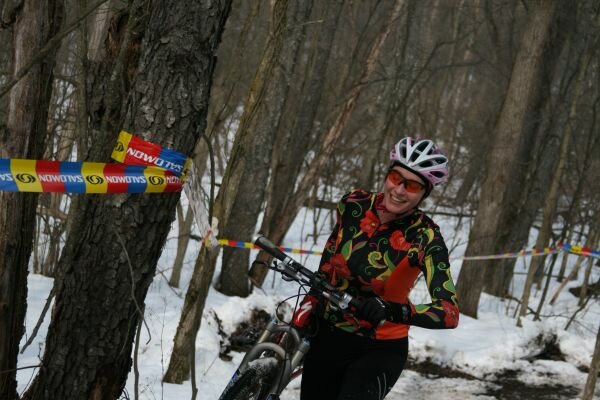 Cyclocross in February? Oh yeah!
Sure, in February, we're usually thinking more about hitting it hard on the indoor trainer, or maybe getting out for early season road rides and races. But, that sounds a little boring! After all, when a friend decides to host an informal & free 'cross race to see if the venue would work for a training or racing series later in the season, who would say no???
Many thanks to friend and trikat Rich James-Jura, who set up a tough, but sweet 'cross course on his parents' motocross setup, just west of Kalamazoo, Michigan. A sharp turn in the weather the morning of the event took us from near zero temperatures to a balmy … and super slushy 40 degrees! Deep snow quickly turned to mush, treating us to an ultimate bike handling test.
The inaugural event was a huge success, with many first time riders catching the 'cross bug. Can't wait to go back again when it's a little less muddy….and a little more rideable

More race details!
—Monica Tory
Kalamazoo, Michigan
By Monica Tory
Kalamazoo, Michigan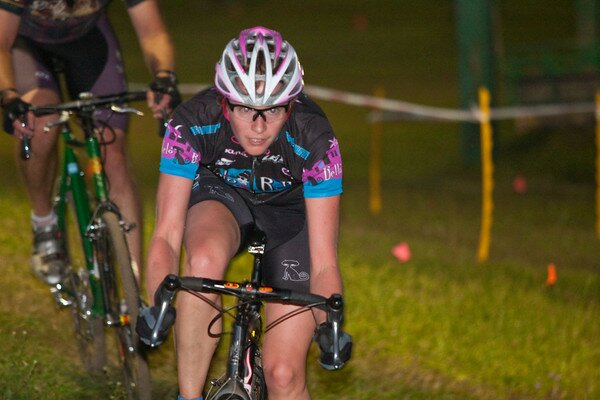 West Michigan's 2009 Kisscross cyclocross series kicked off in style at Cannonsburg ski area with a double header featuring Michigan's first ever 'cross race under the lights on 9.11.9, and a more conventional day race on 9.12.9. (Any guesses which one was my favorite???)
Did Michiganders like the night race? Oh yeah! Record turnouts for both fans and participants, and why not? Whether to watch or to ride, it's easy to hit the course after work, enjoy a pint or two of Founder's, and leave the weekend "days" free for even more adventures ! I vote for a whole night series … every 2nd or 3rd Friday under the lights anyone?
While I (unfortunately!) had precious little time to devote to cycling and fitness in the couple of months approaching this race, I did have plenty of time to think about FLAIR. After all, a night race calls for something special! Bellariffic purple tire flys did the trick and got a lot of attention from riders on the course and spectators alike. You can see the lights in action (though I'm told they looked better in person), as well as get a feel for the race/course, in this race video. (My lights and I ride by around the 2m50s mark.)
How was the course? Absolutely awesome.
Friday's circuit was fast and furious, featuring lots o' (deep!) sand, brutally bumpy hard pack grass, a short run up, a triple barrier sequence, and a nice steady climb followed by sweeping descent. Dry and straight forward early in the evening, as night fell things got much more interesting. By the end of our B race, dew was just starting to settle, making grassy corners a little slippery; by the A race that followed, those corners were downright oily and changing with every lap.
On Saturday, the course direction was reversed and the infamous stream crossing added. Optional stream crossing, that is. And even though Rick and Cathy dug out "the rock" (which did in my ankle 2 years ago), and presented me with it at registration, I promise I did not even think about doing the stream crossing. ("The rock" now has a new home in my landscaping.)
How did it all turn out? Surprisingly well! Sure, I wasn't very smooth over the barriers (and now fully understand what "neuromuscular conditioning" is for), I could have used more power, and I wasn't very confident in the technical sections. But much more importantly, I was really, REALLY happy with my races and results, and I learned something surprising:
'Cross hurts about the same amount whether I'm well trained or definitely not trained !
And that mean's there's no reason for anyone to stay home and miss out on all of the fun just because you feel untrained, missed "too many" workouts, had life events set you back a few months, etc. etc. etc. These races are as serious as you want (or don't want) them to be, there are lots of first-timers, and everyone is welcome.
The next Kisscrosss event is 10.03.09 at Highland Park (Grand Rapids, Michigan). Join us just for the race, or for the full trifecta:
(1) Watch or race at Highland Park (mtb, cyclocross bike, or hybrid ok!)
(2) Hydrate at Founder's
(3) Fuel at Porkapalooza
See you … and your flair … out there !
Results
Friday 9.11.9 Monica Tory, B Women, 2nd
Saturday 9.12.9 Monica Tory, B Women, 5th
Photo courtesy of Jack Kunnan.