By Marian Jamison
Reno, Nevada
Catching up with Bike Marian
Marian has been busily training for the upcoming 'cross nationals in Bend Oregon. Apparently, it's working, because after a weekend of racing in Reno and Sacramento recently, she says she's feeling stronger. Here's what she had to say about her recent races:
Winning Beer is Rad!
Last weekend I got in another two good days of 'cross racing. Saturday at our local series, and Sunday in Sacramento.
The local race was a new venue and one of the funnest courses I've ever ridden. It was a lot of grass, a nice sand pit, some fun decending and off camber turns, fast barriers, and 2 sets of stairs to run up. It was mostly all up on the way out, and down on the way back. I love courses like that, where you can just flog yourself to the point of "I'm-going-to-die", recover, and then do it again. My legs felt so-so, but as per usual at these Reno races there weren't to many ladies present so I was able to get the W. I won beer and money, which is good because otherwise I would've been hard up to come up with gas money to get down to Sacramento the next day!
I'm currently sitting 2nd in the Sacramento CX women's A series standing, so I wanted to have another good result there and keep it that way. The course was okay, flat grass, one set of barriers, ho hum.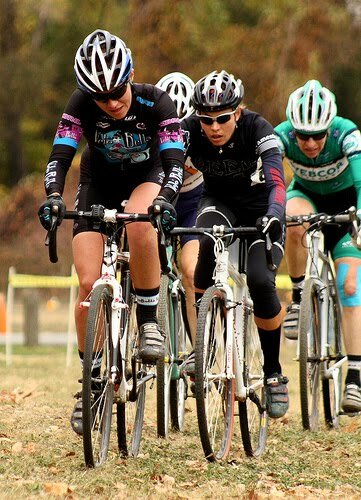 Not very interesting, but good for training the power with all those constant accelerations out of the turns. We race with the jr. men, and I made the bad mistake of starting behind one of them. The kid looked fit, but he had the slowest start of almost anyone there. I had to make some kamakaze passes and dig deep, but I managed to bridge up to the leaders! Wow, that pretty much shocked me right there.
There were 4 of us in the lead group – myself, Emily (from last weekend), Joan Gregg (who has never failed to totally whoop me), and Linda Elgart, who was riding super strong. I was tired from the day before, and mostly sucked wheel. I took a couple of pulls, suffered, got gapped off a couple times, caught back on, suffered. On the last lap I got gapped off and couldn't get back on, so I pulled off another 3rd place. The podium was identical to the first Sacramento series race of the year, but instead of getting dropped by Emily and Joan, I hung with them! Woot woot! Hells yeah, I actually AM getting stronger! The training my coach has had me doing is really going to have me peaking for nationals! Not that I ever doubted it, but it's totally radical to be able to see some substantial improvement.
Next up is the NCNCA district race in Golden Gate Park this weekend, and then I begin my northern odessey to the land of mud and cowbells (aka Portland, followed by Bend). There are over 80 women registered for nationals!
Watch for more adventures
Roll by Marian's bloggy to catch up with more adventures as she gets ready for the big day in Bend.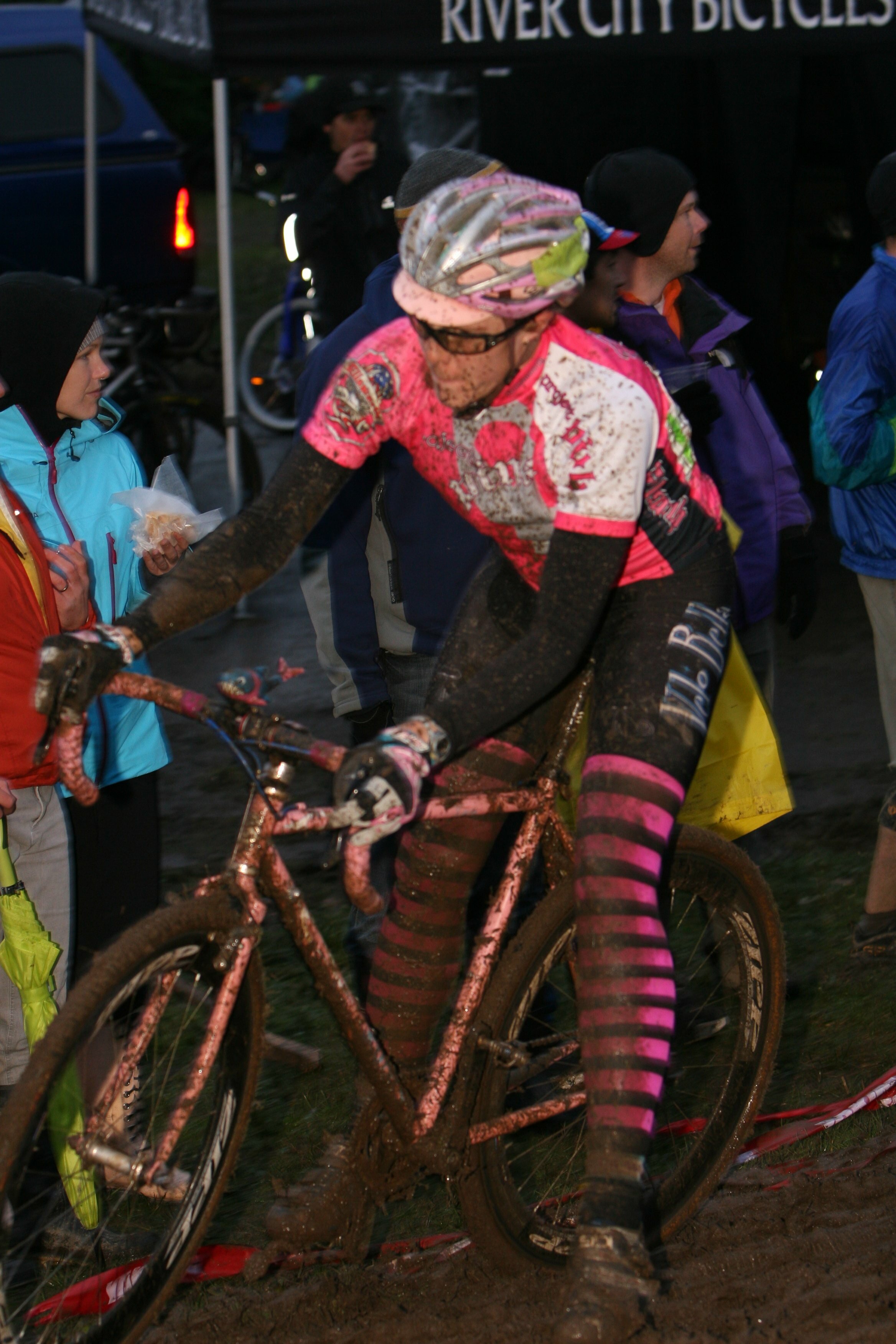 Velo Bella-Ellsworth rider Kari Studley won the Single Speed Cyclocross World Championship in über-muddy conditions. Portland hosted the race, which included a Le Mans style run to the bikes start. Kari's win granted her the privilege of wearing the Golden Bikini and ensured that next year's World Championship race will come to Seattle. Janet Hill of Spot Shot Events captured Kari and striped tights in action. Check out Janet's galleries for more images of all the wacky, muddy fun. Cyclocross Magazine also has some video and Portland Xcross has a gallery of Dirty Pictures.
Here's what Kari had to say about her big win!
Doing this event made me think back to the days of Seasame Street and the lyrics of the song "One of these things is not like the other. One of these things just doesn't belong…" Me doing a single speed race, much less the "World Championships" in Portland is pure irony… It's the similar irony I enjoy in training on a pink bike and racing in nothing but pink this whole season. If you ever get to meet me, you'll understand.
It was a dream come true to be able to give my custom painted pink with chopper flames bike the showcase it deserves and I even made a pair of sparkely pink boot shoe covers for the event, but discovered while racing in them for the Halloween race the previous weekend they wouldn't be suitable to race in if running was involved. Therefore, plan B: pink stripe tights.
The course was a complete MUDFEST. Having been raced on since 8am and rain showers in the afternoon, there was not a blade of grass to be found and mud "puddles" that went half way to your knee in depth when riding through. Half way into the race, ramps were added so that you could catch air on a couple barriers and other places in the course – very fun! And the most important part: the "Thunderdome" where people would swing overhead and/or near you as you rode through.
As there were 250 riders, it was a la mans start with the women further away from the pile of bikes, in an effort to separate the groups. Not sure how effective it was as I was into a sea of men the second I got my bike. From them on, it was navigating through riders in costumes ranging from the "man-kini (aka Borat thong)", Shiela Moon's team of boyfriends and "Tina Turner" (who corrected me when I complimented his "Pregnant Wendy Simms" costume…oops!). Although I had been advised to have dollar bills to race with, I forgot, and therefore had to ride the extra out-and-back section added to the course since I didn't have a dollar to bribe the course official to take the "shortcut." By that point, it was such a mass of chaos, I just stuck to riding my race, figuring that if I won, I was at least going to win correctly (or cheaply, as cheating was encouraged). 5 laps later, the "race" was over. I outsprinted a guy to the line in good fun, but had absolutely no idea on my overall result.
I was thrilled to hear my name announced at the Thunderdome, and did my best to change into the golden bikini in the back of a trailer in the dark (hence the sportsbra addition – I couldn't get it to stay on in a family friendly fashion!). It was also an honor to be the deciding factor in the competition between Seattle and San Francisco on who would host the event next year. See you all in Seattle!
Huge thanks to: The Sweet Spot for the bikini "preparation" help and River City Cycles team and Nuun energy drink for the tent space!
Photo copyright Janet Hill, Spot Shot Events, and is used with permission. Thanks Janet!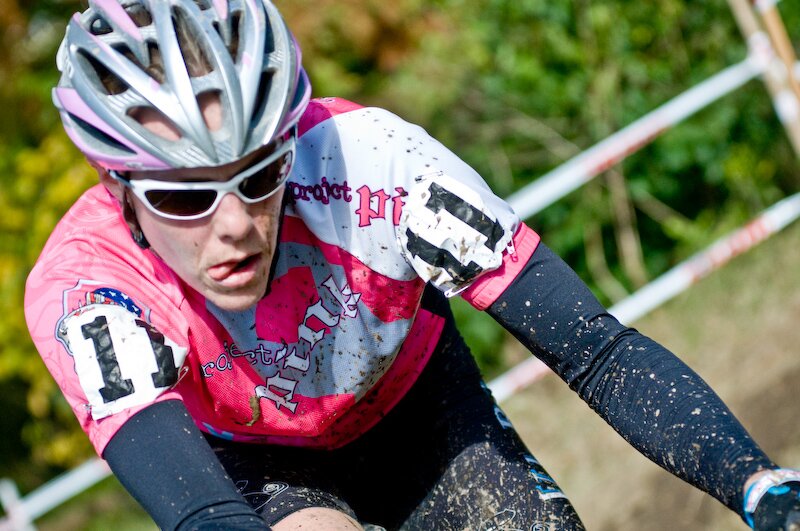 Full concentration as Kari navigates through the mud in Louisville.
Velo Bella-Ellsworth riders Kari Studley and Devon Haskell headed out to Louisville for the U.S. Grand Prix series race. Recent rains left the course muddy. Though the grass made the course look fast, the reality proved rather different as the wheels sunk into the soggy grass. The course also included a staircase run-up. Kari took 9th and Devon finished 12th. Katerina Nash of Luna won ahead of her team-mate Georgia Gould. Velo Bella alum Amy Dombroski, the current U23 U.S. National Champion, rounded out the podium. Roll over to Podium Insight for more stories from the race.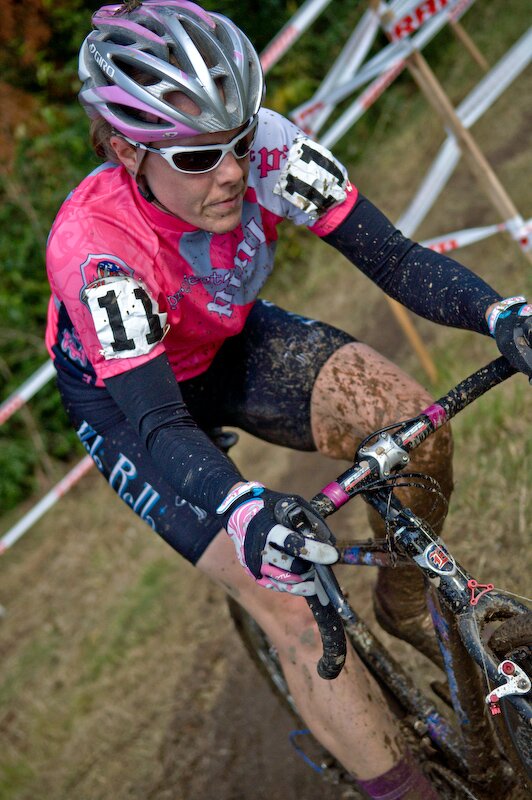 More mud for Kari.
The following day, Kari and Devon lined up for a second day of racing at the Derby City Cup. Sunny skies greeted the riders for this second day of fun in Louisville. But the mud still lingered and the course included a staircase and flyover. Kari bettered her pervious day's result to finish 7th, while Devon took 11th in the deep women's pro field. Luna again dominated the field as Nash took a second straight win. Amy Dombroski of Richard Sachs finished second, followed by Alison Dunlap of Luna. Check out the full story at Podium Insight.
Keep up with all Kari's adventures on her blog, Studley Racing. Want to know about the Velo Bella-Ellsworth pro cyclocross team? Check out our Pro Cyclocross Introduction.
Thanks to Lyne Lamoureux of Podium Insight for the use of her photos from the Louisville Grand Prix. All photos this page copyright Lyne Lamoureux and are used with permission.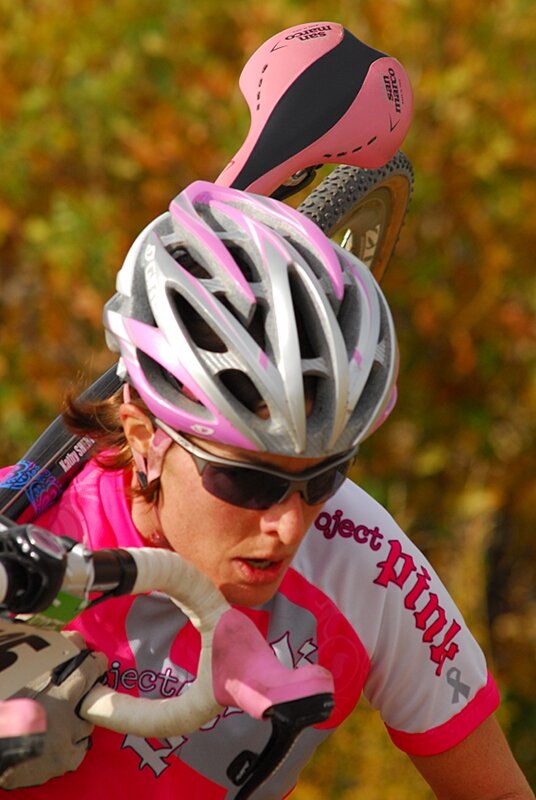 Kathy Wins Three Straight!
Velo Bella-Ellsworth rider Kathy Sherwin currently leads the Utah Cyclocross Series after winning three straight races. This weekend, Sherwin put 30 seconds into the field after just one lap of racing at Andy Ballard Equestrian Center in Draper, Utah. She held just under a minute lead over the second place rider all the way to the finish. The course included a 500 meter road climb, followed by a descent into sandy terrain, and a run-up. Kathy is racing this season in memory of her mother, who passed away recently. She will race next at the Longmont and Boulder races on Halloween weekend. Congrats to Kathy on another win!
Read more about the Velo Bella-Ellsworth Pro Cyclocross Team!
Christopher See contributed reporting to this story. Photo is copyright Christopher See and is used by permission. See more images from the Utah Cyclocross Series.