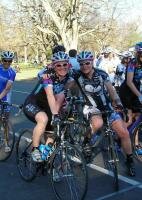 Cal Aggie Criterium, CA
10th, Katie Norton, Women 1/2/3
15th, Soni Andreini Poulsen, Women 1/2/3
24th, Julie Porter, Women 1/2/3
By Marian Jamison
Reno, Nevada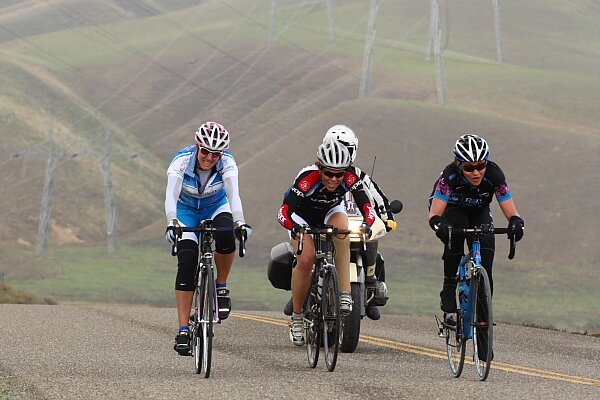 Marian Jamison on the main climb of the day.
Me and CJ drove down to Modesto on Friday night to stay with a buddy of my buddy Jerome (that's Jeremy who works at Bananas, for the rest of you). The weather was kinda lousy over the pass and I did my very best to scare the hell out of CJ by almost side swiping a semi. Anyway, once we arrived in Modesto, we were entertained with amusing anecdotes concerning themselves, cycling, and their mysterious friend Givo (Geevo?) until well past my bed time, and were then awakened at 5:30 AM to the preparing of a rather weak pot of coffee. To make a long story short, we arrived in Patterson in time to admire the thankful dry weather, register for our races, and, in my case, drink a lot of espresso.
My particular race had the predictably small field size of 3 riders, fortunately we got to race with the 4s so things were a little more interesting. If you haven't ridden up Del Puerto Canyon Rd. in Patterson let me just tell you, it's gorgeous this time of year. Anyway, things rolled along pretty well in my race, with a couple of us taking pulls and moving things forward. The road twisted and rolled (more up than down) for about 19 miles. Then we hit the climb. It's not really such a bad climb, but it was a hell of a lot steeper then I remembered from three years ago. I think I told CJ that it was only steep for the first 100 meters or so until you cross a cattle guard, and then it levels out a little.
Well, I lied.
But I've been working on my climbing lots this year, so I was looking forward to the pain. I hit the gas as soon as we hit the base of it and before I'd crested the cattle guard I had opened up a pretty good gap over the rest of the field. I only felt ok, but kept the pressure on and opened my gap up to probably about 2 minutes before reaching the top of the climb (it's about 2 miles long) and the turn around. I started my descent, feeling pretty confident that I'd be able to ride alone to the finish and not get caught.
Unfortunately, about half way down the descent I came upon an older guy who'd obviously just crashed pretty hard. He was just picking himself up, his bike in a ditch on the other side of the road, with a fair amount of blood coming out of his nose and a rather alarming cut on his forehead (in addition to lots of nasty road rash). I stopped, set down my bike, and tried to help him. He seemed a little dazed, undoubtedly had a concussion, but assured me that he was okay. I saw the first girl on the descent above me, not too far back, so I told him I'd tell the first official I could find, jumped on my bike and took off.
I reached the bottom of the descent without incident and put my head down to try to TT it back to the finish. I could see the girl behind me from time to time, but I think I was putting more time on her than she was on me. With about 10 miles to go, however, another girl caught up to my chaser and they started working together to close the gap. I sat up, drank some water, ate some food, and let them catch me. If it was going to end in a sprint I figured I might as well get all the rest I could and be nice and fresh.
They caught me and we worked together until 1 K to go. The finish line was on top of a little roller, and one of the girls started her sprint a little soon and blew up, while I jumped on the wheel of the other girl. Right as we started the last little up to the finish I jumped around that girl and won the sprint by a fairly large margin. A good start to the season.
Sooo, yeah, bike racing is awesome and I encourage everyone to go get some.
Photo copyright Ronald Mariano. Used with permission. Grazie Mille! See more Early Bird action.
Peak Season Cyclocross Series–Final Results, CA
2nd, Beth Welliver, Women B
Early Bird Road Race, CA
1st, Marian Jamison, Women 3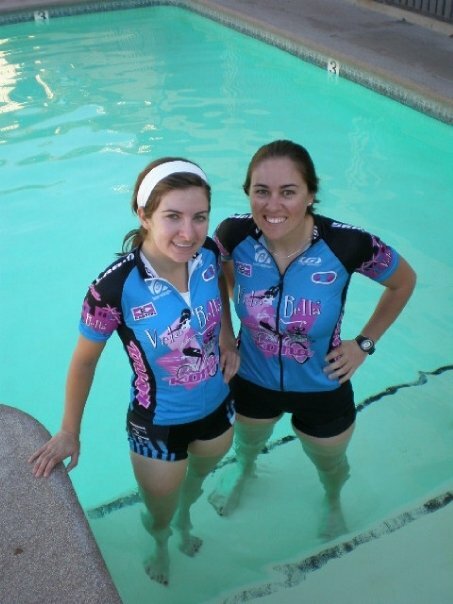 Brittany Growdon demonstrates the Super Secret Patented Bella Training Camp Recovery Technique.® Soak until done. For best results, follow with a session of winervals!
The Bellas hit the roads around San Luis Obispo for three days of training, skillz drillz, and winervals. Santa Barbara photographer Carson Blume followed the Bellas and captured the fun. Here is what he saw: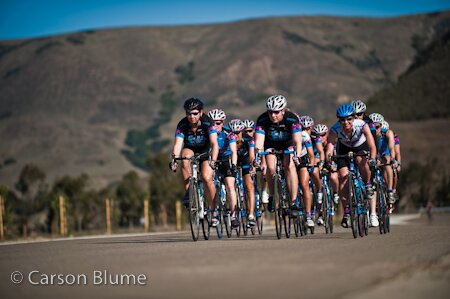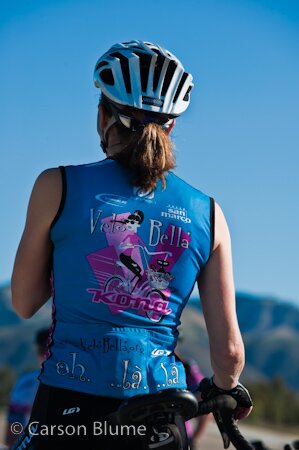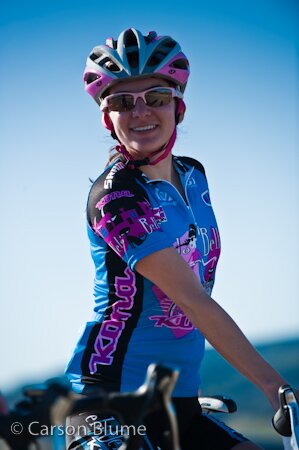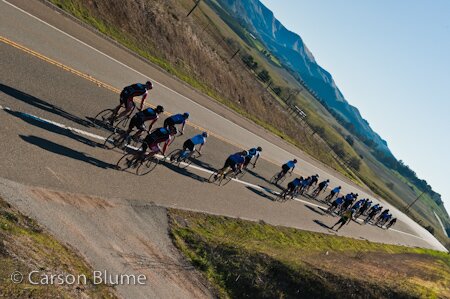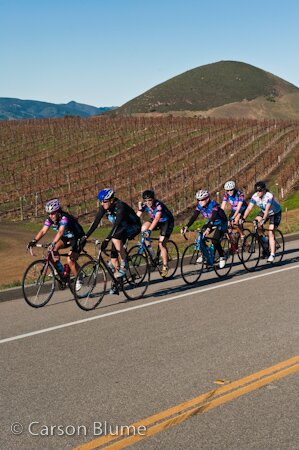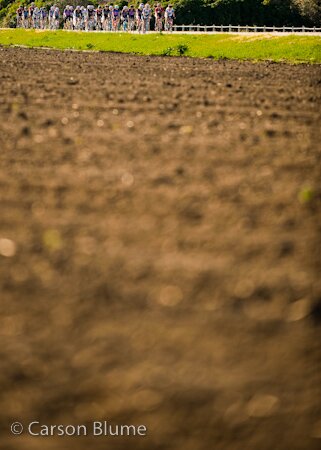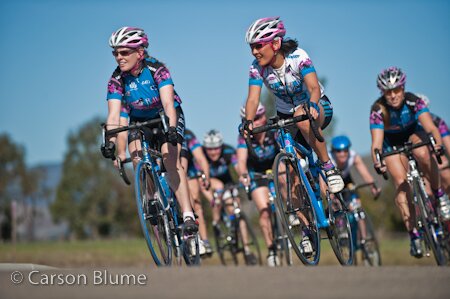 Want to see more? There are oodles more photos of Bella fun in the full gallery by Carson Blume. You can also order photos of yourself and your friends. What could be better?
Velo Bella thanks Carson Blume for the use of his photos. All photos this page are copyright Carson Blume and are used with permission. Look, but don't touch. Thanks.
By Sarah Clatterbuck
California
This week I attended my first training camp ever with the Velo Bellas. They lured me in with promises of quiet roads that I like to ride on the Central Coast, lots of wine and good times. They conveniently omitted the part about the PAIN, but that's OK, because it was a good kind of pain.
Rick and I drove down Friday night to stay in San Luis Obispo with the other girls at the lovely Sands Inn for the long weekend. I heard there were waffles at the breakfast buffet, so I was pretty sure it was my kind of place.
Saturday morning, we headed down to breakfast where I began meeting team mates I did not yet know – Suenago, LilyBella, Becky, Bethany and Raja from San Diego. All in all, there were about 30 Bellas for the weekend plus about 10-12 male companions, so we easily over crowded the breakfast room. To my pleasant surprise, the waffles were "real" – not toaster waffles. They had a batter dispenser and you poured it over the iron, closed and flipped, at which point a countdown would commence. Even the boys seemed capable of making their own waffles, so everyone was happy. Yum!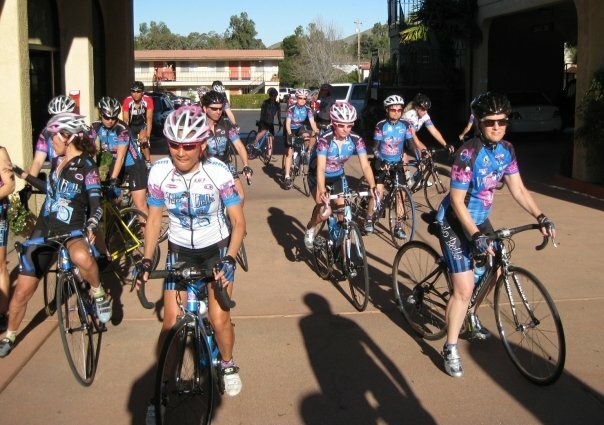 Bellas roll out for Saturday's training ride
At 9:00, we met up in the parking lot ready to ride. Well, almost ready. After about 40 minutes of socialization and hugs and picture taking, we were ready. Ryan and Tyler and Tyler's team mates were our escorts for the weekend, which was cool. We had route masters and sweepers! It was sunny and beautiful. We finally rolled out and only got about a mile before we realized we were missing the Fresno girls. Apparently, they were hung up in the fog belt. We waited about 10 minutes in a hospital parking lot (seemed like a bad omen) and then they rolled up. It was on! We rolled down Orcutt road through the vineyards. Everyone was focused and on-form. The pace was brisk but comfortable. It was pretty amazing seeing a 40 person double pace line snaking through the Edna valley. It felt like I want racing to feel – it was like the first 3 hours of a Tour de France stage where everyone just hums along at a good clip and chats, making a colorful rainbow through the countryside.
We turned left up Lopez Road toward Lopez Lake. I was pretty stoked to be stuck in the pack up the first real "grade" of the day – the grade up to Lopez Dam – and I felt pretty comfortable. Apparently some were already getting shelled out the back. Yay! After winding around the lake, we turned right on Hi Mountain Road – one of my favorite rides in the area. It is about a 6 mile out and back. It seems flat, but it's really a constant 2-3% grade with a few kicks of 5-ish percent and the last half mile kicking up to 10% and finally about 15% for a final, short assault. The pace stayed really high as we started up the grade, and I finally got shelled about 1 mile from the end. But, I looked back and there were lots of folks behind me, so not so bad. I humped my way up the final assault and enjoyed an energy snack at the top. We started the descent. I was looking forward to some quality recovery. But, someone (I won't name any names) decided to "race" down the mountain. So, my heart rate was just as high going down as up. And, I wasn't even able to catch on to the attacking group, not that I really tried too hard, since I wasn't in that mode yet.
After the descent, a good chunk of riders decided to call it a day and head back. It would have been a 50 mile ride at that point. But, I decided to push on for the next out and back, which was Huasna Canyon – another lovely ride. I was feeling good after recovering and still hanging in with the pack. We took a cutoff, which introduced a steep little digger on School Road right before getting into the canyon. I stood to get over the digger with the pack, which turned out to be a bad idea. I pretty much burned my last match doing that and got shelled shortly after entering the canyon grade – I just could not recover. Huasna is structured much like Hi Mountain – a constant 2-3% grade for 10 miles with about a half mile 7% section at the end. Rick and I skipped the end of the canyon – pulling over about 5 miles in in a shady patch to eat and wait for the group to come back. We had a good view to see when they'd be coming. As soon as we saw the front of the pack, we started riding and easing into the pace. There was a splinter pack that caught and passed us before the end of the canyon and then stopped at the mouth where we also stopped to re-group with the main pack. We selected the "rolling" option to return to town rather than the "climb" option. The "rolling" option was on Corbett Canyon, a connector road we use a lot when visiting my parents. I was able to stick with the pack over the stair-stepping climbs of Corbett and back to town (barely). Thanks to Sabine for going to the front and slowing it down as I was starting to feel some pain as we slogged up the gentle grade. We ended with about 70 miles of hard tempo riding.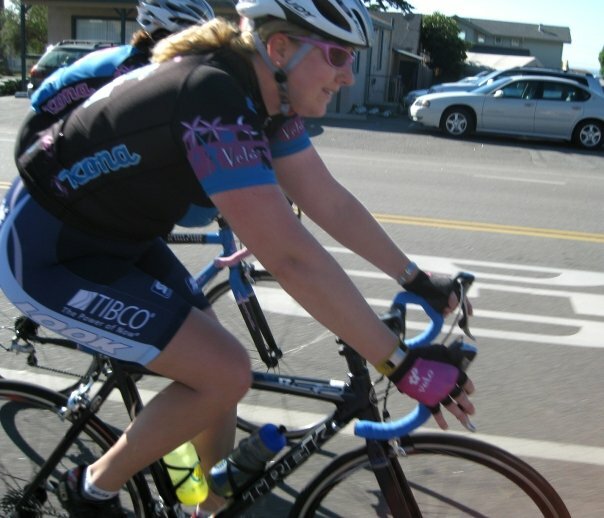 Sarah rocks the kit mash-up
Saturday night, we all went out for dinner at a local pizza place called Village Host. Yeah, we pretty much took it over, except for two tables. It was a BYO wine dinner (oops. We didn't get the message). Fortunately, there was plenty to go around. We later went to a martini bar/dessert lounge and had "lava cakes", which as you can imagine were fabuloso. The best part of the night was riding 6-up in Marian's Buick Roadmaster station wagon. I was having serious flash backs to junior high when my friend Katie's mom would drive all of us to the mall in hers. That thing is just enormous.
Sunday was skills and race drills. But first, there were waffles, of course. We met again at 9:00 – and rolled out at a leisurely 9:40ish again. Love it! We rode for just over an hour as a pack – up Orcutt Road, across Tiffany Ranch to Corbett Canyon to Highway 227 back toward town. I rolled off the front on Corbett with the idea of sag climbing the stair step. But, I ended up being a dork and finishing with a gap. Sorry guys! That was lame. I should have just moved up in the pack. We arrived at an unfinished neighborhood off 227 by the airport that had complete streets, but no houses – a perfect crit course. I was a big block with a little uphill and corresponding downhill. We did some skills then headed on the course for some mock crits/bridging drills. Oof. I experienced feelings I haven't had in a while. But, it was very race-like while still being safe, which made it so, so fun. There were even some unplanned counter-attacks, which really mixed things up in our group. We also had a pro-photographer, Carson Blume, along, who made us look really fast and furious. Some of the group headed out for an extended ride. Others of us rode back to chill by the pool and drink beer. I love the ride they were doing, but heeded the call of the recovery time.
Sunday night, we descended on Vallarta Restaurant with no reservations and 30 people, which kind of threw them, but they were very accommodating. My mom and dad were able to join for dinner, so that was cool. The restaurant was close to the hotel, allowing margaritas to be consumed and we could stagger back. Mom and Dad stuck with the requisite Diet Coke, since they were driving. It was a festive time, and Carson did a nice slideshow of the pics after dinner. Sweet! Again, we ended the evening fairly early.
Monday promised an "easy" ride along the coast to Cayucos. I was hoping that "easy" would be the case, since I was starting to feel like I was at a stage race. We did actually start at a nice, leisurely pace. Everyone seemed a little bleary-eyed and unfocused, so I left a bigger gap than normal in front of me. We had just gotten out of town on Highway 1 near the "Men's Colony" when I saw some bad swerving going on a few rows up and a rider go down. Fortunately, everyone else was able to stop without going down or running her over. It was Susie. Apparently, she'd hit a HUGE rock, lost the bars, was almost able to steer out of it with her body above the top tube, but then lost it. I was so sad, since she was looking forward to seeing the ocean all weekend. It seemed like she probably had broken ribs, so a friend was called to take her to the hospital while we finished off the ride.
The rest of the ride was nice and mellow. Everyone got a little more focused after that. We enjoyed ample tail winds and another warm and beautiful day with salty air. After 45 miles, we ended back at the hotel, did a quick change and quick lunch at Firestone and headed home.
On Tuesday, it was the BIG DAY. The college had set up a viewing room with breakfast for us to enjoy the inauguration. Unfortunately, there was no heat, so it was a lifelike Washington, D.C. experience. It was a little weird sitting teary-eyed with co-workers that I don't know well yet. But, we were all moved to some extent by the historic moment, so it wasn't like I was an anomaly. Even those who didn't vote for Barack seem pretty excited and moved by what the moment in our history represents. I feel like we are all pulling for him and rowing in the same direction – at least for the moment. I hope this sentiment lasts and we can work together (even where we differ) to make this a better nation for all of us.
After all the physical exhaustion, thrills and emotional highs, I felt like a deflated balloon yesterday afternoon. I was back to the mundane. At least I feel like the work I'm doing is making a difference and will contribute to that better society that I want to be a part of. So, time to put down the intervals and winervals and start with some bookervals!
By Raja Lahti-McMahon
San Diego, California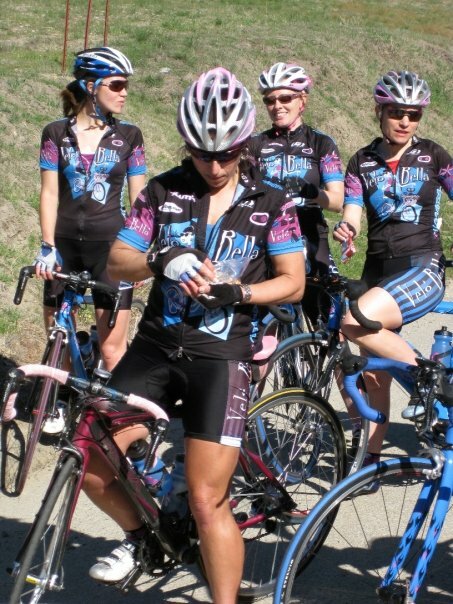 Wow! I had an amazing weekend with 30 of my fellow Velo Bellas, hotties on bikes, up in San Luis Obispo. We had Bellas from all over California, even one from North Carolina! Some had just started riding in the last 6 months, others were seasoned racer chicks.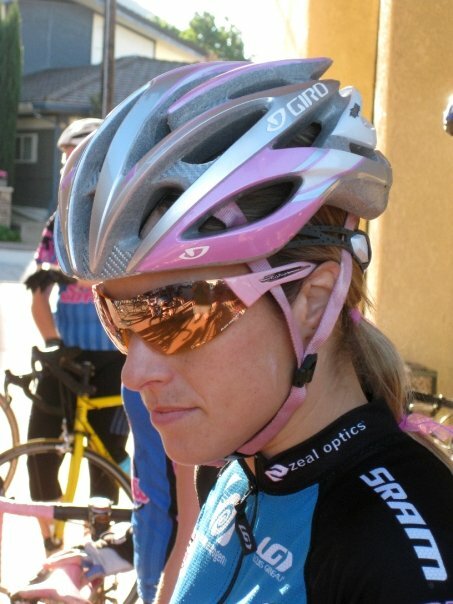 Then there were the boyz… A local racing group provided escorts, sweeps, tire changers extraordinaire and last but not least.. some mighty fine calves for all viewing needs. (Yup, he's the one wearing the Velo Bella bibs!) When suffering, a good pair of calves will do.
We even had paparazzi!
Daily rides ranged from 25 miles to 75 miles of amazing farm roads and a skills clinic run by Michael Hernandez … a former San Diego triathlete now wicked cyclist in the Bay Area. Or AKA Sabine's Boy Toy… Ooh là là!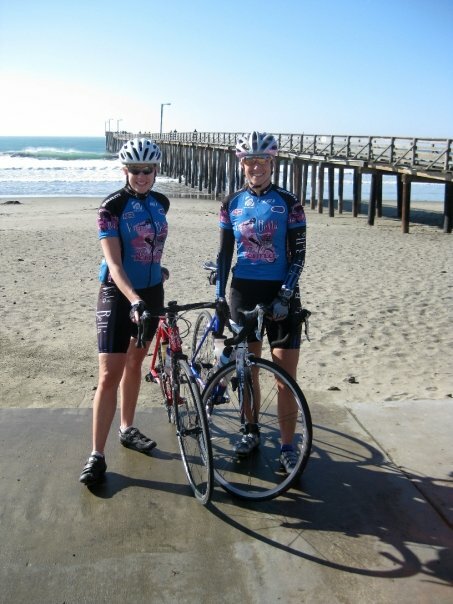 Our own Ryan Hostetter (Girl Ryan) provided most excellent organizing, routes and most importantly, INSPIRATION! And Sue.. well, she just likes spanking boys. I think they call her SueNami! Marian… Virgin Blood is Vegan Safe… Cathy from NC, the track guru turned mommy…if you ever thought you didn't want kids, have a little chat with Cathy. And the rest of the Bellaistic crew, what fun!
Laura and Sabine (pronounced like Sabina)…Mama Bellas! They are the perfect personification of Velo Bella – pink hair, endless humor, killer smiles, giggles and energy & motivation that never ends.
If you've ever wanted motivation to do more, be more…. Welcome to Velo Bella.
So next year… you don't want to miss it! Who's in?
I can't even tell you how proud I am to be a Velo Bella!
Happy Riding!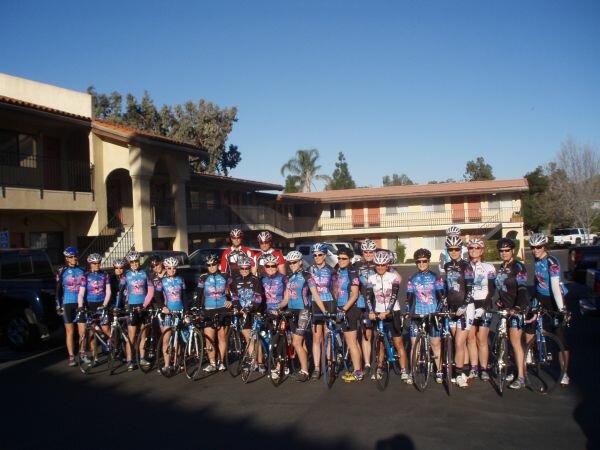 By Beth Hamon
Portland, Oregon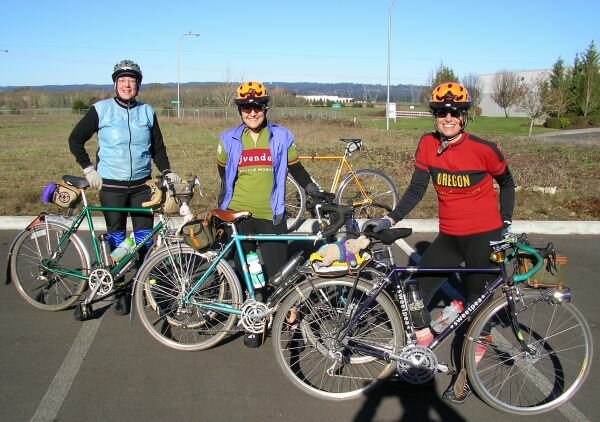 Beth and friends in Brevet gear, ready to ride
Inspired by the recent accomplishments of my friends Lynne and Cecil (who completed their R-12 in December — they rode a 200km brevet every month for 12 months in a row!), and wanting to enjoy a ride with them without killing myself, I suggested we put together a "shorter" route of 25 to 30 miles. I further suggested that since I'd shown Lynne and Cecil my Smith & Bybee Lakes loop already, that Lynne put together a West side route for us. I called it an Inspiration Ride, to honor my friends for their achievement and to inspire all of us to get out and enjoy riding more in the coming year. Lynne obliged with a beautiful countryside loop beginning and ending in Hillsboro.
It took about 90 minutes to get to Hillsboro from my house, including riding to MAX. We set out from Longbottoms Coffee, a favorite starting point for many Washington County bike riders, and within five miles had found our first (and it turned out, most significant) climb of the morning. Jackson Quarry Road was quiet and still, with many white patches of frost still on the road at 9:45 in the morning. It was a good workout, and the beginning of my being able to find my groove for the ride. Going down the other side of the hill was another story; I don't care for rapid descents and this was pretty fast, but with some nice turns that broke things up a little.
By the time we'd ridden through the Jackson Quarry area, I'd warmed up quite a bit in my winter tights, two thin wool shirts and a heavy wool sweater, and a wind shell. I traded my heavy winter "lobster" gloves for ragg wool ones and shed the shell, which I didn't need again the rest of the ride. My shoes had nylon booties over them and I had toe-clip covers too, so my toes never got uncomfortably cold.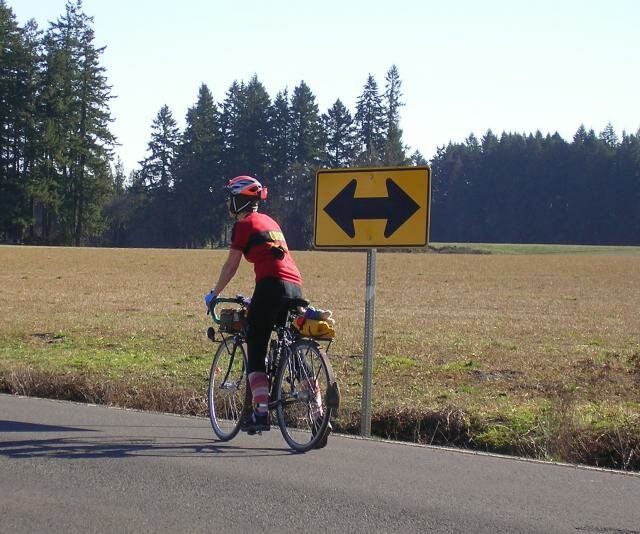 Near North Plains, we encountered a group from Portland Velo, the other club that Cecil and Lynne hang out with. Almost entirely men, the group rode lighter bikes with narrower tires than ours; they looked like sleek stallions gearing up for the big breakaway. They passed us with care and a few friendly hellos. They turned one way and we turned the other at the "T" in the road after our Jackson Quarry climb. At length, one of their number caught up with us; he'd started the ride with Portland Velo but decided to hang with us awhile, preferring our gentler pace on his fixed-gear bike. Dan was charming and an easygoing companion and it was nice to meet him and talk about bikes with him as we rode.
On Mountaindale Road we began leapfrogging with another, larger group of riders, most of them wearing vivid kelly green and yellow team kits from Bike-n-Hike. There were quite a few younger riders in this group, some looking as young as pre-teens. They passed us in a large wave; a couple of rides at the rear of the pack seemed almost afraid to pass me and I waved them on with a smile. They disappeared almost out of sight. My knee was starting to bother me a little and I slowed to give myself a break, knowing that I'd catch up with Cecil and Lynne at the top of the next gentle climb. A few miles down the road, I was surprised to see the Bike-n-Hike group stopped, their numbers scattered so far out into the road that I was forced to cross the yellow center line to get around the group. As I passed, I slowed and called out that they should move over onto the shoulder more to be safe. They ignored me. As I rode on, Cecil circled back to complain to me about it. We both agreed it was stupid, and that the youngsters in the group were being taught a bad lesson. "Stuff like that is why Washington County can't stand bicyclists!" Cecil exclaimed. A couple of miles later, rounding another bend in the road, we were overtaken by the team one last time, with their follow van cutting a very wide path around the three of us and crossing the center line of the road, though there was plenty of shoulder for riders and therefore no need for the van to cross the yellow line. I hoped they wouldn't have an accident. At the intersection of Mountaindale and Dairy Creek (where I would normally turn onto Dairy Creek if this were the Snoozeville route), the Bike-n-Hike team turned right and we continued on Mountaindale. That was the last I saw of them.
Stretches of Mountaindale were absolutely bright and beautiful, with manure-covered fields glinting in the hard winter sunshine and the green hills in the distance losing their frost as the sun landed on them.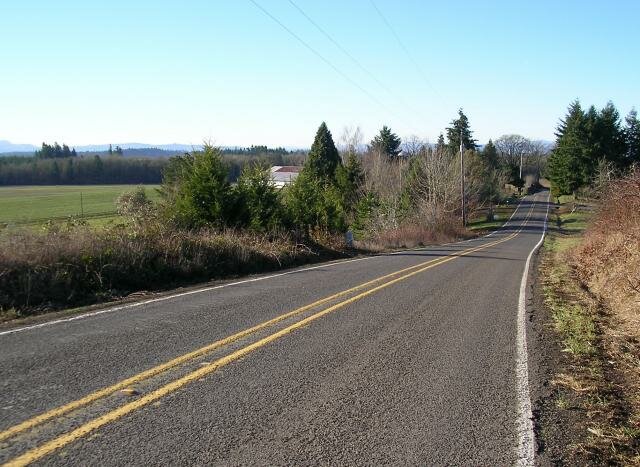 At length we crossed Sunset Highway and approached the tiny town of Roy. Church services were just getting out and Lynne mentioned that the church had a public restroom. We stopped to use it, refill our water bottles and adjust our clothing; by now the sun had warmed things up a lot. Cecil checked her thermometer (I think she had one in her phone or something) and announced that it was a balmy 50F. Arm warmers and middle layers came off, though I was comfrotable enough in my wool sweater that I just left everything alone. We were about 7 or 8 miles from the end of our ride and I saw no need to readjust much myself.
After leaving Roy we also left the bucolic countryside behind, riding through what quickly became a suburban subdivision and then over onto Evergreen parkway. By now both of my knees were hurting quite a lot, though I didn't complain out loud. And my stomach began to feel queer. When we turned onto Evergreen we found ourselves riding into a light but steady headwind, and between that and the way I was feeling I could not keep up at Cecil and Lynne at all. I watched them shrink in the distance and decided not to worry too much about it; I knew where I was, had a cue sheet and knew that we were only about four miles away from the coffee shop. Then, I felt a wave of nausea overtake me, and I knew I had to stop and pull of the road for a minute. Last night's raclette — did I mention we'd had friends over for a little raclette and fondue party? — caught up with me, and while it wasn't terribly dramatic, it wasn't exactly pretty either. I felt better right away, resumed pedaling and I found myself catching up with Cecil and Lynne, who had slowed when they didn't see me behind them anymore. They patiently chatted while I collected myself, and then we set out at a much gentler pace for the last mile and a half to the coffee shop. (One of the things I enjoy about doing these more social rides with Lynne and Cecil is that, while they can totally kick my butt, they never make me feel bad about it. If we're out for a social ride they are happy to ride with me, rather than race ahead as they would have to for a timed event. I greatly enjoy riding with them when there's nothing at stake!)
There, we found Dan, who had regrouped with some of his Portland Velo buddies and was enjoying lunch. We did the same, though after feeling sick I opted for a simple bowl of oatmeal and some fruit. I felt much better after eating, though my knees hurt the whole way to the light rail and all the way home from Killingsworth Station. Still, it was a good ride with friends and I hope we'll do it again soon.
Total, actual route: 32.96 miles.
Total including travel to and from ride: 41.57 miles.
The Bellas Play Bikes at Training Camp in San Luis Obispo, California
Video by Carson Blum