Not Thinking Too Much
By Natasha Perry
Santa Cruz, California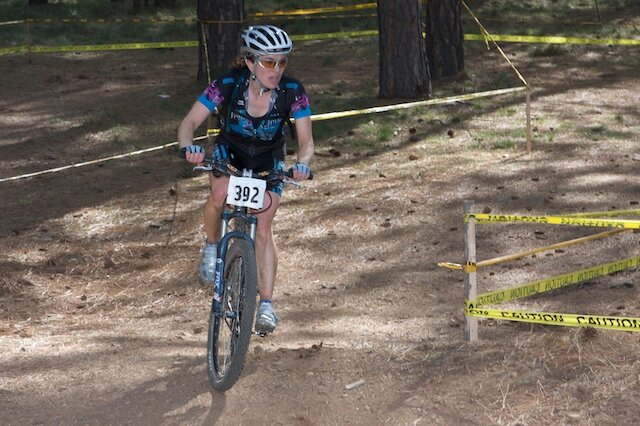 My motto for this year is a favorite saying by a friend of ours:
"If you don't think too good, don't think too much."
And that prettyyyyy much sums up 8 hour solo MTB races in my mind. Wellie-Bella said to me last year with that cute little smile of hers 'let's do Boggs'. Of course I said yes with nary a second thought…cuz if you don't think too good…anyway…
Finding Boggs Demonstration Forest is a feat in its own. Tucked above Napa you arrive at 7:45am, reg closes at 8am – and even though you are sure you read that the race starts at 9am…you are not dressed yet and hear your call up at 8:25am. Whooops! Two seconds to spare – and you're off.
Is there nothing better than hitting a FRESH new piece of single-track you've never ridden? Why pre-ride when you can scare the heck out of yourself screaming around new corners and snaking between trees that just clear your handle-bars. Guys kept telling me 'it's all about the last lap' for us solo'ers. I thought the hell with that advice – I'm gonna tear it up as much as I can on the downhill, cuz the spin-spin uphill – whatever.
The first couple laps are fun, rip-roaring good fun. By noon – I thought this is the dumbest thing ever. Ever. Ever. But I figured out why people do these solo races – you start to hallucinate! I swear – some sort of crazy adrenalin drug takes over. If you stop your bike you feel woozy and can't see straight. Start pedalin' and ripping downhill – life is good.
But what is a MTB race without your awesome Bella Crew!!!!!!!! Wellie's hubby Terry was there, along with Michael/Sabine, and my hubby Aaron. You could hear them screaming miles away. More than one person said 'you have quite the crew'!
So the actual race part – I played tag from about lap 5 on with the woman in second. The woman who won was about 20 minutes (!) ahead of us. I kept catching my second place rider on the downhill, then she'd pass me on the up. By lap 8 all I could think of was 'must get off bike', MUST get off bike – but punched down for the final climb and felt my legs cramp (again) and had to dial back. I came in 3rd about 20 seconds back.
Wellie rode an AWESOME race and came in second in her category. It was amazing to see her come off her bike fresh as a daisy! It's been so much fun to see her progression in cycling – from starting off as a cyclo-cross racer, to track, to MTB, to road – so inspiring. We're gonna miss ya Wellie!!!!!!!!
Finally the Boggs course itself is a superity-dupity fun place to race or ride. Plenty of tricky (but not too tricky) single-track on the race course – tough little uphills, but no nasty fire-road climbs (thank you course designers!). The Bella pit crew got to hit the trails too (8 hours gives you plenty of time;)) – so fun was had by all. Of course we topped it all off a with stop at the local brew-pub in Middletown. Racing Bella-style – I love it!
Photo courtesy Terry Welliver. Thanks Terry!
---
This fabulous post was written by one of our awesome bella volunteers ~ To change this standard text, you have to enter some information about your self in the Dashboard -> Users -> Your Profile box.
---