By Natasha Perry
Santa Cruz, California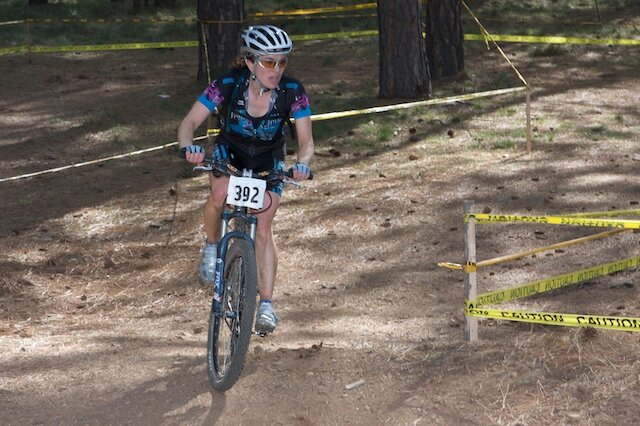 My motto for this year is a favorite saying by a friend of ours:
"If you don't think too good, don't think too much."
And that prettyyyyy much sums up 8 hour solo MTB races in my mind. Wellie-Bella said to me last year with that cute little smile of hers 'let's do Boggs'. Of course I said yes with nary a second thought…cuz if you don't think too good…anyway…
Finding Boggs Demonstration Forest is a feat in its own. Tucked above Napa you arrive at 7:45am, reg closes at 8am – and even though you are sure you read that the race starts at 9am…you are not dressed yet and hear your call up at 8:25am. Whooops! Two seconds to spare – and you're off.
Is there nothing better than hitting a FRESH new piece of single-track you've never ridden? Why pre-ride when you can scare the heck out of yourself screaming around new corners and snaking between trees that just clear your handle-bars. Guys kept telling me 'it's all about the last lap' for us solo'ers. I thought the hell with that advice – I'm gonna tear it up as much as I can on the downhill, cuz the spin-spin uphill – whatever.
The first couple laps are fun, rip-roaring good fun. By noon – I thought this is the dumbest thing ever. Ever. Ever. But I figured out why people do these solo races – you start to hallucinate! I swear – some sort of crazy adrenalin drug takes over. If you stop your bike you feel woozy and can't see straight. Start pedalin' and ripping downhill – life is good.
But what is a MTB race without your awesome Bella Crew!!!!!!!! Wellie's hubby Terry was there, along with Michael/Sabine, and my hubby Aaron. You could hear them screaming miles away. More than one person said 'you have quite the crew'!
So the actual race part – I played tag from about lap 5 on with the woman in second. The woman who won was about 20 minutes (!) ahead of us. I kept catching my second place rider on the downhill, then she'd pass me on the up. By lap 8 all I could think of was 'must get off bike', MUST get off bike – but punched down for the final climb and felt my legs cramp (again) and had to dial back. I came in 3rd about 20 seconds back.
Wellie rode an AWESOME race and came in second in her category. It was amazing to see her come off her bike fresh as a daisy! It's been so much fun to see her progression in cycling – from starting off as a cyclo-cross racer, to track, to MTB, to road – so inspiring. We're gonna miss ya Wellie!!!!!!!!
Finally the Boggs course itself is a superity-dupity fun place to race or ride. Plenty of tricky (but not too tricky) single-track on the race course – tough little uphills, but no nasty fire-road climbs (thank you course designers!). The Bella pit crew got to hit the trails too (8 hours gives you plenty of time;)) – so fun was had by all. Of course we topped it all off a with stop at the local brew-pub in Middletown. Racing Bella-style – I love it!
Photo courtesy Terry Welliver. Thanks Terry!
By Natasha Perry
Santa Cruz, California
It's hard to pass up a crit that's basically in your backyard and my hubby said that it was a fun course, so we packed up the truck and drove all 12 miles to the crit. This race has been going on for something like 31 years! It's in a little neighborhood in Watsonville – it has a small, big-ring hill, then a short down hill, sharp right, zig-zag – harrrrrd left (avoiding the two cars they couldn't move off the course), hard right, hard right, hard right…and back up the hill. No snoozing on this course for sure!
Who was racing: All of the prosies were off to SLO or some other destination – phew. A crew of about 16 or so of us were at the start line. Jenny Philips – Wells Fargo, Amanda – Code 3, Lauraleen – Walthour, Village Pedler, couple of Eastons, a Mintie and some others. So no team tactics were going to be seen today, but I knew Amanda and some of the others were feisty riders so figured it should be entertaining.
Off we went for our 28 laps – Amanda was just killing it for the first 5 or so laps. She wanted a frisky race and was determined to get it. About three of us played cat and mouse – throwing out some attacks the head wind before the final right corner made it tough. Prime bell!!! The Villiage Pedler and Mintie, previously quiet, put in some impressive sprints. I was starting to see who the competition was – and was working on just maintaining a good pack position w/o just leading everyone around (favorite old trick of mine).
With three laps to go there were some good efforts and then with one to go Lauraleen took a huge jump on the hill. That's it I thought – my wheel to the finish. I have to say that Laureleen and I do the Berkeley TT together so I said, go, go, goooooo!!! The course design strings out the course and Laureleen kept the pedal down and no one could pass. Final right hand turn and I jumped as hard as I could….and won! I was so worried about going hard enough to the top that I couldn't even dare think about the winning salute thing (but don't worry, LillyBelly was there and she's getting me straightened out
).
All in all – this crit is a little charmer. Totally entertaining, low-key, great practise for cornering and pack position. It would be fun to have a bunch Bellas out there next year!