By Allie Burch
Novato, California
We are here. The race start is *way* over there –>
This was valuable information given to the three of us after an hour of hiking straight up the wrong single-track (with downhill bikes) on the wrong peak of a completely unmarked downhill course on the practice day before the race. Although the descent to the real start was pretty sweet, our little adventure had kinda done me in.
This was my first foray to the Keyesville Classic event.
The adventure started at 4:45 am on Friday with a 5 and a half hour drive to Keyesville. As the flat farmscape of I-5 droned on, it gave way to the flat farmscape of 46 then 99 into Bakersfield. A quick turn East on 174 was a welcomed change as it dropped out of the valley then climbed and twisted it's way through the mountain pass along the Kern River up to Lake Isabella where the canyon opened up to an outdoor lover's playground!
Once I arrived, I geared up and started pushing up the Snake pit course with Jackie and Dain. Fast, chundery sections to rocky singletrack, switchback to a rocky funnel…ok, these look fun, but where the hell does this thing start?!
We kept going and followed a singletrack straight up the most logical looking peak for a downhill course. Half an hour of hiking through soft sand later, we decided that there is no way this can be a start since there is no place to stage riders. Besides, we were the only one's up there! We rode down and found the real start, which sent the rider down a fire road with a few rollers and a long flat section. Fine if you're on a small travel bike, but on a 37 lb downhill sled?? Kill me now.
One of my goals for this race was to really look over lines and get somewhat creative. There was a group of rocks that looked like they could be ridden over as long as the rider threaded through the two boulders on either side. Jackie and I stopped to session this section and see just how possible this line was. I backed up and started my approach to the rock line, but slammed on my brakes before committing to riding it. By this time there were three other guys looking at the line as well. I dragged my bike up as was about to abandon the idea just as I heard Jackie say, "actually, I'd kinda like to see how that line is done." I think she was talking to the guys, but what the hell. I backed up again and rared up to go…I'da made it too… but I got object fixation on the big flat rock wall right in front of me and smacked into it all "George of the Jungle" style. Of course after this the guys cleared it without a problem. I, on the other hand found an alternate line that I liked better anyway.
Saturday was the downhill race, a combined best time on the two courses. The first course, Dutch Flat, was best ridden on a hard tail. There were three rises that made a rider slugging a rolling couch want to puke, but all of a sudden the course got really fast. There were three of us in the pro class, two on downhill rigs, and one on a hard tail. Needless to say, Tiffany, who was on the hard tail enjoyed a few seconds advantage over us on the downhill bikes after the first run.
Time was more than made up, however on the second run where, even though the course had uphills and flats, the technical sections were easily floated over on 8" of suspension.
When the dust had settled and the results were in, Jackie and I had the fastest combined female times…exactly. We were in a dead tie for first. She was exactly one second faster than I on one of the courses, I was exactly one second faster on the other.
The final results had placed Jackie in first and me in second, the tie-breaker being the fastest down the second course. We clambored up on the podium and proclaimed our victory right as the snow started flying!! An isolated snowstorm came blowing through to cap off the awards.
Once the course was marked, and the race promoters set up and organized a bit, the event went really well and was a very fun event. I even met fellow Velo Bella roadie (and now MTB extraordinaire) Tracy Nelson at the downhill! (I can't wait to read her writeup on this event!)
By Tracie Nelson
San Luis Obispo, Cali
I've been working on a short list of things that will automatically classify a person as a "badass":
1. Person has blood stains on their bike
2. Person has raced in the snow
3. Person has done a DH race on a hardtail
Hello, Badass Club! Okay, so what if I did do #3 really, REALLY horribly, and maybe the course really wasn't THAT challenging as far as downhills go, but the fact that I competed in something that involved hurling yourself down a rocky ledge and am not currently sporting a BODY CAST – well, I'm pretty proud.
Keysville was bitchin'.
Here's a quick summary:
1. Short track is the bomb. My teeth were bleeding and I had snot coming out of my eyes but it was all worth it when I started lapping old fat guys.
2. I've never been so cold in my life! My sleeping bag became my new best friend and we snuggled the day away. I devised a plan to cut arm and leg holes in Cuddly the Sleeping Bag and wear him in my XC race. I also considered carrying him up to the top of the DH course to keep me warm while I waited for my start. (As an added bonus I could strap Cuddly to my back for the way down as body armor.)
3. Pint glasses are better prizes than t-shirts.
4. I'm so sore I can hardly walk.
5. Next time I camp out at a race I will solicit a camping swan-yer (how the heck do you spell that word?) to cook hot meals, provide body massages, and service my bike. Applications are currently being accepted. Vollunteer basis only, must provide own tent and transportation.
6. I kicked ass. Knobbies are my mojo.
By Rachel Mickelson
California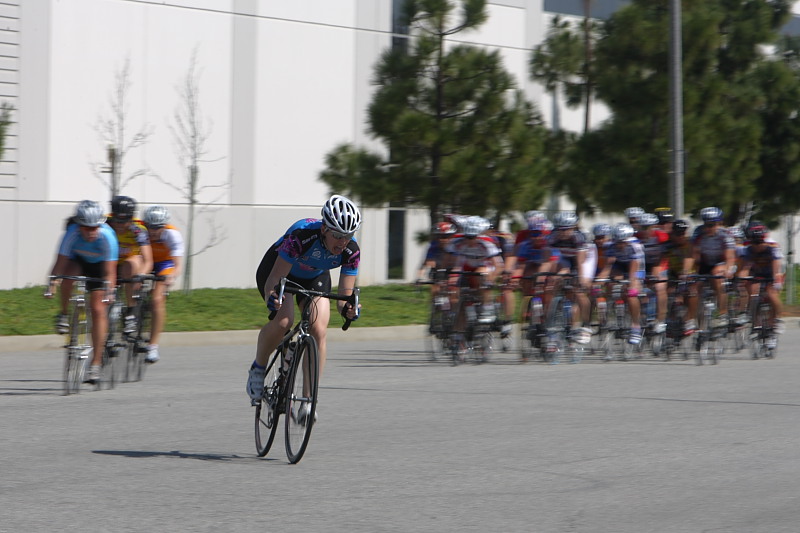 I'm was so excited about participating in the first bike race of the year that I spent the better part of the morning on the potty…Uggggggg, nervousness attacks me in evil ways.
Fitness level is good, slept good, ate well the night before, instant oatmeal 3 hours prior to race start..had all my duckies in a row, or so I thought. My last bike race had been last summer and I only participated in about 4 of them…never really got my "mojo" back or whatever you want to call it. Today, I was ready to hit it hard!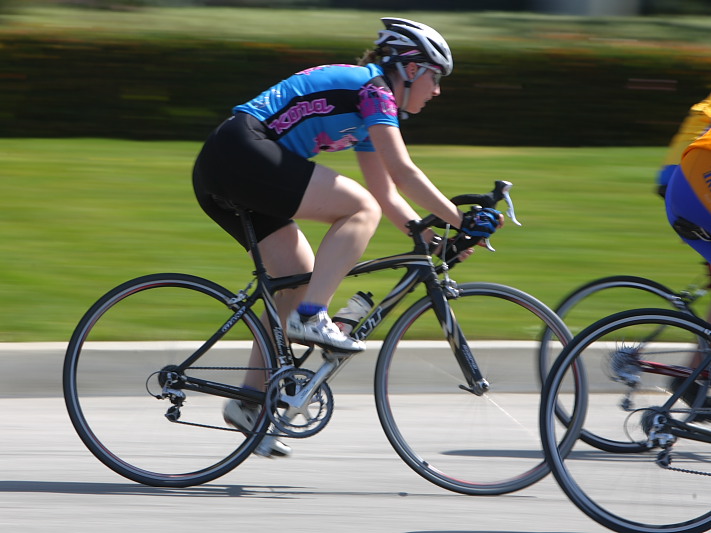 BOY, according to my husband, I really made those girls hurt…. One problem, I KILLED myself at the beginning of the race. I broke all of the rules in Bicycle Racing 101! This race was a 30 minute race with a sprint lap after the first four laps. I WENT HARD for the first FIVE laps and Faded, faded…I could have won $10 for each lap that I won. I got second in like five of them. At the finish, I was WAY back. Click here to read HOW FAR back (…….16th, dang it!).

On a positive note, I got an excellent interval workout. My kids saw me out there racing like their Daddy. Treated myself to Starbuck's after the race.
See more great photos of all the race action here.
Photos courtesy of Steve Weixel, Santa Barbara, California. Used with permission. Thanks Steve!
Bariani Road Race, CA
7th, Sarah Kerlin, Women 1/2/3
19th, Marian Jamison, Women 1/2/3
27th, Soni Andreini Poulsen, Women 1/2/3
33rd, Katie Norton, Women 1/2/3
9th, April Hamlin, Women 4
32nd, Sherri Lehman, Women 4
LA Circuit Race, CA
17th, Marian Hunting, Women 3/4
Land Park Criterium, CA
9th, April Hamlin, Women 4
20th, Ryan Hostetter, Women 1/2/3
23rd, Marian Jamison, Women 1/2/3
25th, Katie Norton, Women 1/2/3
27th, Soni Andreini Poulsen, Women 1/2/3
By Jamie France
Clemson, South Carolina
Sunday, 9 March, was our old faithful course of 35 miles at Donaldson Center. The field of women was smaller than usual — only 30 of us, all Categories raced together. The cold was excruciating. I heard on the weather that it was 28 degrees with wind chill. It felt every bit of the 28 degrees. Everyone dressed for the cold, but still — we were miserable for the first two laps. It took us 14 miles to warm-up to where I could feel my fingertips. My brain was frozen for those two laps as well. Luckily, everyone was in the same boat — cold muscles, cold face, runny noses.
I really started to feel good in lap 3. I was feeling like I really wanted to stretch my legs, but I stayed imbedded in the pack. I followed a few attacks, but the pack always got us reeled back in. The bigger teams were really controlling things, and I had no teammates. (I had started the race with a brand-new-Bella, Kim Turpin, who I knew was super-strong, but she broke a cable in lap 1 so she was out.)
Before I knew it, we were approaching the 200m-to-the-finish mark, and the sprint began. I finally got a chance to open up and go for it. It was crowded and I had to hold back until I found a gap, powered through, and passed a bunch of gals with only 10m to go. It felt great!
I ended up 11th out of all 30 women, my best finish ever — but wait! Here's the best part: I was 1st among Cat 4 women, my prevoius best being 5th. And since they scored the Cat 4 women separately from the 1/2/3's, I've got that warm & fuzzy feeling of a job well done when I see the results posted with "1. Jamie France – VeloBella – Clemson, SC" at the very tippity top of the list!
Oh La La!
Berkeley Bicycle Club Team Time Trial, CA
1st, Natasha Perry and Lauraleen Fenech, Women 80+
5th, Andrea Monroe and Liz Benishin, Women 80+
8th, Linda Locke and Erika Donald, Women 80+
1st, Soni Andreini Poulsen and Jeff Poulsen, Tandem

Donaldson Center Road Race, SC
1st, Jamie France, Women 4
Menlo Park Grand Prix, CA
5th, Andrea Monroe, Women 3
3rd, Thea Rusthoven, Women 4
21st, Gail DeCamp, Women 4
7th, April Hamlin, Women 35+ cat 4
The tug hill "triathlon" or tourathon as it was originally named was quite a show. It was a classical style ski race on back country trails- no set track. There was orienteering involved at several intersections with an arrow hidden in the woods somewhere. You were lucky if you could find it within a few minutes. Usually it took a group consensus before you had the confidence to progress forward to what you hoped was the course toward the finish. Since it had rained all week prior to the race we got to swim in sections across creeks flowing through the track.
Kate, Jano, Gaetane, and I all skied in this wonderful, bizarre, race through the wildness. 2k into the race I said it was just like skiing in the state forest on a really crappy day. Something I had been doing all year so I felt right at home which put me at ease. I felt like I was dancing across the fallen debris from the trees and not having a hint of track to guide my ski. Kate and I got to ski together for most of the race which was really fun. We ended up 1st and 2nd woman in the 25k race. Gaetane of course kicked some booty in the 13k with just one lung working that day and won her race. Her other lung stayed at home just like the doc told her.
Jano had a "good time" but was very glad for the race to over with because out of the 4 of us she was the only one not using the weapon of mass destruction for kick. It was a bitch to find a wax that day but good ol grip tape came through for the 3 of us. Jano basically had to pole her way around the 25k course. She has bionic arms now to prove it.
Kate told my she hated me when she came through. Isn't that really mean of her. I laughed. but then she said, Not really but maybe a little right now. Then she hugged me. She's my really good friend.
Here's some pics of us puking as we come through the finish.
It's been a wonderful winter for skiing! The best part about all the snow is the fact that I got to spend quality time with my fellow Bellas (that's fun to say) while racking up the km's in preparation for the Birkie.
Here's proof that the hours on the trail paid off– check out the picture of me putting the hurt on this old guy at the halfway point.
But seriously, it's been great fun hanging out with Becca, Brook, Barb, Marjie and a few other special guests this winter. I've never had so much fun training during ski season. And I probably would have never bothered to drive all the way out to Carver by myself, and may have never known what awesome trails they have.
I'll ski as long as the snow lasts, so if anyone is itching to get out, there's still some winter left!
Thanks everyone, for the great company on the trail. It was fun to be first up the hills for a change, but I'm looking forward to you all kicking my a** on the bike come spring.
Kate

p.s. to see some pics of the skiing Bellas, check out the pictures on the VBTC Yahoo group.