Sagebrush Cyclocross Series #2–Genoa, NV
2nd, Marian Jamison, Women A
LARPD Cyclocross #5, CA
1st, Yvette Crockrell, Women 35+

US Gran Prix of Cyclocross – Derby City Cup, KY
7th, Deidre Winfield, Elite Women
17th, Shannon Gibson, Elite Women
18th, Maria Stewart, Elite Women
22nd, Lindsay Rodkey, Women 3/4
3rd, Alicia Styer, Junior Women 10-16
Northern California/Nevada Best All-Around Rider 2008
1st, April Hamlin, Women 4
By Monica Tory
Kalamazoo, Michigan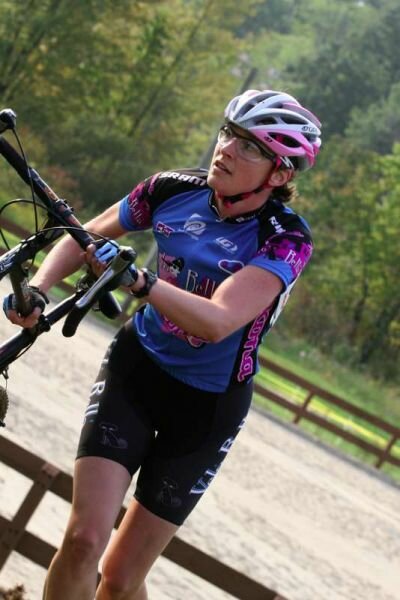 Well, one could say that this race report is way overdue, but fall is so jam-packed with 'cross craziness that it's hard to justify sitting at the computer!
The annual Michigan double cross weekend is undeservedly understated! Really. It's a great weekend of racing, yet the fields are nice and small & there's unlimited space for spectating. Free camping at the race site (wasn't advertised, so we stayed at a pricey hotel instead …. but NEXT year we'll get it right!). On site showers. UCI event, but so few spectators that you have an amazing view of the pro fields. The sponsoring bike shop (Kinetic Systems) hosts an awesome Q&A session with the elite riders afterwards … which is not only an opportunity to pick up a ton of training and racing tips, but also a chance to ask all kinds of strange questions. How strange? How about this one from my friend Kim:
"So, Jonathan (Page) … Um, I was just wondering. You know how in major league baseball, if you catch a home run ball, it's yours to keep? Well, after your saddle broke off the seatpost today, if I had run over there really fast, would it be the same thing? I'd get to keep your saddle? And, by the way, what type of saddle WAS that, anyway?"
The racing was great …. interesting courses both days, with lots of variation (switchbacks, off camber, ride through a barn, some single track, a run up, a ride up for the pros (in the big chain ring, no less) that was a run up for many of the rest of us, lots of cowbell.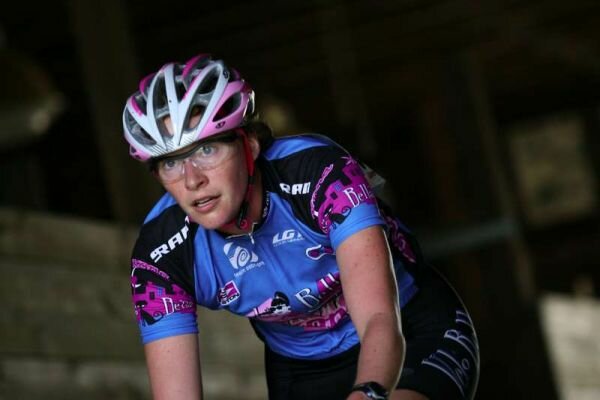 Check out the full results on cyclingnews.com!
Bella results:
9/20: Monica Tory, 4 of 6, Women's 3/4
9/21: Monica Tory, 6 of 10, women's 3/4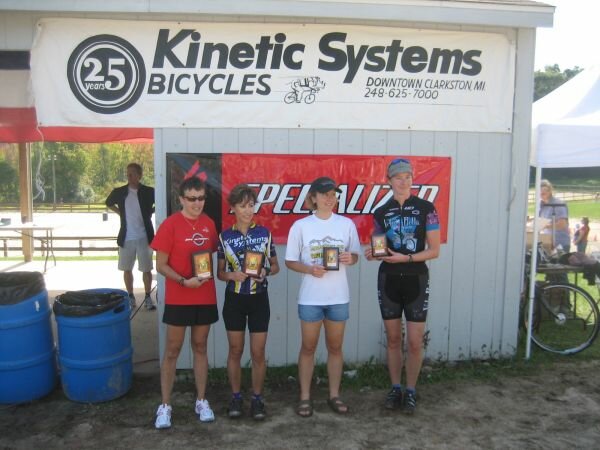 Race photos courtesy, Andrea Tucker
By Nicole Messinger
Oklahoma City, Oklahoma

I decided that my first race of the 2008 season would be Chandler Park Cyclocross in Tulsa, Oklahoma. I know October might seem a tad late to start off the season, but work with me on this one.
After about a 2 hour drive I arrived at the venue, unpacked all the necessities, met a few people, and set off to pre-ride the course. During my pre-ride I found a few rough spots that I vowed not to run over during the race, little did I know this course would be full of rough spots. Another thing that caught my attention about this course was the length, this monster seemed to go on forever!
The starting line was packed, there were 3 of us, and I settled in at the back… way back. The first few laps weren't too bad, except on the first lap when I exclaimed, "Oh crap, which way do I go?" There were a few points where the course could have been more clearly marked, especially as the 45 minutes went on. Another thing that became more bothersome as the race went on were the rough patches in the grass. You couldn't see them, but you sure felt them.
A feature of this course that I really enjoyed was the run-up as it gave me an opportunity to demonstrate my new found skill of shouldering the bike (thanks Ken and crew). Ok, I enjoyed it for the first 15-20 minutes, and toward the end I don't know if I'd have survived without shouldering the bike through this area.
Chandler Park really was a nice race on a nice course. Everyone seemed to really enjoy it. I know that I'll be back for more soon enough.
By Monica Tory
Kalamazoo, Michigan
The story …. "why not?"
A mere 1 day before our departure (from Kalamazoo, Michigan) for a one week "bike camp" in Nederland, Colorado, my husband and I learned that we would be arriving in Boulder right about the time that the kickoff race for the 2008 Boulder 'Cross Series was getting started. And anyone who loves 'cross knows what that means …. a scramble to figure out how to cram our 'cross bikes into / onto our car, in addition to the road bikes and mtbs that were already going to make the trip. After a few tries, helped by generous friends willing to loan various roof racks and accessories, it was obvious we weren't going to be able to bring 6 bikes with us. But FIVE bikes, that's a whole different story ! Since Jonathan's 'cross bike is smaller, and our races were at different times, we decided that sharing his bike would be a good compromise.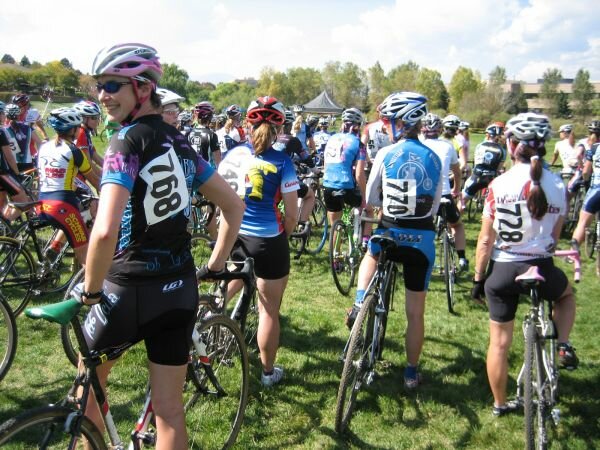 The race course …
… was almost made just for me! What does that mean? Not too technical, mixed grass and pavement. Why do I say almost made just for me? Because the skills section combination was tougher than any I'd seen. Each skill/barrier portion was pretty straight forward: #1 = a double barrier on a gentle incline, re-mount and 180-turn at the top of the hill and descend parallel to the barriers you just ran ; #2 = ride or run through a beach volleyball court, re-mount during a sharp right turn; #3 = a double barrier on a slightly steeper incline, re-mount on the way up or at the top of the hill. So what's so complicated about that? All 3 of those elements were placed back to back, and lap times were a quick 5-6 minutes over the course of the 45ish minute race. That's a whole lot more running and re-mounting than I've encountered at once, and it was both humbling (as I wheezed through the run sections…I really hope I can blame a tiny bit of the wheezing ton the altitude) and inspiring (as I now see some obvious weaknesses = new challenges that I can look forward to working on!)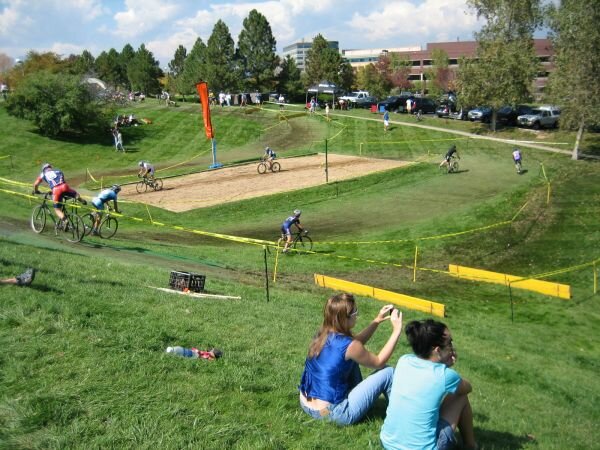 Bellas at the race … please help me NAME the mystery Bella ?
It was wonderful to meet some Colorado Bellas (avec flair, naturally) at the race! Nancy (usually racing, but cheering us on this time around) & Melani (doing her FIRST ever 'cross race!) & "Sister of Shannon" (I'm sorry ! I was a tad nervous when I met you & as a result I don't remember your name …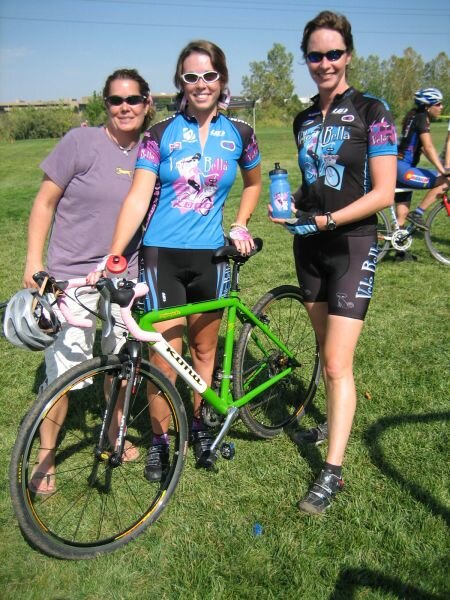 The race …
Was unlike any other cycling race I've done, simply because of the sheer number of women participating! It was wonderful, not only to line up with so many female racers, but to hear everyone talking about how fast women's participation is growing & then someone led a "cheer" to celebrate the big field and how far women's racing has come. To put things in perspective, at my "home" race series (http://www.kisscross.com), more and more women are racing, but on the co-ed start lines, there might be 3 to 6 women and 40 to 50 men in the intermediate classification. So, anyway, as I'm trying to say here, racing with other women was awesome. The starts were fast & the two groups (women's open and women's 35+) quickly intermingled. I liked the fast course & worked hard through the "on bike" parts to try to minimize the time damage from the combination of my not-so-strong running & my non-existent flying remounts (I WILL learn to do those! I think I can … I think I can …)
Clicky for Full Results!
Melani didn't finish due to injury, but will be back to try again! By the time I post this write-up, I bet she's raced over and over again !
Mystery Bella ???? Rode super strong & really made me work at the finish, but I couldn't catch you!
Monica Tory – 12th, women's 35+….and in the process happily learned that once the starting whistle goes off, all of the "why nots" really don't matter anymore. It was a great experience, and (for me) a great race & placing despite my many apprehensions before hand – racing a strange bike, trying desperately to remember the brakes are "normal" (not reversed as mine are), wondering about the effects of altitude & far, far too many hours crammed in a car. No matter what possicleobstacles I construct, CYCLOCROSS IS STILL, HANDS DOWN, THE MOST FUN YOU CAN HAVE ON A BIKE!
See you at another race soon !
Editor's Note: The Mystery Bella is new Bella, Diana Gibson. Welcome Diana!
By Sara Johnson
Beaverton, Oregon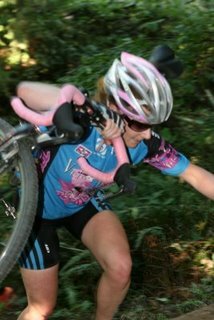 Well, I just raced my first cross crusade race…and I raced it as an A! Talk about crazy! Soo many people not just racing, but spectating too. The line up was crazy! 30 women in the A's alone. I'm not even sure how many total women were racing. Luckily, the A's get to go up to the front of the line. Since it was my first race, I hung back and started in the second line. It was a horrible start, every hole I saw would close up right as I started to take it. So, I was about 20 back in the beginning.
The race course was pretty fast and open in the beginning. Then they had us go up some huge mound of clay that had turned to concrete after the rain the night before. That was interesting to say the least! Coming down off the mound there were basically three tracks, and you picked one and were committed until you hit the bottom. Midway down, some girl went a*& over tea kettle right in front of me. Thankfully she was ok, and I missed running over her by a couple inches.
So now I'm in like 19th place??? Well, I just kept a good pace, tucked in behind some girl that looked like she knew what she was doing and just started passing people one by one. I ended up in 5th or 6th with 1.5 laps to go. Then I did what I NEVER do and I crashed! Damn! I actually went down twice in the same 180 degree sucky gravel corner, but the first time I got my foot out and basically just tapped the ground and bounced back into my pedal and started riding again. The next time around, not so lucky. I didn't get my foot out and I went down….hard. Ouch, I left a bit of thigh, butt and elbow skin on that course. Didn't rip my pretty shorts tho…yay for that!
Well, the crash also rammed my derailer into my spokes and twisted my shifter/brake levers so that my brakes were stuck on. While I was yanking the derailer out of my spokes, and twisting the levers back to semi straight, 5 girls passed me. Damn again. I tried to catch them the whole rest of the race, but my bike was basically a single speed and I was stuck in the drops the whole time because the bars twisted. I couldn't pass them, but I also didn't let anyone else get by me. I ended up 11th out of 30. Which, for my first major cross race, I think is pretty good.
Next weekend there is another one up in Washington. Got my bike all fixed up, got my new sweet 1600gram triple spoked wheel set from FSA and I'm ready to go. Making a whirlwind trip to Spokane friday night after work, visit babies and eek a quick ride in saturday and then drive to the race sight in Western Washington (a mere 6 hr drive) Sunday morning and race again. If nothing else I'll be nice and rested from 6 hours of forced sitting.
By Kari Studley
Bothell, Washington
I can't let my new almost celebrity status go to my head.
In checking my bike for my flight to Ohio, the TSA guy looked at the tag, looked at me, did a double-take and exclaimed, "You're Kari Studley! You took tenth at Cross Vegas!!!" Completely dumbfounded that a stranger (who looked like he'd follow football more than cycling) knew cycling, the obscure sport of cyclocross, there's a race called Cross Vegas and me!?! As I was speechless, he continued, " I knew you had to be a serious cyclocross racer when I inspected your bike last time [when I traveled to Cross Vegas]. So I looked you up and you did pretty good." (Turns out his dad used to own a bike shop and he sold Chris Horner "his first road bike", so he likes to follow Chris and the cycling world.)
So my first trip to the midwest started out well. It was an "unseasonably warm" (or really hot!!! For us west coasters) weekend with temps in the mid-high 80s. I'm not complaining, it was just a shock to go somewhere where the lowest temp is your hopeful high temperature (of whappin' 55 degrees) and it never even got that cold at night… Saturday's race sponsor, Java Johnny, graciously allowed me to stay in one of his furnished apartments less than a mile from Saturday's race venue which I REALLY appreciated!
Friday's race: Darkhorse Stampede in Birmingham, KY. Aka: my cross nightmare come true. Seemed like the course was 70% of my weakest types of corners – tight and off camber. <=/ Lesson learned from this race: know the start. Duh. But I forgot about that part until I was at the start line and realized I had no idea how/where the transition from pavement to unfriendly cornering would take place. So I tried to hang on and think happy thoughts when going somewhat blind into that and missed my chance to be in the lead break. When my race brain finally kicked in, someone crashed on one of the (many) off camber corners and I barely missed running her over. When I settled into a grove again, I took myself out on one of the choice ditches at the bottom of a downhill. Then that same girl (who passed me in my self destruction) crashed again. I was done with her at that point and set my sights on putting as much distance between us. Which brought 10th place into sight…. I like 10th place… so I managed to secure my lucky number to bring my UCI point total up to… (drum roll please) 2! It's a start.
Saturday: Java Johnny's in Middleton, OH. Anything could be more favorable for me than Friday's course, and since this was so close to my lodging, I got to practice quite a bit on it. Knew the start, and was pretty excited when I realized "I'm trying to catch Georgia Gould's wheel!" Never thought I'd ever think that (at least this season). At least I felt like I was actually racing, and I got to follow Georgia's wheel when she was chasing back from a mechanical. I even thought of passing her on the slight hill just because I knew I could, but decided to be nice as she already had enough stress in her race and didn't need to worry about getting around me again. But I enjoyed managing to stay on her wheel for a while. After Georgia went her way I was able to work back to my lucky number: 10th. And although 9th was dangling like bait for me, I never caught her.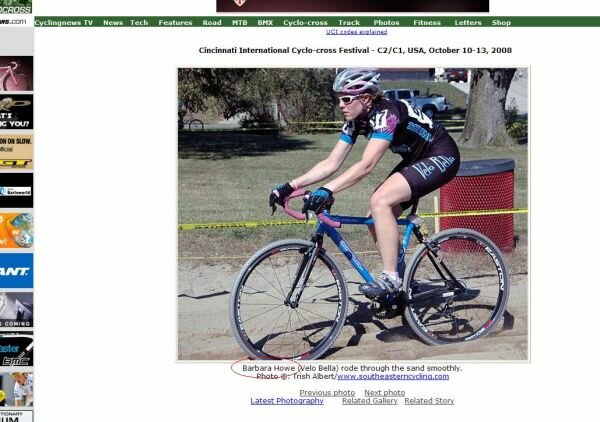 Sunday: BioWheels in Cincy (Cincinnati) OH. Aka: being Barb Howe for a day. Celebrity again! I was told that a photo of me made cycling news from Saturday's race! The only catch, I was labeled as Barb Howe. Guess it's a start. I'll just make sure to wear a name tag next time. The course was really cool and suited me well. I thought I felt better, but 3 days of racing, travel, the HEAT, and a funky stomach caught up to me so I didn't have the reserves that I had hoped to make the lead group. Just when I was closing in on (take a guess on what place) 10th, my celebrity photo twin, Barb Howe, my back tire went flat! So I lost a lot of time trying to ride / run a half lap before I got Barb's "B" bike in the pit. At least my knees didn't hit my elbows too much as I ride a frame one size bigger… and now I really knew what it was like to ride like Barb! Amazingly, 11th was still mine with 12th no where in sight!
And I realized I've already surpassed what I set out to do this season: place top 15 at UCI races. Now I want to crack top 10…. I've heard 7 is also lucky….
2008 Inland Northwest Cyclocross Series #2–Athal, ID
2nd, Erika Krumpelman, Women A