Marsha Kirschbaum
Berkeley, California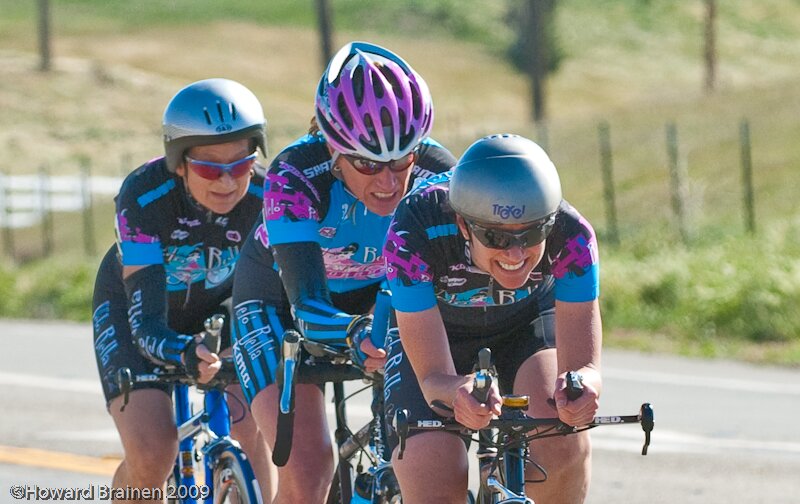 This was my very first 4 person team time trial. I was joined by Nancy F, Monica and Liz. The course was a 7.5 mile out and back on the Altamont Pass Road. The road is surrounded by hills and windmills. The good news was that the wind was blowing in the same direction as last week's practice. The temperature read 38 degrees on a friend's car. This was one of the times where most everyone warmed up in fleece.
I was a little surprised that we did not start side by side but rather in a line. We determined our individual positions on the way out by a "drag race" suggested by Liz during our practice run last week. There was a logic to this. Off we went into the wind, myself taking the first pull. We had defined vocabulary for good communication, and I gave the signal for pulling off shortly before Carol Hill. Monica took up the next pull and on it went with Nancy burying herself into the headwinds taking us to the turn-around. Once safely past the turn around, she pulled off and gave us the go ahead to proceed without her. (You have to have 3 to finish). My husband, who was photographing on the course, tells me many teams were down to three before the turn around. I felt really lucky that we were able to keep everyone to share the load into that darn wind.
I took the initial pull after the turn around up a gentle ascent. My lungs were getting raspy and my legs were starting to fade a little. Monica came around me to the front. Liz was behind me watching me like a mother hen to be sure that I didn't fall off. Then she would take a pull (a rather massive pull at that), and I continued to stay in the middle w/ Monica watching me. Once we got over the last hill, my legs felt better and we put on the afterburners for the finish line.
I clocked over 39 miles/hour into the finish. Our efforts were good enough for 3rd place and a total time of 43:48 in the Women's 35+ Thanks to Velo Fella Michael and Velo Bella Erin for their helpful advice in getting us ready for this race. It was a blast and highly recommended for next year!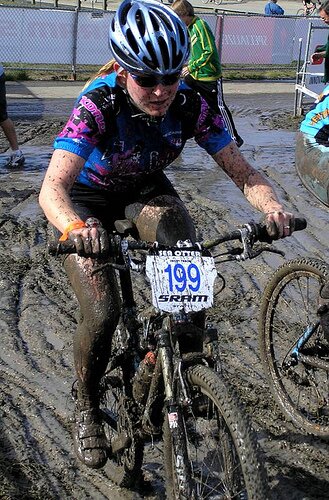 The Bellas return to Sea Otter Classic this week, 16-19 April. The team will have a booth in the exhibition area, and all are welcome to stop in for a chat. Team members may also use the booth to stash extra stuff and warm-up. Weather forecasts claim it will be dry, though windy and cold. Subject to change without notice, natch. Watch for Velo Bella riders on the road and in the dirt!
Copperopolis Road Race, CA
7th, Natasha Perry, Women 30+
8th, Liz Benishin, Women 30+
9th, Marsha Kirschbaum, Women 30+
10th, Sabine Dukes, Women 30+
12th, Denise Ramirez, Women 4
4th, Marian Jamison, Women 3
California 70.3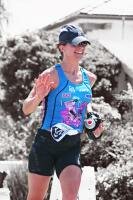 19/112, Jennifer Yake, Women 30-34
42/112, Stacy Schlocker, Women 30-34 8/95, Amy Larson, Women 35-39
52/95, Pey-Lih Littler, Women 35-39
41/100, Yvette Vonder Haar, Women 40-44
48/100, Christine Derochers, Women 40-44
26/78, Theresa Espinosa, Women 45-49
62/78, Jackie Bickford, Women 45-49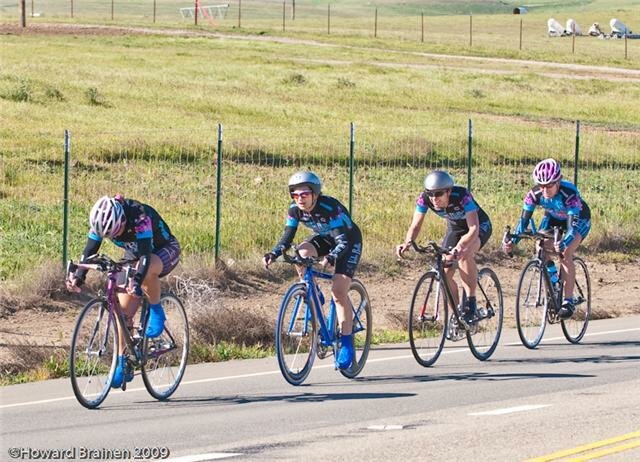 photo courtesy Howard Brainen
Altamont Team Time Trial, CA
3rd, Velo Bella, Women 35+
Liz Benishin
Marsha Kirschbaum
Nancy Farzan
Monica Neilson
Get Ready for Summer Omnium #1–Hellyer Velodrome, CA
6th, Katie Norton, Cat C