Jenn Barber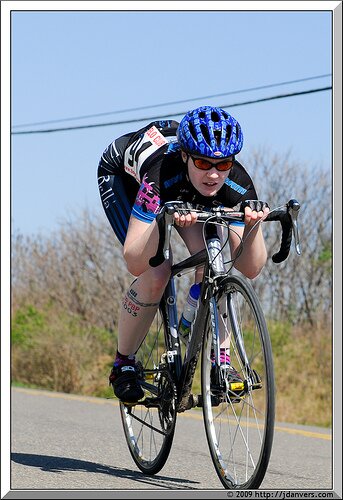 Jenn looking studly.
The Binghamton Circuit race has been a rainy, windy, snowy event for as long as Bill and I can remember. This year it went to the other extreme with a hot sun beating down on us. Even the spectators were sweating bullets by race time at 10am!
The first three laps the pack stayed mostly together. I was just sitting on wheels waiting for the MIM attacks to stick. After the third time up the finish hill a pack of about 6 people opened a gap on me going over the false flat. I caught back on when we went around the back side of the course on the super sweeeet swooping downhill. When we turned into the headwind I just couldn't tuck in and was dropped.
Another lap or two later one of the Cornell girls passed me on the flats. I stayed with her up the climb only to lose it again on those snotty false flats after the hill. About half way through I was caught by yet another pack of men, but one of them said – hey did you see the Cornell girl – you better stick with her! No I soooo hadn't seen her – I was just gritting my teeth! But I hopped on her wheel for a few minutes. She was just strong enough to pull away from me a little on the hill. I let her go, dunno why. I ended up boing just ever so slightly behind her the rest of the race.
With about 5 laps to go, the women's leader lapped me. I knew they were coming because I could hear Shelley yelling behind me. There was a guy on their pack and he wasn't getting off their tail. I was trying to catch onto the ladies so I could get a draft at least up to the woman ahead of me, but he was in the way. *scowl* After that the only item of significant note, other than my on going suffering, was a little crash at the top of the finish hill between two guys who were warming up. I got to see the whole thing play out as I was climbing that hill at what seemed a snails pace. Remember – look both ways before cutting off and crashing your feelow cyclist so you can be sure there are no witnesses!!
By the last three laps I was starting to warm up and was gaining on the Cornell girl ahead of me. Unfortunately it wasn't quite enough to gain a spot in the results. It was a good start to the season though! I hope I'll see you girls out there soon

Binghampton Circuit Race, NY
10th, Jenn Barber, Women 3/4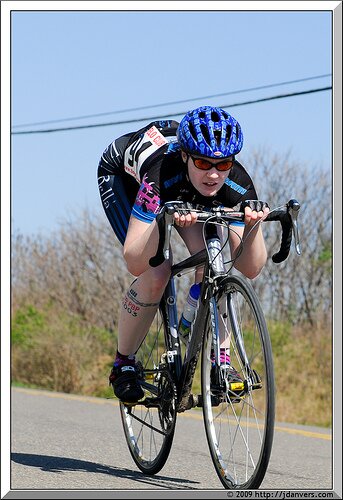 Wente Vineyards Road Race, CA
11th, Sue Lovecchio, Women 3
26th, Laura Sanchez, Women 3
28th, Ann Fitzsimmons, Women 3
2nd, Liz Benishin, Women 35+
9th, Monica Neilson, Women 35+
12th, Natasha Perry, Women 35+
17th, Andi Mackie, Women 35+
21st, Soni Andreini Poulsen, Women 35+
23rd, Sabine Dukes, Women 35+
25th, Marsha Kirschbaum, Women 35+
26th, Linda Locke, Women 35+
By Erika Krumpleman
Hayden, Idaho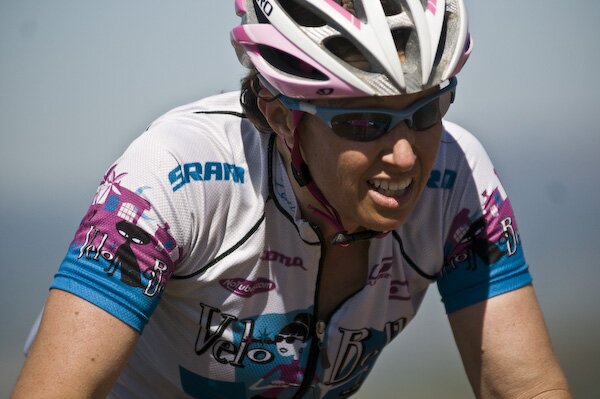 Erika racing hard in the early Summer heat.
My goal for the Sea Otter race was just to show significant improvement from last year by doing the above things – and while my overall result probably doesn't look that impressive, (I finished 22nd of 26 with a 2:48) I'm pretty happy with it looking at the big picture. Last year I was 31st with a 3:03. That's a big improvement on a short course and I feel like I improved in all three areas, so I'm pretty happy with that!
My hubby and I flew down again for Sea Otter, excited for the opportunity to thaw out after an especially long and cold winter here in the Northwest. Little did I know that not only would I thaw out, I would melt into one big pathetic whimpering puddle.
I knew it was an ominous sign when it was announced that the pro women would be reduced to one lap. Part of me was bummed–I prefer an endurance race–but I was relieved we would be out in the baking sun for less time. My husband looked as though he had been broiled after racing in the Cat 1 mens race that morning. I lined up feeling more than a little nervous. Due to our unusually high snowfall, I had only been on my mountain bike five times so far this year.
Because we were only doing one lap, the women in the front must have decided that meant we should just red line it the whole time because the pace was hard and fast from the start. About five minutes into the race, I saw one of the top racers off her bike and puking. "Hmmm…well..at least that's not me…yet" was my thought. So I spent the rest of the race simply surviving the heat.
This was one of my first rides of the year without booties, leg warmers, winter gloves, beanies…you get the picture. And now I'm supposed to race in 95 degrees???? When I tried to push too hard, my body rebelled in a number of ways, so I rode as hard as I could, pushed the liquids, and finished the race in 39th place. I was just thankful to not be one of the racers taken away by ambulance. Also–it was my daughter's 20th birthday!! How many of the women in the pro field could say that?? Anyway, I tried not to get too down on myself for the less than stellar result.
Sea Otter is a great time no matter what the weather or the results. Congrats to all our podium finishers and thank you to Sabine, Laura, Susie, and all the other ladies for being in the Bella tent complete with snacks and mojitos!!
Photo copyright Lyne Lamoureux, Podium Insight, North American cycling news. Used with permission.
By Connie Misket
Park City, Utah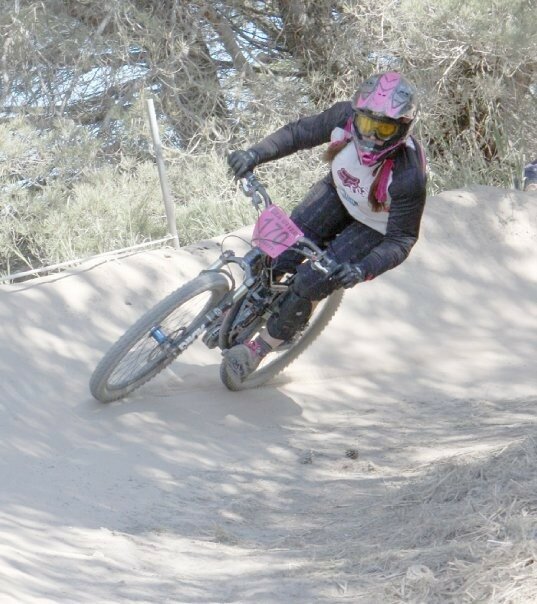 Connie railin' the berm
My #1 thing for the season is to really take control of the mental side of racing. I tend to get really nervous and not race as well as I ride when I'm in the zone/relaxed/etc, and let the jitters get the best of me. And in a sub-3:00 race – you don't have time to recover from that! I've done some coaching with Gene Hamilton in the past couple of years and have been reading a few books on this topic and that seems to be helping. I've been working on visualization/imaging and creating mental triggers to get me into the best mindset before a race so I'm able to get into the zone on command. Sea Otter always makes me pretty nervous since it's definitely the biggest and toughest field I race against all season, but I was able to focus well and did a fairly good job with this (not perfect yet, but a big improvement compared to what's normal for me). I still think I have a lot of room for improvement in getting myself really amped up to sprint hard through pedally sections, but it's a great feeling to be moving in the right direction with this.
For the skills training portion – I started out this season in February by heading down to Bootleg Canyon in Nevada with one of my teammates and 8 other women to do a women's DH camp with Gene. This really helped me start things off right. A lot of it is review (which is always good and probably the best way to get back out on my bike for the season), but I definitely learned some new things as well, and Gene gave us a lot of drills and homework to work on to improve. I love working on cornering in particular and he added in a few components I hadn't thought of before. And Gene's drills on looking ahead worked wonders for making things easier in rock gardens…. Of course, since there aren't any rocks at Sea Otter, I guess I didn't need that part, but I put it to use in that rutted up descent and tried to apply as many of the cornering concepts as possible during the first day or so of practice.
We also discussed race prep in the camp and I decided to try and focus on the little details and technique issues during my early practice runs, but once it got close to race time I worked on just turning my brain off and letting my body do what it knows how to do. Your reaction times aren't very good if you're overthinking things, so I made it a point to do several practice runs as well that were top to bottom, with as little "thinking" as possible. Of course this wasn't 100% during the race – I saw the four whoops right before the finish line and my brain got in the way and threw off my timing, but overall, things went well. I also need to continue working on jumping – I'm at the point now where I need to brake to hit my easier line over the log drop and I think I probably have plenty of speed to just hit the main line… so that's on the goal list for next year.
I was pretty happy with my fitness level coming out of winter. In Salt Lake City we just don't have many opportunities for winter riding. So this winter I took up speed skating, which was fun (and a killer leg workout) and I skied, and hit the gym. And then as soon as the weather started getting nice (but our trails are still under snow) I went and bought a road bike and started riding that. I was hoping to lose a few more pounds before the season started, but I think the scale also reflects that I gained more leg muscle this winter… which I'm not complaining about. I still need to work on sprinting harder during races (though that's getting my mental triggers dialed as much as anything), but I did a LOT of top to bottom runs at Sea Otter (including runs where I pedaled hard all the way through) and was feeling good. I know it's a short course, but I was happy with that.
My goal for the Sea Otter race was just to show significant improvement from last year by doing the above things – and while my overall result probably doesn't look that impressive, (I finished 22nd of 26 with a 2:48) I'm pretty happy with it looking at the big picture. Last year I was 31st with a 3:03. That's a big improvement on a short course and I feel like I improved in all three areas, so I'm pretty happy with that!
By Monica Neilson
Brentwood, California
Granite Bay Duathalon
April 18, Granite Beach at Folsom Lake
4 mi run, 13 mi bike, 4 mi run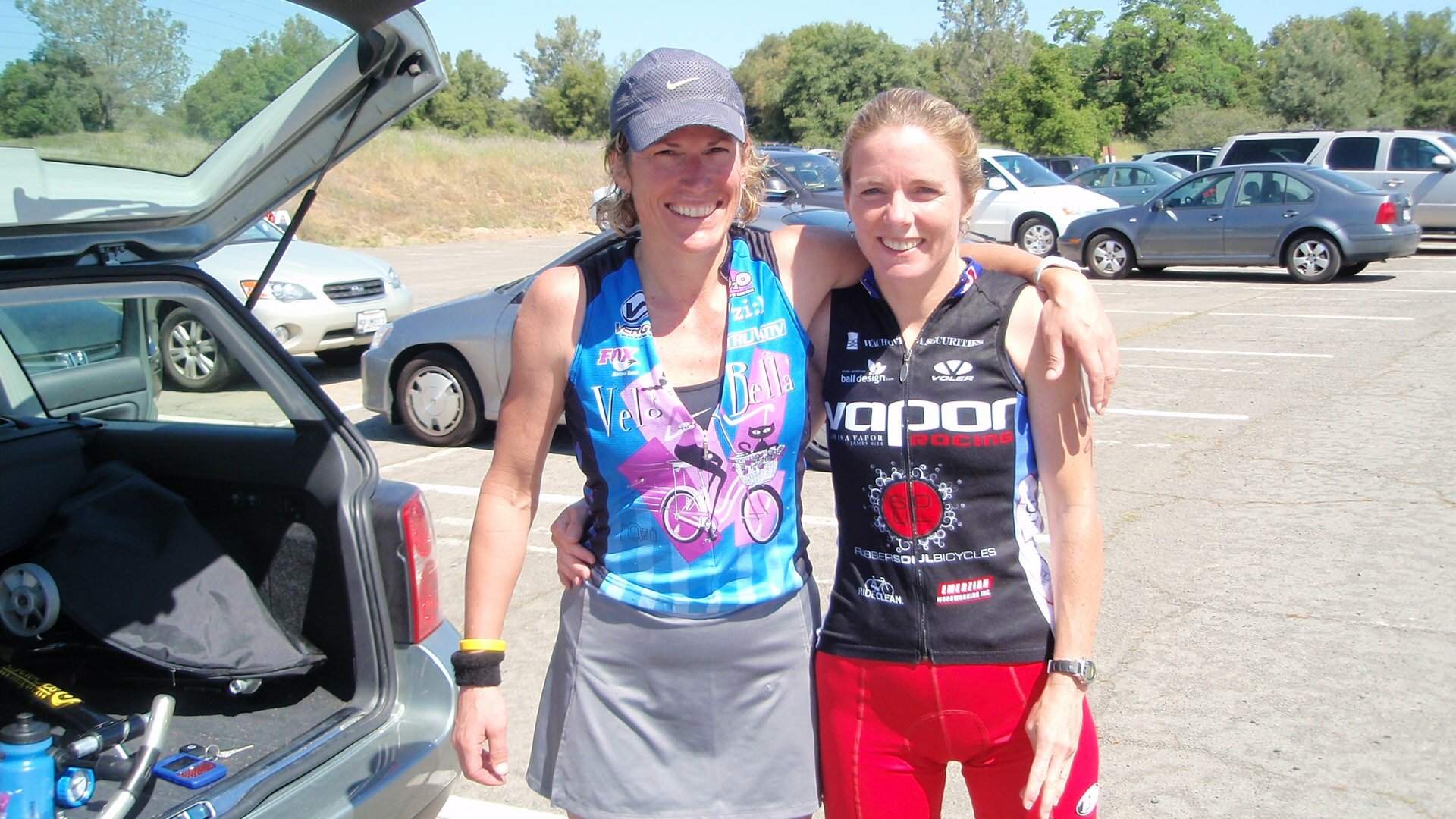 Monica and ex-Bella Felicia Gomez pose pre-race.
This was the second Du for me. I went with my good friend, Felicia Gomez, aka Felcia Greer, an ex Bella who went on to race 5 yrs as a pro. Felicia retired from bike racing last year after several successful years of top NRC finishes, racing in Europe and attending Worlds. What many people may not know is that Felicia was a runner for twenty years prior to her cycling career. She's also attended Worlds in Duathalons, and running is her love.
This was the second du for me. I like the format, its challenging and its something new. For this particular event, the runs were all single track, trail running – something I had no, zero, zip experience at. I've done some trail running but we're talking fire lane roads, not single track with tree roots, rocks to jump over etc. Besides this mile 2-3 were almost all uphill!
Felicia advised me to try and do all three segments at tempo, you can't over do one segment or you'll be toast for the others. I did the first 4 miles just trying to stay within myself and keep some of the other women in my sights. Felicia was long gone, I think after mile 1 I couldn't spot her anymore.
The bike was a twisty, turning rolling hill route – tough to get a rhythm going but fun little course. I knew the bike portion is my strength so I put my head down and started picking people off. Soon the only chick in front of me was Felicia. I came into the transition area as female number two. I wasn't sure I had enough lead on the other chick to hold her off on the run but, I'd soon see.
When you make that transition from the bike to running again your legs feel like lead. You have to mentally remind yourself to keep going, it'll work its way out. I was cruising along, couldn't see anyone in front or behind me when just past mile marker #1 I hear this breathing coming up behind me.. There she was chick #2, she says "wow nice bike ride" my comment, " yea, now if I could only run." And off she went. I watched her long, slender legs merge into the woods to never be seen again.
I settled into working my way to the finish, taking a comfortable 3rd place overall for women. I finished 2nd in age group (40-49) and 25th overall. The cool thing was out of the 80 contestants only 13 of them were faster on the bike portion! Felicia set a new course record for women (they've been doing this event for 11 yrs) by over 3 minutes.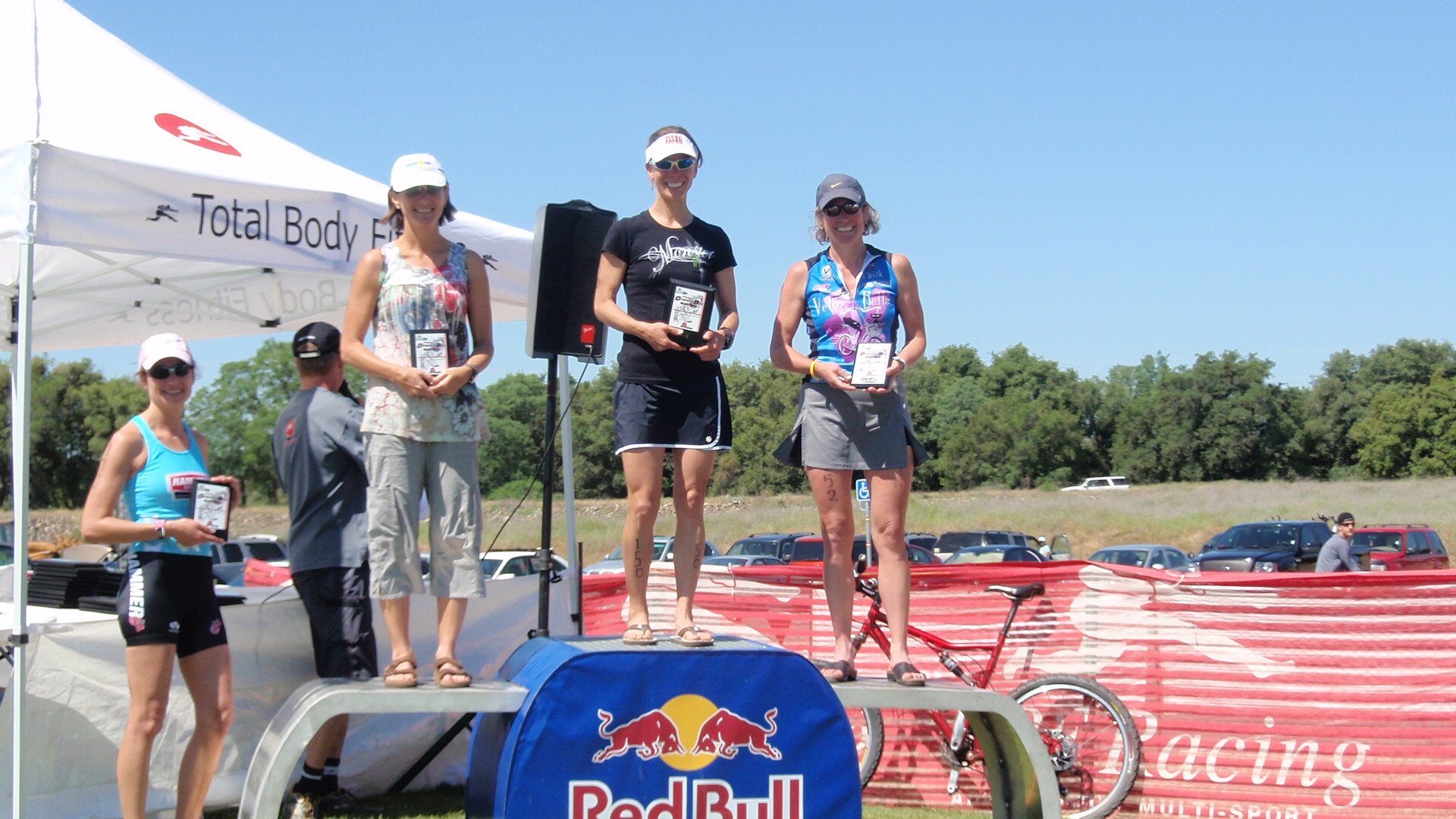 Monica enjoys some podium time!
All in all, really fun time and if you've ever thought about trying a Du…I say do it!!
By Marian Jamison
Reno, Nevada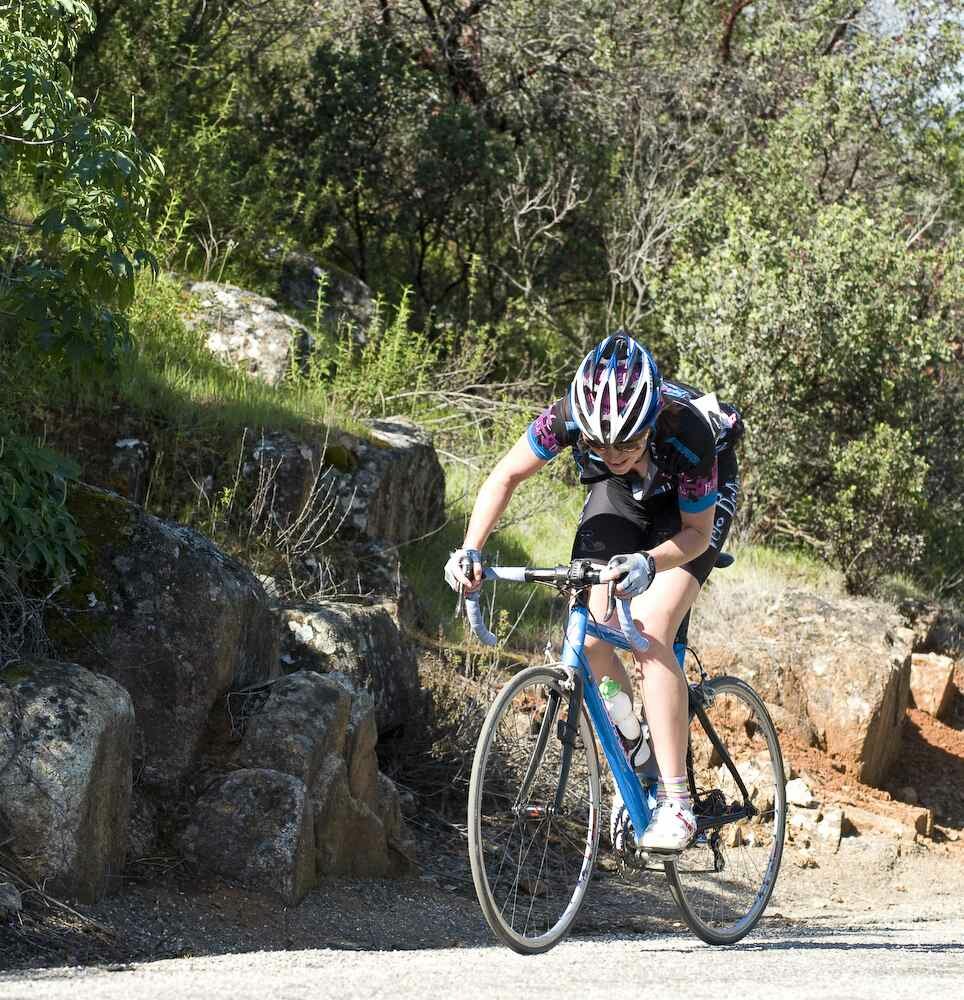 Yes, "ouch ouch ouch" was the sound emitted from both my rear and my legs, for about 4 hours on Saturday. Copperopolis. Man that's a great race. Yeah, sick, but what can I say? It's gorgeous out there, the weather was perfect, and I was climbing with the leaders. I'll summarize.
On the first climb things got hard, but I was able to stay in the top 3, even through the steep stuff. We crested the climb and I looked back to see that we were down to a break of 5 (out of 21! not bad for a 3's race!). We worked together to stay away, and were successful. We stayed together for the rest of the first lap and most of the 2nd. On the little climb before the big decent 2 of my break-mates started going pretty hard and gapped me off, but I had an equal gap on the other 2 girls. I could see the 2 ahead of me and did my best to catch, but they were pretty strong and working together.
I considered waiting for the other 2, but figured my chances of securing 3rd were better on my own. I'm not sure if that was the right thing to do, but I was able to stay away from them for most of the 3rd lap. It was a struggle, with a pretty strong headwind up in the flat stuff. I stayed fueled and tried to ride strong and steady. Unfortunately, at the top of the climb before the big decent and the finish (yay!) I was caught by one of the girls behind me.
She'd put in a good effort on that climb and caught me. Must've been pure MTB racing instinct, but I jumped ahead of her for the sketchy long decent. We traded back and forth a little bit until just before the 100m to go sign, then she jumped from behind me. I got on her wheel, but just as we started sprinting up the hill we were caught by a pack of dudes (I dunno, maybe cat 5's?). One of them fully ran into the back of me and I was almost run off the road. Weak. I lost the girl's wheel as the guys came around me and got BETWEEN me and her, making it totally impossible for me to even try to outsprint her. So I gave up 3rd with 50 feet to go. Those guys were total jerks, too.
But I'm pretty much thrilled with how I was riding, and climbing, and generally making it through all 3 laps of that brutal race. Feeling super pumped for Sea Slaughter, and like my fitness is really coming around and I'm finding myself one of the stronger riders in the 3s, and getting some upgrade points finally!
Photo copyright Marian Hunting, Women's Cycling Magazine. Used with permission. Thanks Marian!
Sea Otter Road Race, CA
5th, Marian Jamison, Women 3
Get Ready for Summer Omnium #2–Hellyer Velodrome, CA
6th, Katie Norton, Cat C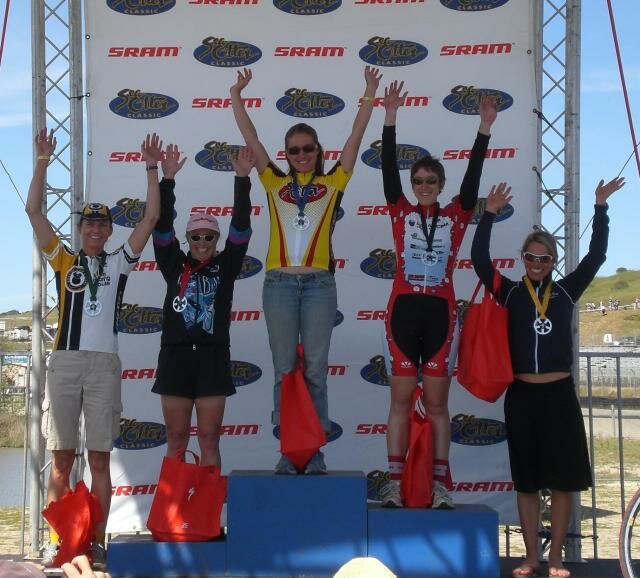 Sea Otter Circuit Race, CA
1st, Marian Jamison, Women 3
3rd, Sue Lovecchio, Women 3
13th, Eliece Horton, Women 35+