Kisscross Caledonia (Grand Rapids), MI
3rd, Monica Tory (Mootika), Women B
Name of race – Carpinteria Triathlon
2. Location of race (State)
Carpinteria, CA
3. Date of race Sept 26, 11
4. Name, placing and category
of all bellas: Raja Lahti, 35-39. 2nd age group. 5th Overall Female
5. Link
to results – http://results.active.com/pages/displayNonGru.jsp?pubID=3&rsID=117805
6.
Podium or other type of pics if you have them.

The Owasco Flyer 2011 held on Sunday June 26th in Auburn, NY had a relatively large cohort of 6 NY Velo Bellas participating in the race and/or race committee. This is a well-run race, with a beautiful course, breathtaking views of the Owasco Lake and great post race prizes, raffles and food, including chocolate milk served by Dairy princesses wearing pink tiaras, no less! The weather was perfect for racing, in the low 60's, overcast with only a few sprinkles towards the end of the race. Thank you to Velo Bellas Kim Behrman and Linda Tersegno who were part of the Race committee.
Sue Kahler, 10th Female, 4th in 50-59 age group
Linda Tersegno, 12th Female, 5th in 50-59 age group
Kara Frostclapp ,14th Female, 2nd in 40-49 age group
Cynthia Schnedeker, 15th Female, 6th in 50-59 age group
Michelle Dellilo, DNF d/t broken pedal L
Ciao tutti!
CYL or Check Your Legs in New Lisbon, NY one week ago was a cloudy, dreary, cold and blustery start to the road racing season! The two lap 25 mile course featured a half mile climb with rolling hills. There were 7 women riders representing Corning, Mission in Motion and Velo Bella (me). Ex VB racer but will always be a bella at heart LiLynn won riding for her new Corning team.
I was able to stay with the leading group of 5 women until the first major hill and then proceeded to get dropped. TT'd it all the way home and felt like a kite blowin in the wind (at one point racing downhill at 10 mph!). It reminded me of a math word problem…if you are traveling at x mph against a 30 mph wind how long will it take you to travel a 25 mile course. Answer-too long!
Hopefully, the weather for upcoming races in May will be a tad warmer and not quite so windy!
Hope to see you out on the bike!
Cynthia
STAGE 1–CRITERIUM
3rd, Julie Porter, Women 35+
7th, Sue Lovecchio, Women 35+
14th, Liz Benishin, Women 35+
16th, Camille Deluca-Flaherty, Women 35+
18th, Andrea Atkins, Women 35+
STAGE 2–TIME TRIAL
1st, Camille Deluca-Flaherty, Women 35+
3rd, Liz Benishin, Women 35+
8th, Sue Lovecchio, Women 35+
11th, Julie Porter, Women 35+
14th, Andrea Atkins, Women 35+
18th, Marsha Kirschbaum, Women 35+
STAGE3–ROAD RACE
5th, Sue Lovecchio, Women 35+
6th, Julie Porter, Women 35+
9th, Liz Benishin, Women 35+
10th, Camille Deluca Flaherty, Women 35+
17th, Andrea Atkins, Women 35+
OVERALL GENERAL CLASSIFICATION
2nd, Camille Deluca-Flaherty, Women 35+
3rd, Liz Benishin, Women 35+
7th, Sue Lovecchio, Women 35+
8th, Julie Porter, Women 35+
18th, Andrea Atkings, Women 35+
The Stanley Portland Cup
USGP – UCI C2
5 DEC 10
Portland, OR USA
RESULTS WOMEN ELITE
20 18 USA19800921 STUDLEY Kari Velo Bella USA 45:23 4:51
29 42 USA19660810 GIBSON Shannon Velobella- Ellsworth USA 47:13 6:41
Bellas are rockin' Oregon!!! Way to go, Beth, Kari, and Shannon!!!
Cross Crusade # 1 – Alpenrose Dairy, Portland
Beth Hamon
27th, Masters women 45+
(and on a singlespeed, no less!)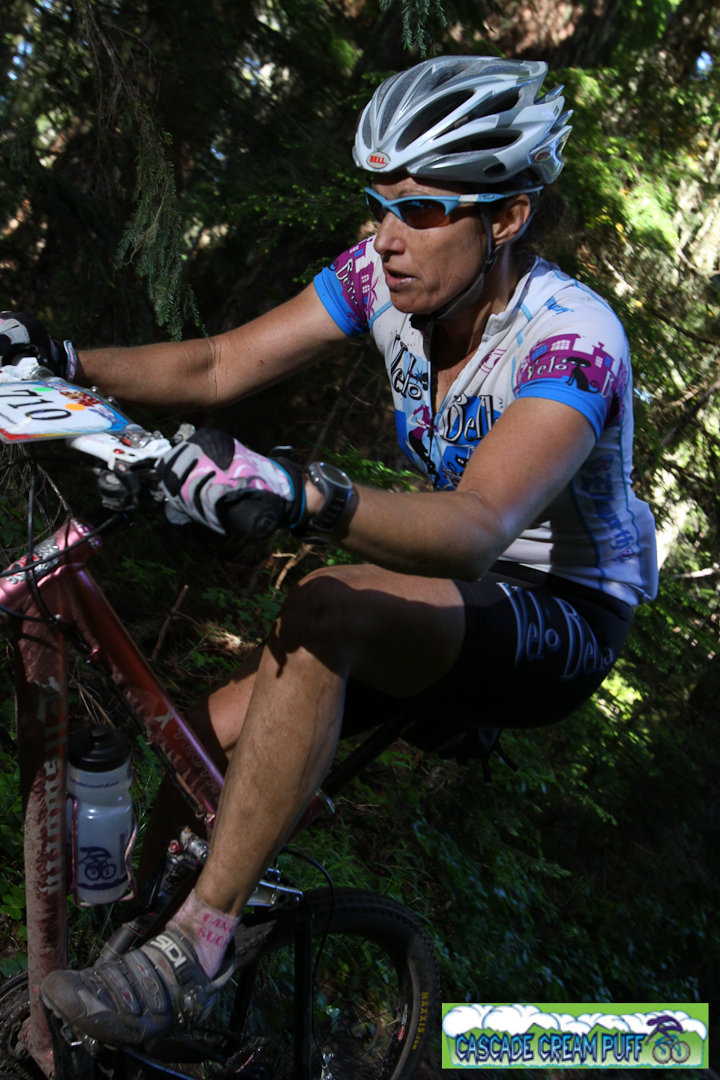 Erika Krumpelman
2010 Cascades Cream Puff 100, 7/11/10
Wesfir, Oregon
217 Starters/179 Finishers 82.4 %
85 and Sunny
5th place female at Cascade Creampuff 100 Mile Mountain Bike Race.
Source: photos.oregonvelo.com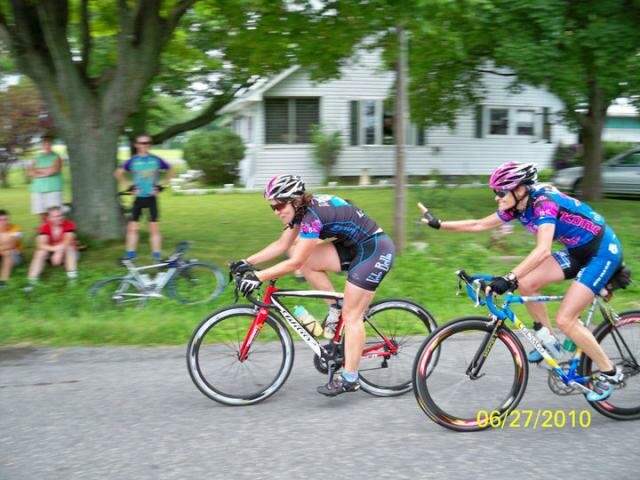 NY Bellas Kim Behrman and Linda Tersegno duke it out for the finish line!
Hot, humid and hilly. Those are my three main adjectives to describe this year's Owasco Flyer, a beloved citizens' race in Auburn, New York. Of course, it's hilly every year, but some years those climbs are more painful than others…and obviously heat and humidity contribute to the perceived elevation of the last "Three Bears", the finishing hills, which annoyingly are really FOUR climbs, not three. The worst is, that while you know you've got those four last grinds to get up to the finish line, you forget that there are about 87 other hills to climb BEFORE them! (Ok, maybe not 87, maybe really 12…10? ok, how about 8 pain in the *ss climbs?)
This year, there were somewhere around 250 racers, which made for a CRAZY "controlled start" with people jockeying for position before even a mile had passed. (The course is 36 miles.) Survival includes suffering the usual terrifying shouts of "braking! Braking!! Braking!!!!", the SMELL of braking and the knowledge that lots of people in this massive pack possessed neither skills nor the understanding of how squirrely riding can have a dangerously domino effect. Nonetheless, all participating Bellas made it unscathed – we were treated to shrieks of enthusiasm from the lead car, carrying none other than our distinctly vocal LiLynn, who was sitting in on account of her injuries from an awful crash in last week's citizens' race, the Giro de Otisco.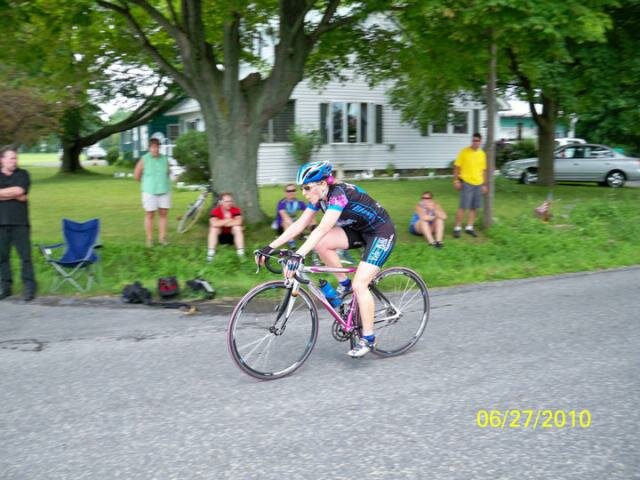 Kate whistling a little ditty as she finishes.
Everybody has a different story of the outcome – mine was of being dropped on the first hill, but working with a splendid crew to miraculously catch back up to the "pack" at about mile 12 – the pack still being in the range of 100 people! Then on yet another climb, an unexplained pile up (I looked up and saw bodies somersaulting into the ditch – and a dog shooting out of the pack, but no one else seems to have seen the pooch..) broke up the pack again, and from then on it was, for me, various small groups of fellow suffering non-hill climbers. Thumbs up from a corner marshall that I was "3rd woman!" which turned out to be off by two, rats! Oh, well, I'll take it.
Excellent to see Linda and Kim mounting the last hill side by side, then a sudden burst as they tried to out sprint one another for the final stretch. You can see from the photo proof above who got it, sorry Linda! Meanwhile, Sue Kahler devoted her race to assisting newer racers by hanging back and being encouraging. I had chatted in the bathroom with a woman who said it was her first race ever and that she'd "never even ridden more than 24 miles before" – Sue had her work cut out for her. This was also the first race for NEW NY Bella, Kelly Bulkely – who has ridden her bike something like 483 days in a row, and who raced, as far as I can tell, with PLATFORM PEDALS and NO clips?!? (But WITH, mind you, a 4 tiered black mini-skirt over her bike shorts. Gotta flaunt the flair, baby, flair. And she's working on getting a jersey…at least her handlebars are pink.)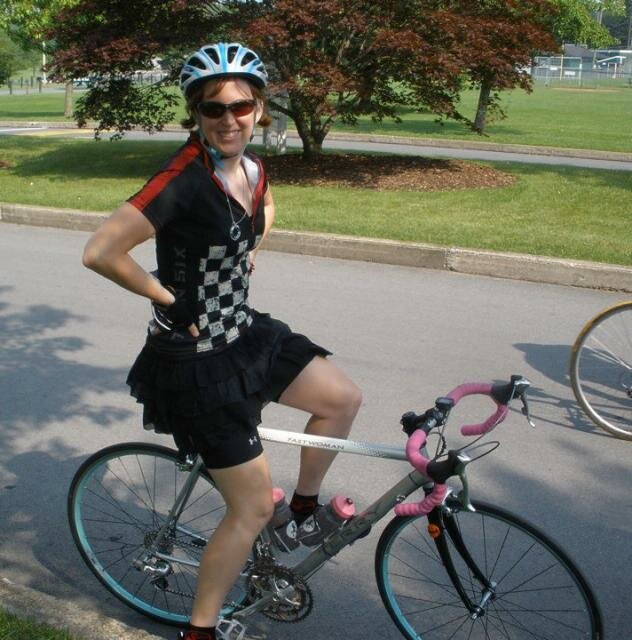 All in all, we had a decent showing (thanks to LiLynn's berating email urging everyone to race because we were "lame" this year. It worked!) and the NY Bellas are BACK!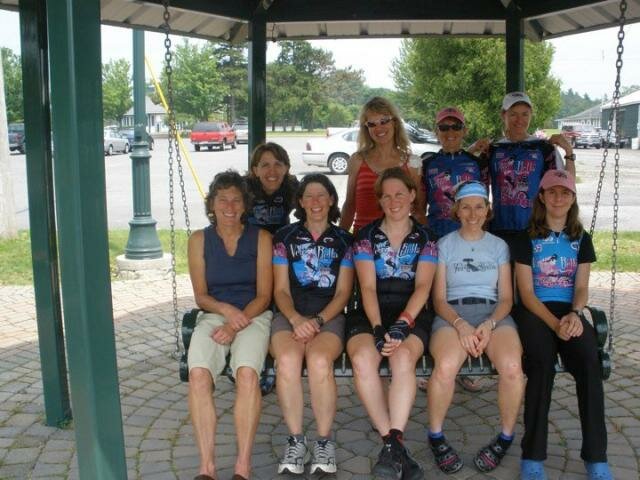 Bellas in Repose:
Front: Honorary Bella Ruth (2nd woman overall), Sue A, Kelly, Kate, Ellie
Back: Kim, LiLynn, Sue K, Linda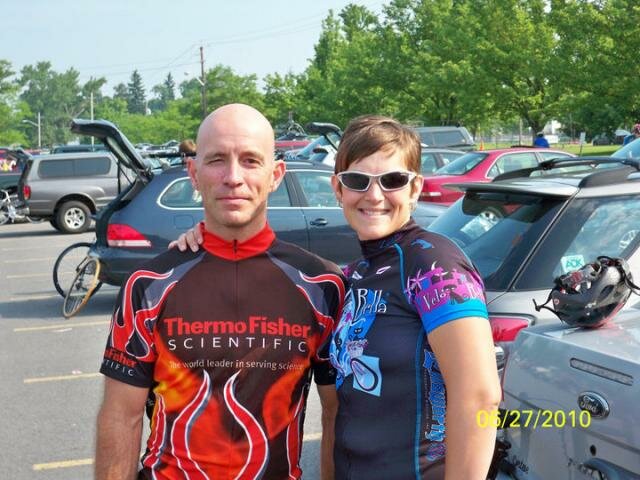 Kristin (and her brother-in-law, Mr. Clean) who missed our group pic.
Results:
Overall 3rd place woman, former NY Bella, Gaetane Perreault
Women 19-29:
Women 30-39
4th Kim Behrman
7th Kelly Bulkelly
Women 40-49:
1st Kate Stewart
5th Sue Atwood
Women 50-59:
2nd Linda Tersegno
5th Sue Kahler
Tandem:
7th Ellie and Ernie Bayles
Monica Nelson
Summer Duathalon #1
Rancho Seco Park, Herald, CA
TBFracing.com
1st Place Woman
5th place overall