Menlo Park Grand Prix, CA
25th, Katie Norton, Women 1/2/3
30th, Natasha Perry, Women 1/2/3
32nd, Sue Lovecchio, Women 1/2/3
34th, Marian Jamison, Women 1/2/3
10th, Katie Norton, Women 3
24th, Marian Jamison, Women 3
2nd, Beth Welliver, Women 4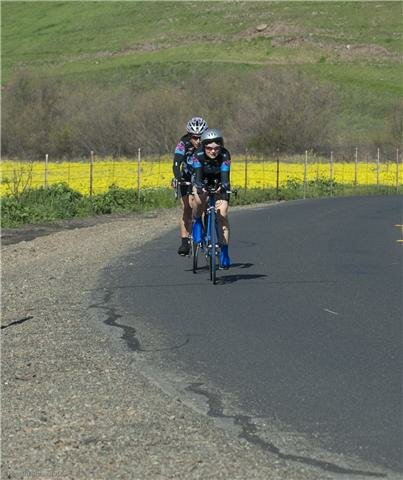 Berkeley Bicycle Club Team Time Trial, CA
5th, Marsha Kirschbaum & Nancy Farzan, Women 100+
5th, Elizabeth Benishin & Andrea Atkins, Women 80+
7th, Natasha Perry & Lauraleen Fenech, Women 80+
11th, Erika Donald & Linda Locke, Women 80+
7th, Monica Nielson & Chuck Ojeda, Coed
1st, Soni Andreini Poulsen & Jeff Poulsen, Tandem
4th, Karin Jeffery & Tom Jelmyer, Tandem
By Katie Norton
Sacramento, California
Merco Crit: Women's 3/4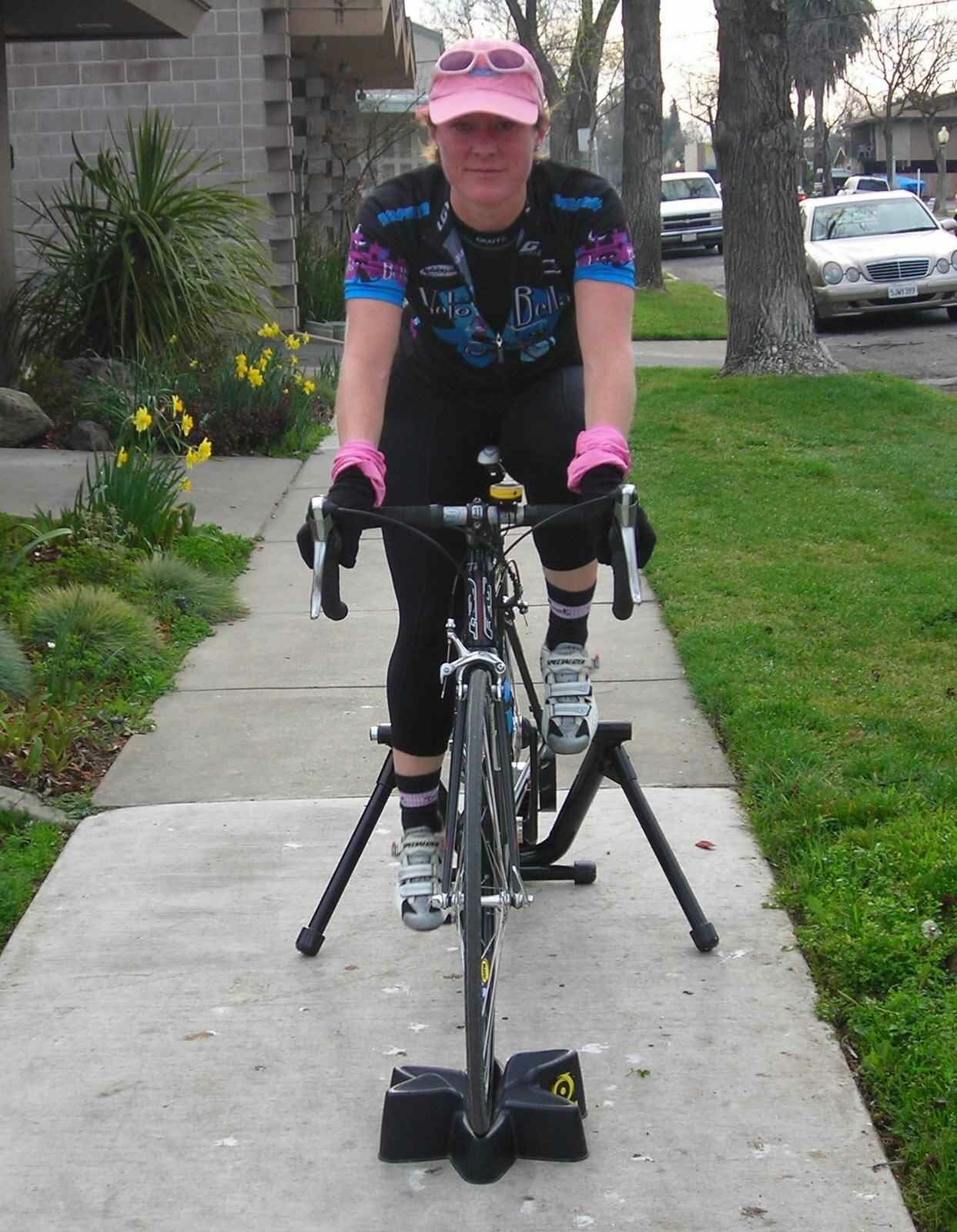 Dino and I left home around 5am for the two hour drive down 99. After checking in, I did the same hard warm-up on the trainer beforehand that I used before the Cal Aggie Crit. I used to be afraid of wasting my energy and tiring my legs out, but have learned that a good warm-up prepares the body for any hard efforts off the line. I saw bella-fella Tyler W. and he gave me a good talk through of the course.
It was my first time on the course and I was a little surprised that nobody wanted to do a free lap to inspect it. Was position that important with such wide open roads? I had no problem moving up quickly. It was easy to outmaneuver girls through the fun little schwoopy corners with barriers.
We had a good field of crafty 3/4 women and plenty of active teams. There was one obvious strength in a solo girl sponsored by Whole Foods. She was off the front and in front the whole time. I stayed right on her tail an tried to keep anything from getting away. In the first couple of laps I was stuck in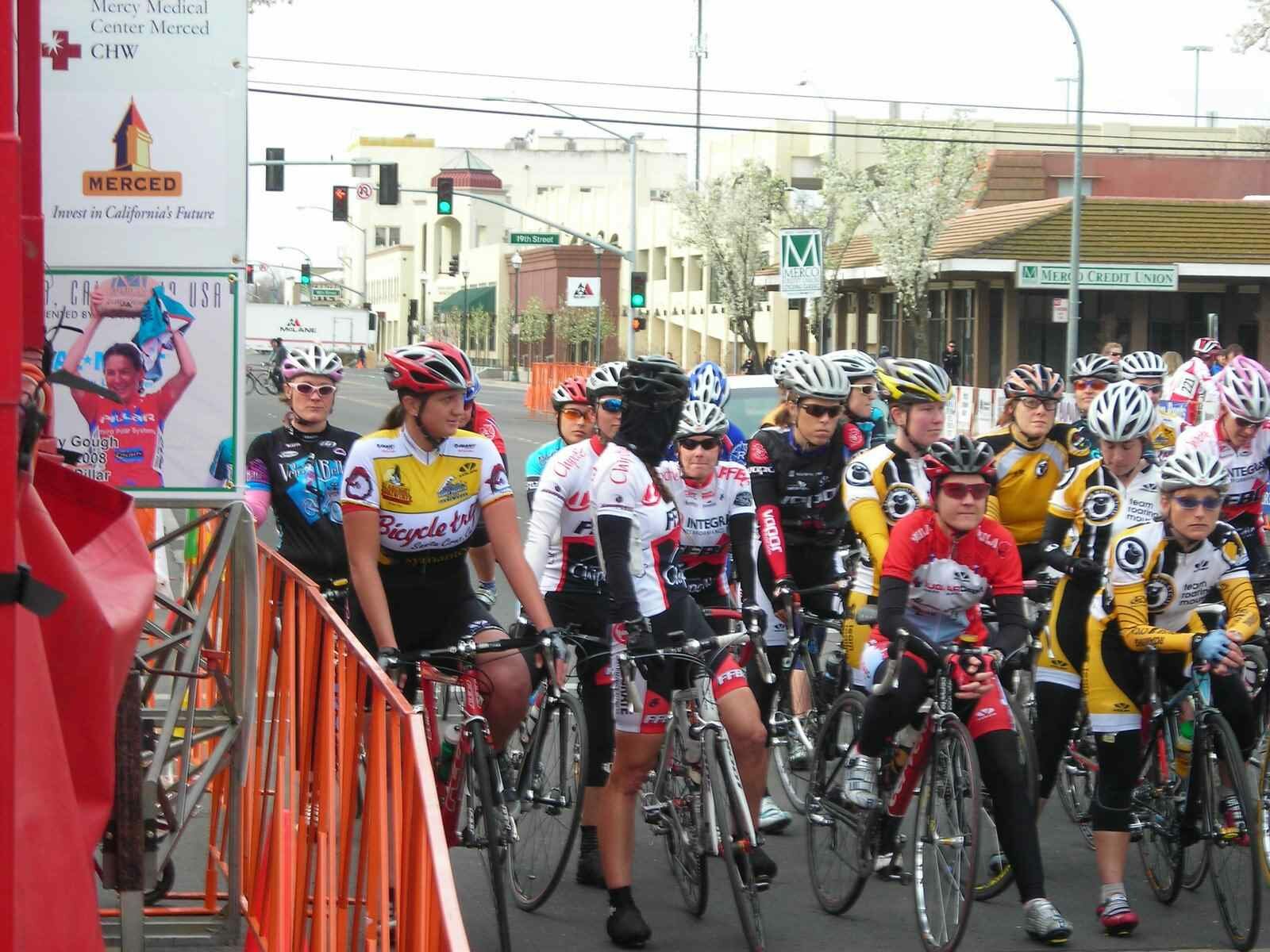 no-woman's land after a prime sprint and I bridged up to the two girls in front. One of the girls wasn't going to work with her teammates back in the field and we sat up. Attacks came from several different teams including Colavita and Roaring Mouse.
When it came down to the final lap, I maintained my good position. After the final corner several things happened in retrospect: I should have shifted to one harder gear and got out of the saddle, I waited too long before sprinting all out, and I should have let the teams do more work since I was solo. We were placed separately so I think I ended up 7th in the 3s (official results aren't out yet). I got a little $ for lunch on the way home.
Despite that I am really happy with myself. I felt in control of the race and kept a really good position. I felt really strong (a good indication of things to come). The high end sprinting will come with spring/summer and track racing! It amazes me how far women's racing has come in just the last couple of years. The speed and skill level has definitely increased. This is a race I want to do again.
By Whitney Despain
San Diego, California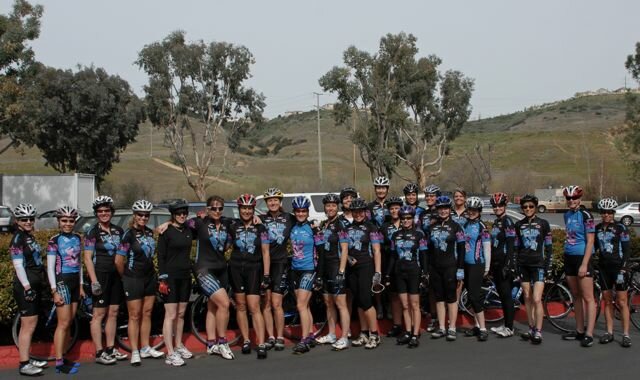 It is a well-documented fact: Anytime you get a group of Bellas together, it's going to be fun! The First Annual San Diego Velo Bella Camp was no exception.
Twenty-seven San Diego Bellas came to Coastal Sports & Wellness Medical Center in San Diego at 8:00a.m. to start the first clinic- Dynamic Stretching and Warm-ups with legendary local physical therapist and ART provider, Gino Cinco. He started us out gently enough. We laid on the ground, working out the kinks on foam rollers. But, as is typical of Gino's style, soon we were all sweating. He took us back and forth across the room with different warm-up moves. When we were feeling good, he let us loose on his circuit of pain. Yikes! The circuit included balance boards, medicine balls, push-ups and tethered running. There was a LOT of giggling, but we all got a great workout!
Next, part-time Velo Bella and full-time Gorilla Multisports coach DeeAnn Smith did a presentation on the art of hill climbing. After 30 minutes of explaining how to become a better climber, DeeAnn and her assistant/husband Norm Smith took us out on the road so we could practice. I don't think the folks on Torrey Pines had ever seen such a gorgeous group of fast women! DeeAnn's expert advice had us all moving out of our comfort zone trying new things. It was an awesome ride!
After the workout with Gino and the ride with DeeAnn, we were all starving. Luckily Chipotle hosted our lunch! They provided a super delicious free burrito, salad or taco plate to everyone in our group. AND they didn't seem to mind how stinky we all were! That's my kind of restaurant.
For our afternoon clinics, we went to local bike shop, B&L Bike and Sports San Diego. B&L has a great reputation for their knowledgeable staff, who actually LIKE their customers. Amazing, but true. Service manager, Scott Porter, stepped us through the care and maintenance of our bikes. He cleaned things we didn't know needed cleaning. He oiled things we didn't know needed oiling. More than once, he took something apart and we all went "ahhhh". The hour flew by, and I think we all could have easily spent the rest of the afternoon having him explain brake adjusting, chain cleaning, and cable care.
The grand finale of our camp was a presentation from Kim Mueller, a sports nutritionist. Kim and her company, Fuel Factor, are well-known in SoCal for providing nutrition counseling to a wide range of athletes. We could tell right away she really knew her stuff. After giving us a clear, easy to understand outline of basic sports nutrition principles, she answered wide range of questions. She explained everything thoroughly. We all walked away smarter and grateful to Kim for sharing her vast knowledge.
Shout-outs!
A huge thank you to Gino Cinco, DeeAnn Smith, Scott Porter and Kim Mueller. These four are experts in their fields who all donated their time on a Saturday to help our group have a great season. We all appreciate your time. Mille Grazie!
Thank you to the official camp photographer, John Faseler. Thanks for only showing our good sides.
Thank you also to Coastal Sports & Wellness Medical Center and B&L Bike & Sports San Diego for welcoming us into your facilities.
All Bellas received goodie bags packed with awesome products. Thanks to the following for their generous support: B&L Bike and Sports, Chamois Butt'r, Chipotle, Goody Hair Products, Gorilla Multisports, Infinit Nutrition, LUNA bar, Lululemon, and University Physical Therapy.
See you next year!
New York Empire State Winter Games
Jenn Barber Reports: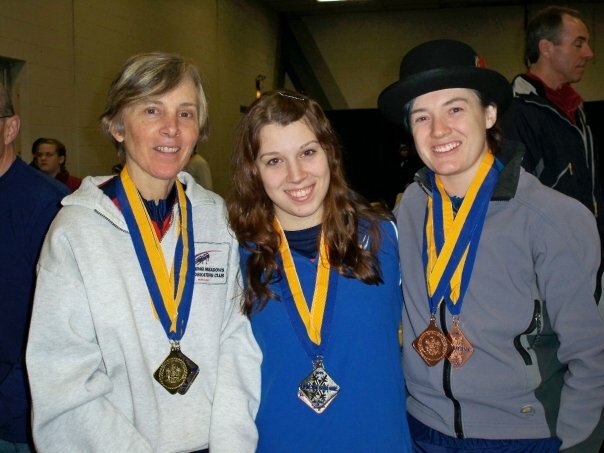 Jenn on the right with multiple time National Champion Carol Moore and Category 1 (Can train for the Olympics) Eleanor Poore
20 Feb 2009:
I left work in a snow storm to head for Lake Placid and the opening Ceremonies of the Empire State Games. I compete in speedskating. I was in the car with one of my team's moms and a couple of the girls.
We arrived in LP and dropped everything at the hotel, registered and headed to the rink for the fun. I ran into a high school teammate from cross country running, saw an old family friend as the head of the Olympic Regional Development Authority, and pretty much lived it up.
Dinner was good. I didn't sleep.
21 Feb 2009:
I got up at 7:00am and quietly waited for the rest of the crew to roll out of bed. We met another family for breakfast and stole away all of the kids to go shopping. I bought a pair of Prana pants and a pair of EMS shorts. I was only charged for the pants, which were half off. I would have fixed this, but I didn't notice until I got home – score! I also bough chocolates and a nifty Bowler for my cranium.
We returned to the hotel and gathered our stuff for the races. We convened at the rink. Ladies had the first warmup. I was a bit nervous, but at the same time ready to just skate as hard as I could, consequences be damned. The warmup was decent. I was ready.
First off was the 1000m heat. I knew that it was pick the two fastest from each heat and the next fastest over all. I knew I was in the top 2 in my heat. I got out front and controlled the pace – moderate. The other woman was happy to sit in. I advanced.
Then the 500m heat. Again I knew that it was advancement by place for me, but I decided to skate this one faster. I set a hard pace and made the other woman stick with me. I set a new personal best at 57:57 by 2 seconds. I wasn't winded. Awesome!
Then the 1000m finals. This was going to be tough. We had a Category 1 skater, a very experienced woman, me and a couple of others. I knew I was going to be top 3 if I stayed standing. I went out hard off the line deciding that I was likely to take 3rd anyhow so go for the PB. I hung in for 5 laps, then I was passed on the outside, but I passed again on the next corner with a tight inside and held my lead for another 2 corners. Then I was passed by two skaters. But I stuck to the group and was able to repass one of them by the line. I got a PB and the silver! Good to go!
After the races we went for dinner and brainstormed new slogans for promoting our sport. We came up with nothing but had some good laughs! Then back to the hotel and an attempt to sleep.
22 Feb 2009
We were up and ready to go by 7:00am to head to the rink. We couldn't find a place for breakfast so we all got chocolate milk and nuts as Stewarts to quench the hunger.
At the rink people were moving a bit slower than the day before. Skaters seem not to be morning people. The first race was the 1500m. I've only ever skated one of these – my ESG qualifier. I decided to try to control the pace again and keep it to a warmup for the 500 finals which were the next race. I felt strong for the whole race and finished with a new PB to boot. It was just smooth stroking the whole way.
The 500m finals were next. Just before the race the kids were running around because one of them had gotten a 56:56 and won a bet with her mom – she was getting new skates. She was also staring down my challenge of "beat me and you get a cake". I got to the line and had pulleed the outside position. I was nervous that I wouldn't get out fast emough. My starts held and I ended up out front for the first lap. Not suprisingly the Cat 1 skater passed me – she's a sprint specialist. Still I was holding off the other woman and skating my little heart out. I was strong! Then the other woman went for a pass in the 3rd lap and I baubled, almost going down. I saved it, but I'm sure it cost me a lot of time. I still finshed with a good time 57:65 and only had to make one "Cake of Shame" for the team.
The last race was the 1500. I knew I was going to be over powered in this race and, because of everythingt I had put into my earlier races, I was going to die. When I got to the line all I could think was set a controlled pace and step it up at lap 10. I went out and set a steady strong pace and followed my plan to the T. I ended up getting passed and did die a bit in 11th lap, but picked it up and almost passed the Cat 1 skater at the finish. I set a new PB by 7 seconds.
I was able to put together a silver and two bronzes with only one race prior in the last two year. My dryland training is paying off! I was sad to have beaten my friend, the Cat 1 skater, who has a back injury – but she really made me work for those times! It was a very competitive race. Now I'm headed to nationals in a couple of weeks to see how I fare on the Midland ice.
Skate The Bay
Kates Wins 1st place Women!
50 K Skate Marathon in Rochester, NY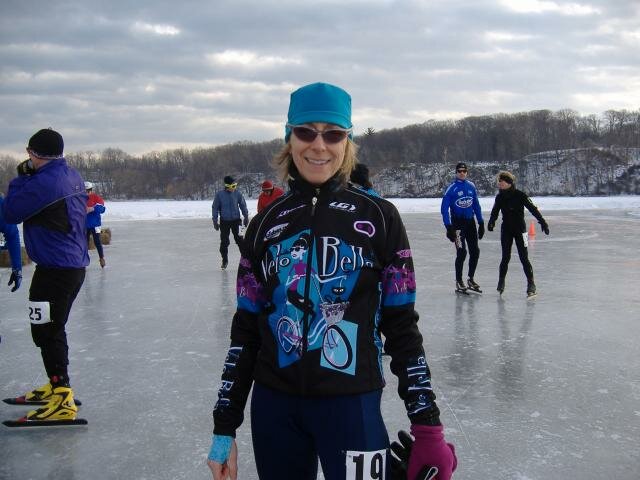 Good fun! Crappy ice! People falling all over the place, including a really nice guy who lost several teeth and had to get stitches too…I beat all the people who quit :o) because they were nervous about falling…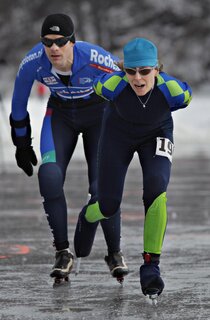 Chilly Chili 5K Running Race
Cazenovia, NY, February 8, 2009
Sue Atwood 12th place
By Raja Lahti
San Diego, California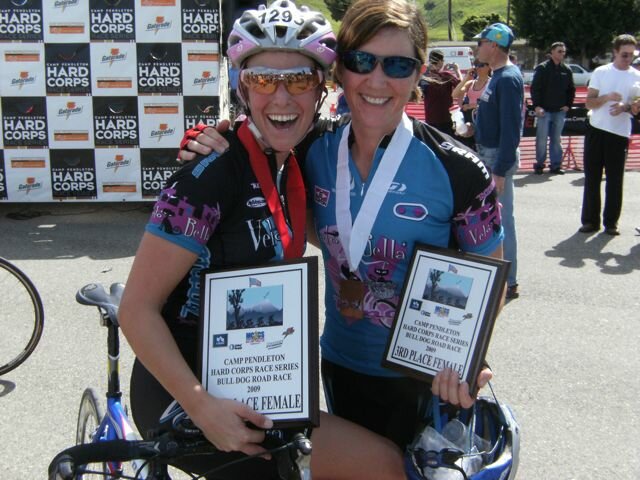 Our "little" local group of Velo Bellas has been growing in the last 2 years, and today, we rocked the house! And sooo close to a podium sweep…..
The Bulldog Road race is run by our local Camp Pendleton Marine base. I can't tell you how much I enjoy the Marine's running events. Shit gets done. Fast. Races are organized, on time, on schedule and the music is always on overdrive to get you pumped. Kudos to the race organizers. The best part though, are the Marines. The cheer section is AMAZING. Split down the middle, half will cheer you and get you energized. The other half… well, remember in the movies when the Marine is yelling at the top of his lungs, eyes like daggers, face as red as a tomato, veins bulging, and along with the projectile spittle, the vocal cords manage, "that all you GOT??!???" Yup, that'll get ya movin'.
The women's race had a whopping 96 riders to finish. Wow…. great turnout. Most racers hadn't ever done a road race before. And then there are the handful of crazy riders who know what pain they're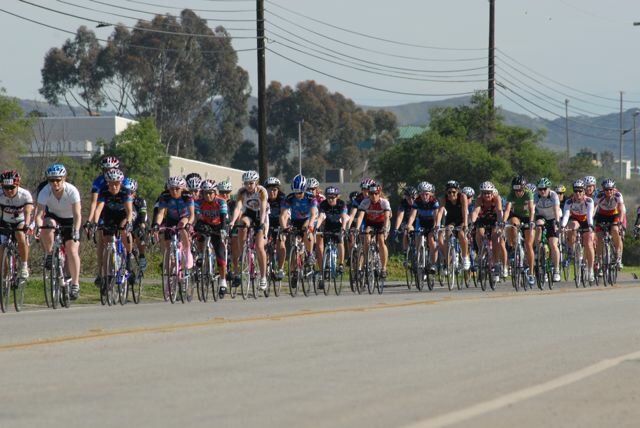 about to endure. We were the last group to go off which means we're sifting through the men in front of us that aren't hanging. My husband also raced his first road race today with team Moment Cycle Sport. They had a group of 5-6 riders and managed to get the men's overall win! Go Moment!
I'm not an experienced road racer. I've done 5 road races in the last 3 years, nada mucho. That is however, an average of 4.5 races more than most of the field. To all the Bellas around me I advised them to stay near the front to avoid any crashes, but not to pull. If someone wanted to pull 100 ladies down the street, sweet. I just believed it didn't have to be us. It isn't a race to get out there, it would be a race to get home.
So in a nice big group we stayed. No attacks. No madness. Yet. Then I attacked. We had about 800 meters to a downhill, then a sharp left turn, then "The Hill". There's only 1 major climb on the course, it's half way through, and guaranteed the top riders would make a move here. For the last 2 years I've climbing ok, but never even saw the lead group break away because I was already behind. This time I was going to be the leader up the hill and if someone was going to attack, they'd have to pass me. And I'd see them. Half way up Jen (Yake) Neuschwander & I were riding side by side in the front. Then comes Christine Silcox. This was now a Bellaton! 3 Bellas leading at the front up the climb. The followers were just marking us, so I yelled for a little help up front. Two other girls came up around us to take the lead. The thought was to get someone else to work a little when it flatten out so we weren't out in front the entire time. It was a good thought, but then the 2 of them took off (We'll call them Colnago girl & Girl 2) and just simply dropped all of us. Jen & I worked together to catch the 2 of them up front along the top & downhill, but they were hammering.
Once down the hill Jen & I had collected 3 more. We were now a group of 5, we could catch them. We organized, 30 second pulls. Annamarie (unattached) would simply rip our legs off when she hit the gas. She's now been recruited to Bellanation. Jen, Christine, Annamarie, myself and Tiny girl (don't know her name) worked and worked but just couldn't catch these 2 girls. Impossible. They've got to crack. They've been TTing for 10 miles! Finally on the final stretch we start to close in on them. Rapidly. But would we have enough real estate to make it in time?
I've screwed up the finish enough times to know better than let up even for a second. It's a complex left-right-left to the finish. Jen took the last pull before the first left. Just as she looked as she was going to pull off, I said to her "don't stop now! They're right there, we deserve this!" So she kept hammering. If she had slowed, she would have lost all power through the turns and there isn't enough straight chute to get real estate back. I launched around the right corner and took the risk and hit it as hard as I could. I passed Girl 2 entering the chute. I was closing on Colnago girl, but she hung on for the win. You go girl. Nice ride.
As I crossed the finish line – it occurred to me. I just placed 2nd overall! Not age group. Not top ten. PODIUM! Weeeeeeeeeeeeeeeee! Looking back, the overall win would have been nice-but the teamwork we showed ROCKED and I couldn't ask for more. Even better was Christine placed 3rd overall & Jen 4th. Those two are a testament to hard time spent on the bike makes for massive improvements. We all did something today than we couldn't have done 2 years ago. Dave caught the final turn to the chute when I passed Girl 2 on his crackberry.
Thank you to ALL the Velo Bellas – you ladies ROCK! Not to mention the hardware… Ooh là la!!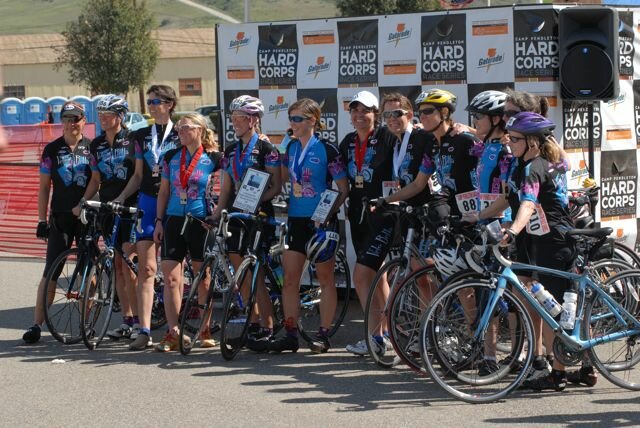 Bella Results!
Raja Lahti (2nd Overall, 1st Age Group)
Christine Silcox (3rd Overall, 1st Age Group)
Jenn Neuschwander (4th Overall, 2nd Age Group)
Beth Callhan (3rd Age Group)
Erin Horan Gonzales
Sandra Fairchild
Madelyn Horton (3rd Age Group)
Vicki Jones
Lynn Scozzari
Sherry Mesman
Cindy O'Grady (1st Age Group)
Jackie Bickford (2nd Athena)
Whitney DeSpain (3rd Athena)
Merco Foothills Road Race, CA
27th, Julie Porter, Women 3/4
32nd, Soni Andreini Poulsen, Women 3/4
By Beth Welliver
Pacific Grove, California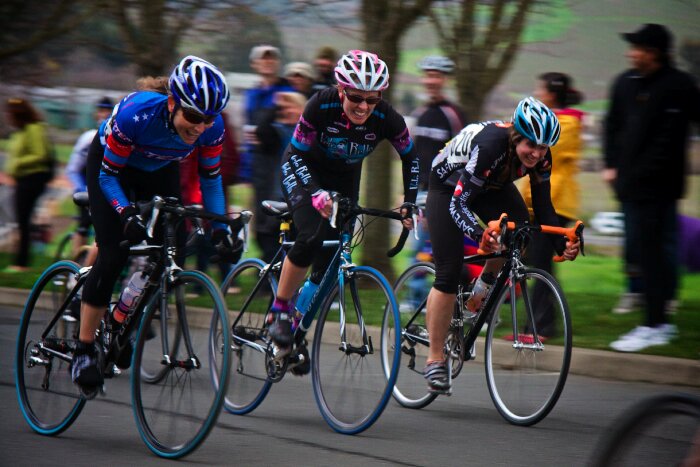 My race at Canatua was 51.5 miles of sitting in the pack in zone 2 followed by an all out zone 5 surge up the last climb. I didn't have any teammies. In fact, besides the 7 Velo Girls in the field, no one else had any teammies, so no one really tried anything. I thought about getting a little more active after the overpass on the last stretch, but it was so windy by that time that I didn't want to be anywhere near the front. So I sat in at the back of the pack until we started up the climb.
At the 1km sign one girl jumped so I grabbed on her wheel and stuck to it like glue. She slowed a bit over the 2nd to last climb, then surged just before the last uphill to the finish. I ramped up and jumped a little after the 200m sign with a SugarCRM girl right next to me. We pulled away a bit, but I was actually blocking the wind for the SurgarCRM rider beside me, so she was able to pull ahead just at the finish. It was a drag race for the last 50m and she nipped me by maybe an inch at the finish line. So second place an a t-shirt for me!
I loved when my big ol' group of 4's would meet the little group of 3's each time out on the road. There would be Soni, crushing it just ahead of the the struggling pack, with Suenami comfortably sitting in the back. And I also got to see Ryan out there mixing it up with a group of men, who all looked a little tired.

BP Cantua, California — Global warming has caused isolated weekend incidents of Bunny Attacks Coupled with a Lil Suenami destroying Wildcats' predatory instincts in Cantua. It is a known fact that animals can sense changes in weather patterns. Saturday's ominous weather patterns were no different. Birds scattered to protected areas, while bunnies attacked a field of wild cats in early anticipation of the incoming Suenami. Local residents say it was a band of bunnies, while conflicting witnesses say it was one lone bun. According to local weather expert Beth Welliver, "It was a self preservation instinct brought on by the barimetric pressures of the little known phenomena known as Suenami.."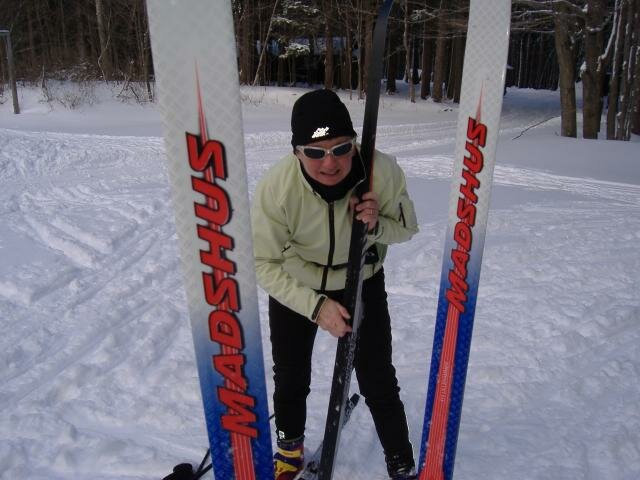 Jano heads out classical skiing in Highland Forest.