Folsom Bicycle Planet Cyclocross, CA
2nd, Marian Jamison, Women A
(photo courtesy Jeff Namba)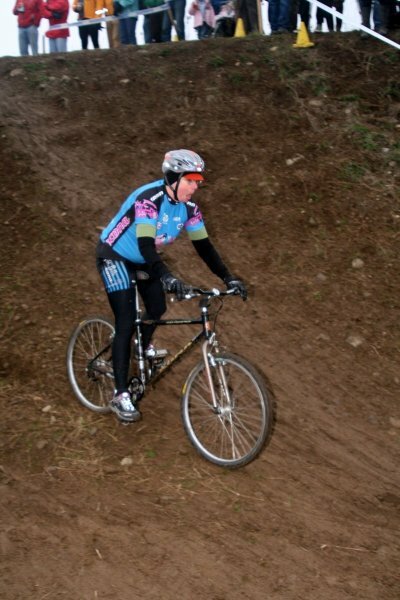 Cross Crusade #8, Barton Park, OR
54th, Beth Hamon, Beginner Women
Photos taken by D. Roth and used with full permission (licensed Creative Commons)
Katina Badass Sayers-Walker is #1 in the NY Series!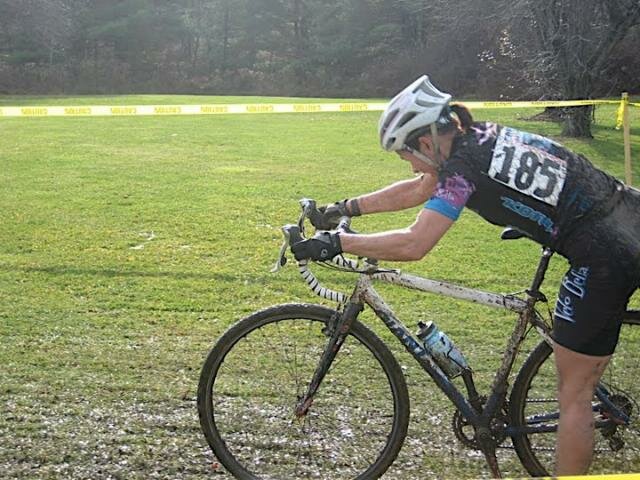 Katina finished the last race of the NY series in Delmar, NY today and managed to maintain her overall standings to the win the overall NY Series!
Bellas placing in the NY Series were:
Christina Perkins – 1st Cat 4
Jennifer Clunie – 4th Cat 4
Kate Stewart – 22nd Open Women
Sue Atwood – 33rd Open Women
LiLynn Graves – 41st Open Women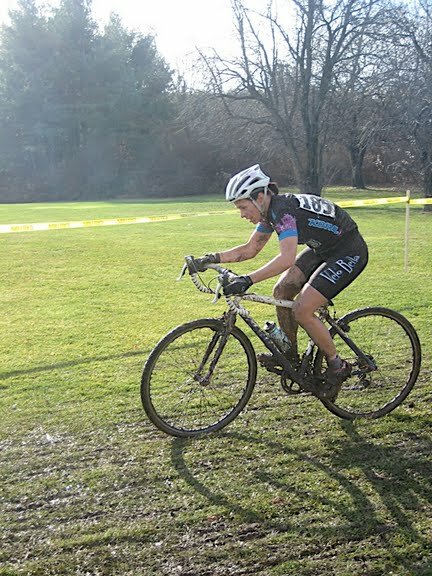 Balmy temps in the high 50s today but still muddy enough require a rack on your car afterward…
Other NY Bellas finishing strong in the Delmar Race were:
Cat 4 Women:
Christina Perkins 2nd
Jennifer Clunie 3rd
Previous news…
Podium Girl Laura Kozlowski
gets 3rd in the Ellison Park Cross Race in Rochester, NY on November 1st!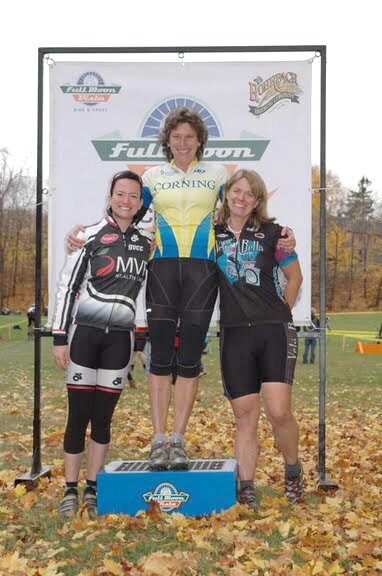 LiLynn Dawg Graves (a.k.a. L. Dog) comes in a dandy 7th place!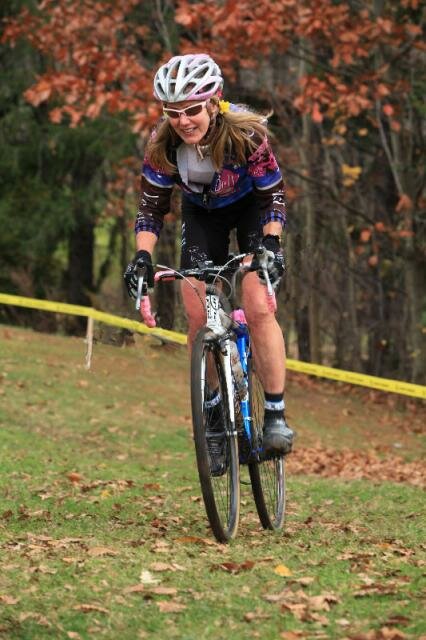 "I won a pint glass for being the only master woman. Ha!"
USGP of Cyclocross #5–Mercer Cup, NJ
13th, Kari Studley, Elite Women
14th, Laura Kozlowski, Women 3/4
Bay Area Super Prestige CX #3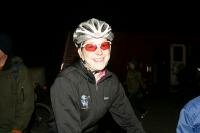 Photo by Tony Ballard
7th, Devon Haskell, Women A
18th, Kelly Chang, Women A
12th, Miss Mary Perez, Women B
5th, Janet Bellantoni, Women C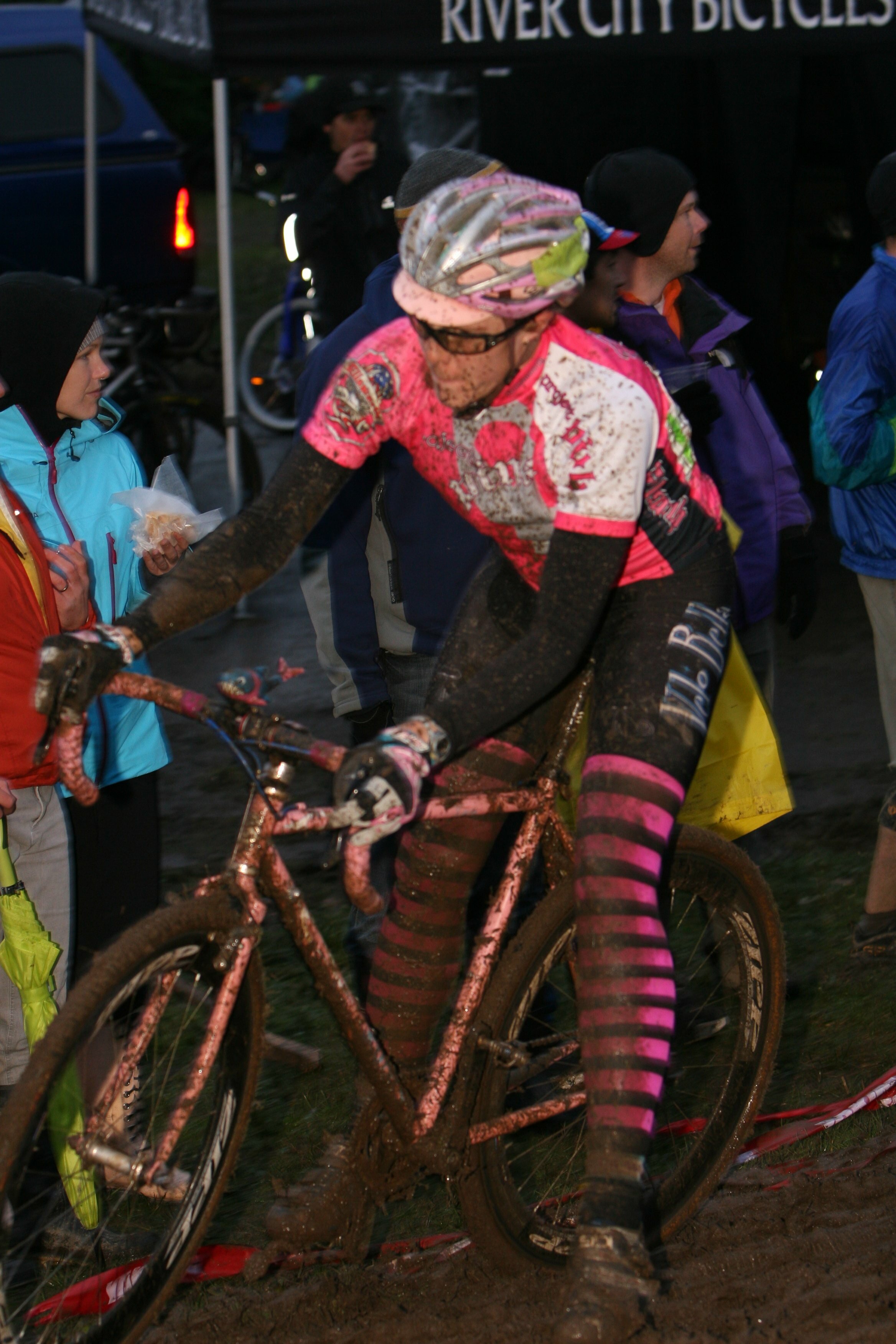 Velo Bella-Ellsworth rider Kari Studley won the Single Speed Cyclocross World Championship in über-muddy conditions. Portland hosted the race, which included a Le Mans style run to the bikes start. Kari's win granted her the privilege of wearing the Golden Bikini and ensured that next year's World Championship race will come to Seattle. Janet Hill of Spot Shot Events captured Kari and striped tights in action. Check out Janet's galleries for more images of all the wacky, muddy fun. Cyclocross Magazine also has some video and Portland Xcross has a gallery of Dirty Pictures.
Here's what Kari had to say about her big win!
Doing this event made me think back to the days of Seasame Street and the lyrics of the song "One of these things is not like the other. One of these things just doesn't belong…" Me doing a single speed race, much less the "World Championships" in Portland is pure irony… It's the similar irony I enjoy in training on a pink bike and racing in nothing but pink this whole season. If you ever get to meet me, you'll understand.
It was a dream come true to be able to give my custom painted pink with chopper flames bike the showcase it deserves and I even made a pair of sparkely pink boot shoe covers for the event, but discovered while racing in them for the Halloween race the previous weekend they wouldn't be suitable to race in if running was involved. Therefore, plan B: pink stripe tights.
The course was a complete MUDFEST. Having been raced on since 8am and rain showers in the afternoon, there was not a blade of grass to be found and mud "puddles" that went half way to your knee in depth when riding through. Half way into the race, ramps were added so that you could catch air on a couple barriers and other places in the course – very fun! And the most important part: the "Thunderdome" where people would swing overhead and/or near you as you rode through.
As there were 250 riders, it was a la mans start with the women further away from the pile of bikes, in an effort to separate the groups. Not sure how effective it was as I was into a sea of men the second I got my bike. From them on, it was navigating through riders in costumes ranging from the "man-kini (aka Borat thong)", Shiela Moon's team of boyfriends and "Tina Turner" (who corrected me when I complimented his "Pregnant Wendy Simms" costume…oops!). Although I had been advised to have dollar bills to race with, I forgot, and therefore had to ride the extra out-and-back section added to the course since I didn't have a dollar to bribe the course official to take the "shortcut." By that point, it was such a mass of chaos, I just stuck to riding my race, figuring that if I won, I was at least going to win correctly (or cheaply, as cheating was encouraged). 5 laps later, the "race" was over. I outsprinted a guy to the line in good fun, but had absolutely no idea on my overall result.
I was thrilled to hear my name announced at the Thunderdome, and did my best to change into the golden bikini in the back of a trailer in the dark (hence the sportsbra addition – I couldn't get it to stay on in a family friendly fashion!). It was also an honor to be the deciding factor in the competition between Seattle and San Francisco on who would host the event next year. See you all in Seattle!
Huge thanks to: The Sweet Spot for the bikini "preparation" help and River City Cycles team and Nuun energy drink for the tent space!
Photo copyright Janet Hill, Spot Shot Events, and is used with permission. Thanks Janet!
On Halloween Day, Velo Bella hosted its traditional costume cross race in Northern California. This time around, the Bella party invaded the Watsonville Fairgrounds. There were witches, and ghosts and gobbles and such. NorCali photographer Jon Suzuki captured some of the crazy hijinx. Scroll down and enjoy the fun!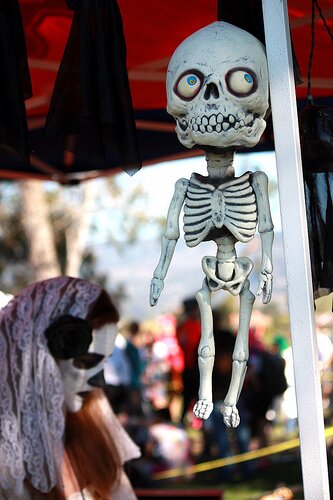 Spooks galore.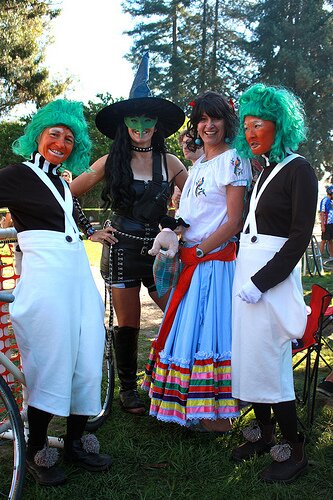 Velo Bella Hostesses with the mostestesses.
Bellas Sabine, Laura, Erika, and Linda take a break and pose for a photo.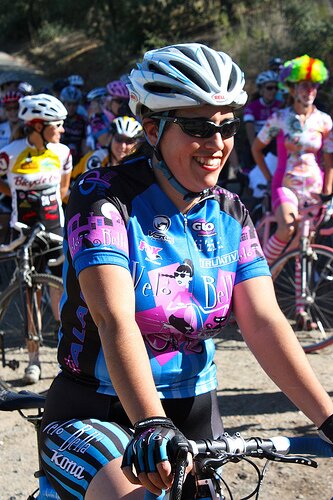 And there was bike racing. Miss Mary, ready at the start.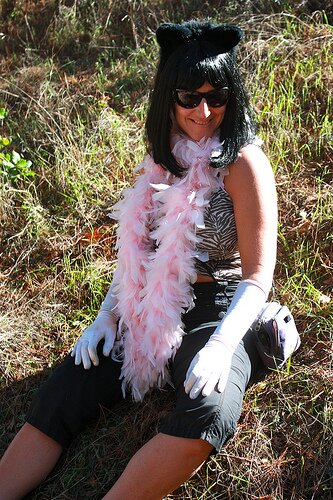 Feather Boa and white gloves, it's all high class at Velo Bella.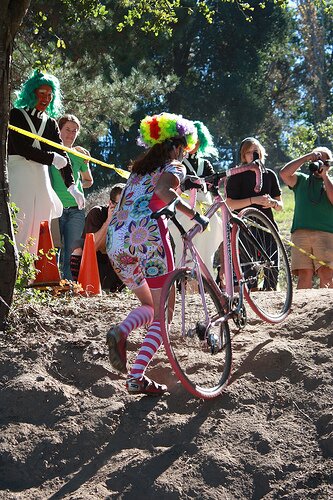 Rainbow Wig and Run-up. Only on Halloween.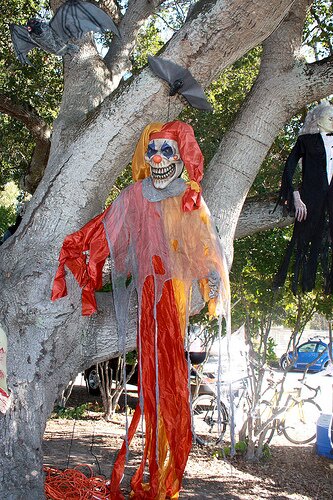 Spook-o-rama.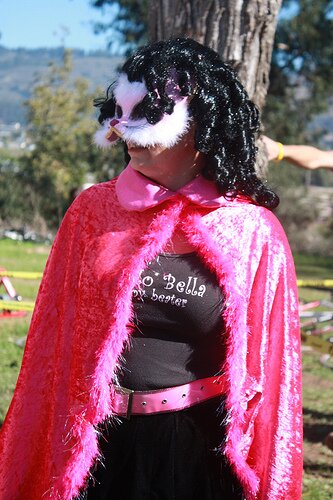 Who is that masked woman?
The NorCali Bellas came out in force to make the race happen.
For more adventures, check out Jon's full gallery.
All photos copyright Jon Suzuki and are used with permission. Thanks Jon!
CCCX #4, Toro Park, Salinas, CA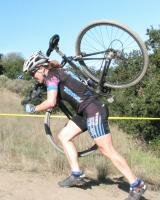 11th, Natasha Perry, Women A
7th, Miss Mary Perez, Women B
By Josie Stubenrauch
Columbus, Ohio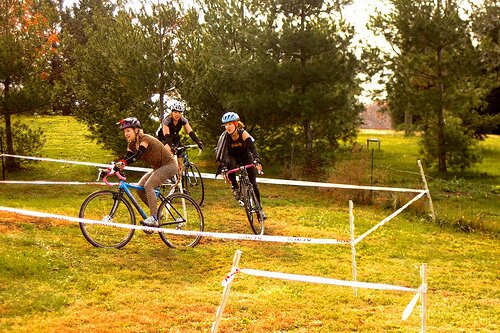 I did my first cross race this past Saturday, Halloween, and had a blast! I knew it'd be a good race to do as my first one, since costumes were encouraged and I knew that would relieve some of the pressure. The race was put on by our local cross group, Cap City Cross, who also doesn't take themselves too seriously. I did the women's C race with 5 other women, who were all very friendly and encouraging at the start line.
Conditions were cross-like: It had been raining the previous 12 hours, it was overcast and 50 degrees, and the course was a mix of mud and grass, all bumpy. I rode the course once, very slowly, before the race. My only goal was to not fall in the pond during the extremely muddy off-camber section that went around one length of the pond.
Our race was 30 minutes, which I didn't think would be too bad, since we're all used to longer rides, etc. WOW was I wrong! After 3 laps, I thought it would be time to finish, and I was not too excited when they waved me on for a 4th lap! The picture below was taken during lap 2, where I was with BatGirl and a goth chick….I tried to pass them both, but BatGirl passed me again. She cheered me on the rest of the way when we would pass somewhere in the maze of the course.
I ended up 4th out of 6th, which I didn't think was too bad, considering my only goal was to not go into the pond or fall off in a mud pit, neither of which I had to do! My handling skills improved 100% in those 30 minutes. I gained a ton of confidence when it came to corners and short, steep muddy uphills! My tail stayed on the first 2 laps, but it was recovered by a bystander. I am very excited to do my next race!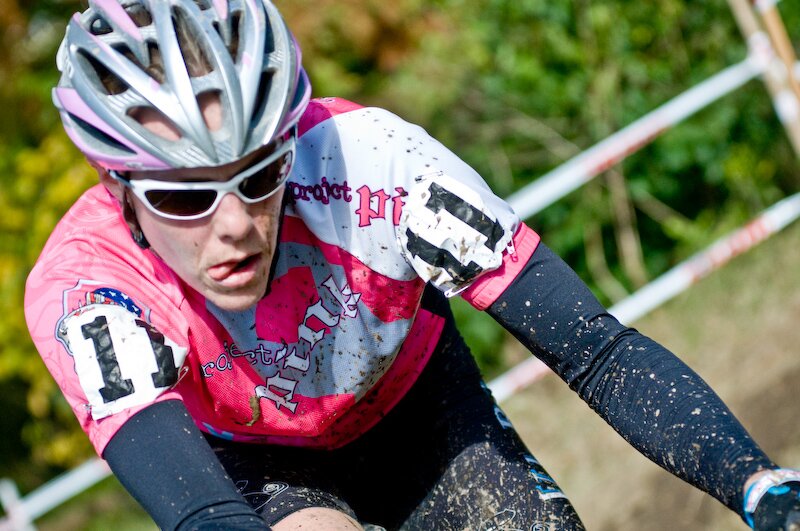 Full concentration as Kari navigates through the mud in Louisville.
Velo Bella-Ellsworth riders Kari Studley and Devon Haskell headed out to Louisville for the U.S. Grand Prix series race. Recent rains left the course muddy. Though the grass made the course look fast, the reality proved rather different as the wheels sunk into the soggy grass. The course also included a staircase run-up. Kari took 9th and Devon finished 12th. Katerina Nash of Luna won ahead of her team-mate Georgia Gould. Velo Bella alum Amy Dombroski, the current U23 U.S. National Champion, rounded out the podium. Roll over to Podium Insight for more stories from the race.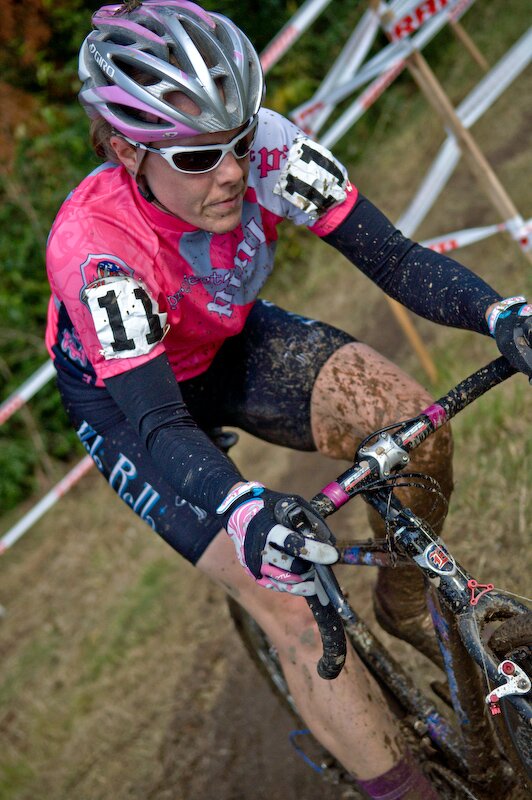 More mud for Kari.
The following day, Kari and Devon lined up for a second day of racing at the Derby City Cup. Sunny skies greeted the riders for this second day of fun in Louisville. But the mud still lingered and the course included a staircase and flyover. Kari bettered her pervious day's result to finish 7th, while Devon took 11th in the deep women's pro field. Luna again dominated the field as Nash took a second straight win. Amy Dombroski of Richard Sachs finished second, followed by Alison Dunlap of Luna. Check out the full story at Podium Insight.
Keep up with all Kari's adventures on her blog, Studley Racing. Want to know about the Velo Bella-Ellsworth pro cyclocross team? Check out our Pro Cyclocross Introduction.
Thanks to Lyne Lamoureux of Podium Insight for the use of her photos from the Louisville Grand Prix. All photos this page copyright Lyne Lamoureux and are used with permission.